What Is 'Orwellian'? Josh Hawley Corrected By Fox News And Twitter Critics
Republican Sen. Josh Hawley got a little schooling in words and democracy from folks he has taken to task before -- social media and the media. But his critics this time included even conservative Fox News.
Hawley took aim at Simon & Schuster after the publisher canceled his upcoming book, "The Tyranny Of Big Tech," for his role in stirring up Trump supporters unhappy with the president's defeat by Democrat Joe Biden. The crowd stormed the Capitol late Wednesday, breaking windows and invading congressional offices.
The junior senator from Missouri described Simon & Schuster as a "woke mob" and decried the decision as "Orwellian" and an "assault on the First Amendment."
Pushback on Hawley's words was strong and swift, from both social media and the media. They zeroed in on his misuse of Orwellian. Fox News objected to all of Hawley's points in an interview Friday about the book deal.
Bobby Lewis, @revrrlewis, a fierce Trump opponent who in his Twitter profile describes himself as "The guy who live-tweets 'Fox & Friends' but is not the outgoing President of the United States," tweeted:
"A Fox host reminds U.S. Senator Josh Hawley that "the first amendment involves the government prohibiting speech," and him losing his book deal "is not a first amendment issue. This is a private company," and what's actually "Orwellian" is forcing the company to publish him."
Fox News anchor Jedediah Bila pointed out the First Amendment protects citizens from government overreach, not action by private individuals or companies.
What would be a First Amendment violation, or "Orwellian," she said, would be forcing a company to use its resources to edit and publish a book against its will. ​
Many of Hawley's Twitter critics noted the senator is a lawyer and should understand the Constitution. Hawley graduated from Stanford University in 2002 and Yale Law School in 2006.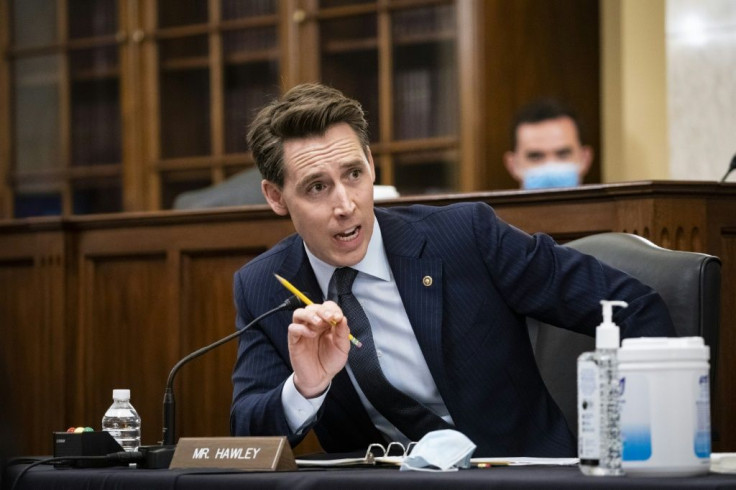 © Copyright IBTimes 2023. All rights reserved.
FOLLOW MORE IBT NEWS ON THE BELOW CHANNELS