What Time Does The NBA Slam Dunk Contest Actually Start? 2023 All-Star Saturday Schedule
The 2023 NBA Slam Dunk Contest is scheduled to start Saturday night at Vivint Arena in Salt Lake City, Utah. The competition traditionally is the third and final event of All-Star Saturday Night.
What time does the 2023 NBA Slam Dunk Contest actually start? All-Saturday Night starts at 8 p.m. ET, but the slam dunk contest might not get underway until over two hours later.
The skills competition and the 3-point contest typically precede the dunk contest. Last year's dunk contest didn't start until around 10:20 p.m. ET. It ended shortly before 11 p.m. ET when New York Knicks forward Obi Toppin was declared the champion.
The slam dunk contest and all of NBA All-Star Saturday night will be broadcast on TNT.
Another Knicks' player could win the dunk contest for a second straight year. New York center Jericho Sims is one of four contestants. Sims' 44.5-inch vertical jump at the 2021 draft combine was the second-highest ever in the event's history.
Houston Rockets forward Kenyon Martin Jr, New Orleans Pelicans guard Trey Murphy III and Mac McClung of the Philadelphia 76ers will also compete in the dunk contest.
All-Star Saturday night starts with the skills competition, which will actually get underway somewhere around 8:15 or 8:20 p.m. ET. The skills competition should last for close to a half hour.
There will be a short break in between the skills competition and the 3-point contest. The shooting challenge started around 9:20 p.m. ET last year and concluded around 9:50 p.m. ET.
Minnesota Timberwolves star Karl-Anthony Towns won the 2022 3-point contest. Team Cavs won last year's skills competition.
There hasn't been a repeat slam dunk champion since Zach LaVine won the contest in 2014 and 2015. Donovan Mitchell was the last All-Star to win the dunk contest, doing so in 2018.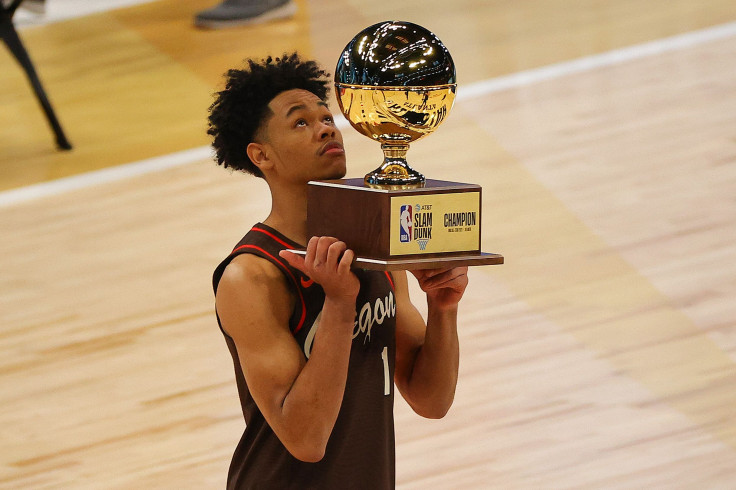 © Copyright IBTimes 2023. All rights reserved.