Where To Get A COVID Vaccine: 12 Retailers Set To Offer Inoculations
Nearly 2 million Americans have already received the first dose of COVID vaccinations as Pfizer and BioNTech and Modera roll out their recently approved vaccines to a targeted audience.
But where will you go when the vaccine becomes available to you? A dozen retailers will be providing inoculations as soon as they receive deliveries of the COVID vaccine for the public.
In the meantime, these retailers are currently providing the vaccine to healthcare workers and residents at long-term care facilities under Phase 1a of the Centers for Disease Control & Prevention's phased-in schedule.
Following Phase 1a, the CDC will provide the vaccine to frontline essential workers, including firefighters, police officers, corrections officers, food and agricultural workers, post office workers, manufacturing workers, grocery store workers, and public transit workers.
Those who work in the educational sector will be inoculated under Phase 1b, which will also include people who are 75 years and older. No definitive time frame has been set beyond the initial phase.
Under Phase 1c, Americans aged 65 to 74 years old will receive the vaccine, along with those aged 16 to 64 and have underlying health conditions. Phase 1c also includes other essential workers, such as those in the transportation, logistics, food service, housing construction and finance, information technology, communications, energy, law, media, public safety, and public health.
The CDC said that once the vaccine becomes more readily available, it will expand access to more groups of people.
When ready, the following retailers will offer the COVID vaccine when supply allows:
Walgreens
Walgreens has said that it will begin offering the COVID vaccine to the public "sometime in 2021." The drug store is currently administering the vaccine to long-term care facilities and has plans to begin offering it, when available, at more than 9,000 store locations.
Walgreens is providing doses of the vaccine to 12 states under the CDC's Pharmacy Partnership for Long-Term Care Program. It plans to provide inoculations to nearly 3 million residents and staff at 35,000 long-term care facilities.
CVS
CVS is also gearing up to begin offering the COVID vaccine to the public by hiring pharmacists, pharmacy technicians, and nurses to administer inoculations. The retailer is currently providing the vaccine to long-term care facilities, where it said it expects to vaccinate up to 4 million residents and staff through the program.
CVS is currently providing the vaccine to these facilities in the states of Connecticut, Florida, Kentucky, Maine, Maryland, Nevada, New Hampshire, New York, Ohio, Oklahoma, Oregon, and Vermont. The vaccinations will also roll out to 35 more states as well as the District of Columbia on Monday and Puerto Rico on Jan. 4.
The company said it expects to have the capacity to administer 20 to 25 million shots per month.
Rite Aid
Rite Aid also said it is ready to begin administering COVID vaccines as soon as it is available for pharmacy distribution. The retailer is also operating under a partnership with the CDC and also offers COVID-19 testing.
Walmart
Walmart has also been designated as a vaccine administration site and said that it is "prepared to administer the COVID-19 vaccine at our pharmacies nationwide when we are asked to do so."
The retailer is currently administering doses of the vaccine at its Walmart and Sam's Club in New Mexico for healthcare workers in rural areas. Walmart is also inoculating its pharmacists as a line of defense against the contagion of the virus.
The company is ramping up more than 5,000 pharmacies at its stores to be ready to administer doses of the vaccine. It expects the public to receive the COVID vaccine in the spring and summer of 2021.
Kroger
Kroger will offer the COVID vaccine nationwide at its 2,200 pharmacies and 220 clinics in partnership with the federal government and state health departments. The grocery retailer has begun administering the Pfizer-BioNTech vaccine in Anchorage and Juneau, Alaska, for healthcare workers as well as other geographic areas.
Kroger plans to hire nearly 1,000 healthcare workers to support the administration of the COVID-19 vaccine.
Other Retailers And Pharmacies
These pharmacies and retailers will also administer the COVID vaccine under the direction of the CDC.
Absolute Pharmacy (Ohio)
Community Pharmacy (Iowa and Nebraska)
Consonus Pharmacy (Oregon and Nevada)
HealthDirect/Kinney Drugs (New York and Vermont)
Pharmscript (Indiana, Illinois, New York, Ohio, and Texas)
Senior Care Pharmacy (Alabama)
Thrifty Drug Stores (Minnesota and North Dakota)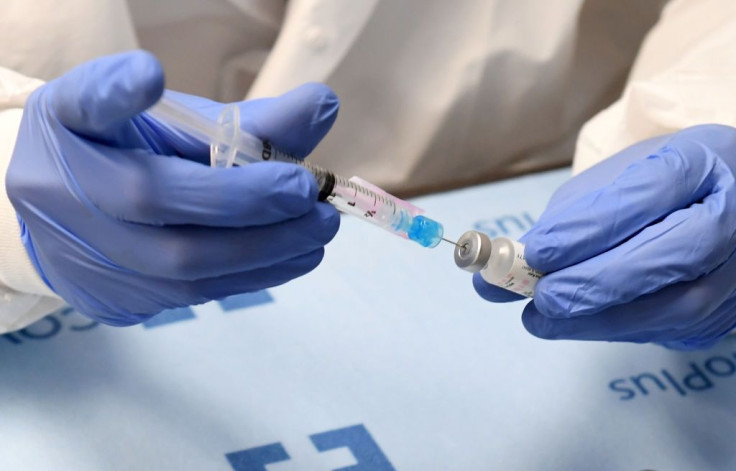 © Copyright IBTimes 2023. All rights reserved.