Which 'Are You The One?' Season 6 Couples Are Still Together? Pre-Reunion Update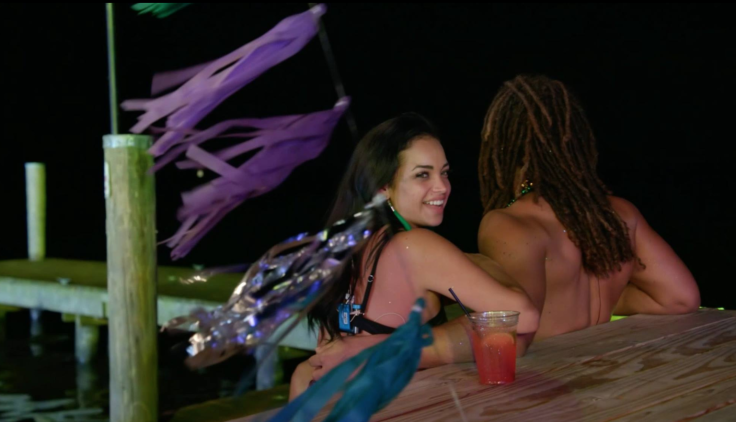 MTV revealed all 11 "Are You the One?" Season 6 perfect matches during the finale on Wednesday night but didn't share with viewers which perfect match (and non-match) couples are still together. While the cast is being pretty tight-lipped about their relationship status post-show, there are some hints about who is still together and who has broken up.
Clinton-Uche-Geles Love Triangle
Uche and Clinton were a couple almost the entire season, even after being revealed as a non-match. Clinton and Geles were later revealed to be a confirmed match, but it wasn't made clear where the love triangle stood in episode 12.
Post-finale, Uche wouldn't say on Twitter whether she is still with Clinton, just telling one fan to stay tuned for the reunion. Meanwhile, Geles has since posted to Twitter to tell viewers she thinks the matchmakers got her match right. As for Joe, Uche's perfect match, he's been silent on social media since before the finale.
Keith And Alexis
Keith and Alexis had plans to be in a relationship after the show, despite not being a confirmed match, but their romance imploded during the finale. After Keith sat with Jada in the finale and Alexis sat with Anthony, there was real no answer as to what the future held for Alexis and Keith.
Keith has since been asked by fans on Twitter if he's single, but he's keeping his mouth shut. "Watch the reunion," he tweeted to one viewer on Thursday.
Shad and Audrey
During an appearance on AfterBuzz TV, Shad said he could have seen himself with Zoe, Nicole and Nurys, but that Audrey was clearly his match. "Ultimately, Audrey was the only one I could see myself with in a sustainable relationship," he explained. "She was the only one I saw the potential to be with in the long run."
Shad wouldn't reveal his relationship status, only saying if he's with Audrey, he's "an extremely lucky guy."
Keyana and Michael
Also on AfterBuzz TV, Keyana said she and Michael connected day one in the house and quickly realized they were a match. Keyana explained they broke up soon after because Michael didn't want to leave the game early and wanted to "have fun." It appears they never got back together.
"We're friends," Keyana said Wednesday. "That's all that we're going to be."
Zoe and Ethan
Ethan and Zoe realized they were a match during the show's final hours. When asked on AfterBuzz TV if she and her perfect match ever explored a relationship, Zoe said they're just friends.
"I hate to be like 'oh we're just really good friends,' but no, like, we are," Zoe said. "I hate to say it, but honestly, when I was in the house, I wasn't really feeling that sort of connection with anyone really. I didn't want to date anyone from the show... It wasn't Ethan. It wasn't any of them. It was just none of them I don't think were for me."
The two, however, do appear to still flirt on Twitter, as seen above.
Diandra and Kareem
Diandra and Kareem believed they were a match long before they discovered the actually were during the finale. While they have not outright said they're together post-show, Diandra's latest Instagram and Twitter posts seems to hint that they are.
"I always said that the 'perfect man' for me is out there somewhere. But, who would have thought that MY perfect match was right here in Jersey," she captioned an Instagram video of her and Kareem on Wednesday night.
Nicole and Tyler
Ahead of the finale, Nicole posted a photo of her and her perfect match Tyler to Twitter, so it appears the two are at least still friendly.
Nurys and Dimitri
Nurys has made it clear that she's infatuated with her confirmed match, Dimitiri. "I think I found my perfect match," Nurys gushed on Instagram of her co-star recently.​
"Honestly I never thought Dimitri could be my match because of how sensitive he is but I now know why he's my PM. He's NEVER cheated, he has a huge heart, he cherishes the women in his life and all he wanted was to find something real and clearly that's the EXACT type of guy I need in my life. After dealing with all the ain't [expletive] bad boys in my past, I'm glad the match makers paired us up & damn are we one sexy [expletive] perfect match."
The "Are You the One?" Season 6 cast will speak out about their relationships during the two-part finale, which kicks off on Dec. 13 on MTV.
© Copyright IBTimes 2023. All rights reserved.