Whitney Houston Funeral: Clive Davis Speech About Mentorship, Memories and Friendship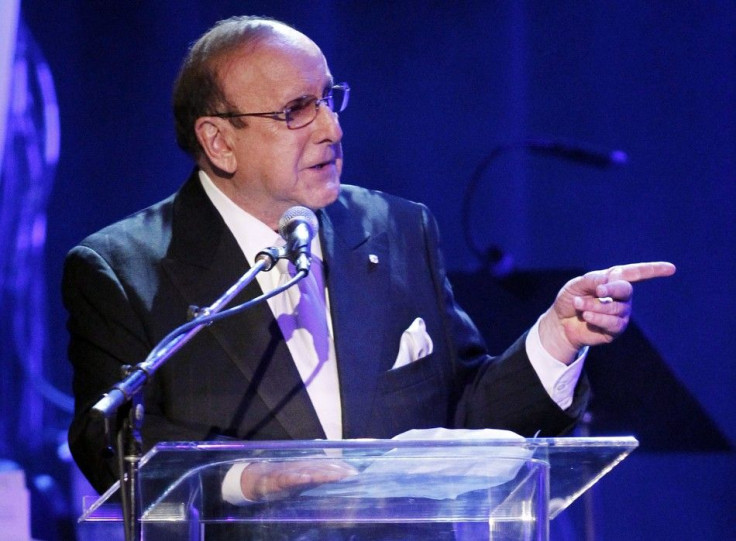 Whitney Houston, the great American pop icon, died at the age of 48. Her funeral was held this Saturday at the New Hope Baptist Church in Newark, N.J. -- the same building where Houston learned to sing.
Several celebrities appeared throughout the precessions including Tyler Perry, Kevin Costner, Alicia Keys, and many more.
Clive Davis, a music executive and Houston's long-time mentor, spoke about his relationship with Houston and the memories she left behind.
You wait for a voice like that for a lifetime, said Davis in his opening remarks. You wait for a face like that, presence like that, for a lifetime.
When one person embodies it all, it takes your breath away, he said. That's what I felt in 1983 when your daughter shattered me with her version of 'Greatest Love of All.'
That night we connected, and we connected every night thereafter, said Davis.
In the past, every hit we shared with pure joy, he said. Neither of us could believe the worldwide explosion when it happened. We just felt utter disbelief. I would ask her, 'Are you pinching yourself?' She'd say with wide-open eyes, 'I'm pinching myself.'
She never took anything for granted, said Davis. And then, thanks to you, Kevin [Costner], came The Bodyguard. She knows how worried I was about her transition to film. She had to hold my hand to reassure me that it was going to be alright.
You know, said Davis. She and Kevin were right.
Davis then began calling off his favorite memories of Whitney Houston. He remembered the earliest of her performances, the first time seeing her, her breakout performance in The Bodyguard, and the pressures they faced during that period. He also recalled all the videos that she'd made through the years.
Memories, said David. Vivid, indelible. Visual memories. Each of you have them as part of your lives. I have them scorching my brain right now.
When I needed her she was there, said Davis. She was there for me and eternally for me. Whatever the cause or event, she was there for me and creating another still lifetime memory.
Davis began talking about the last time he met with Whitney Houston. He said she promised him she was going to be swimming everyday, getting in shape and strengthening her vocal chords. He told the audience she said she'd be ready to return to the stage by August. He said, Whitney, I'm going to hold you to it.
To end the speech, Davis said, Everyone in heaven is waiting, and I just know you're going to raise the roof like never before.
© Copyright IBTimes 2023. All rights reserved.
FOLLOW MORE IBT NEWS ON THE BELOW CHANNELS