Who Is Christopher C. Miller? Mark Esper Ousted For Trump's New Hire As Defense Secretary
KEY POINTS
Donald Trump has announced on Twitter that Christopher Miller will replace Mark Esper as Secretary of Defense in an acting capacity
Esper has been in conflict with the Trump administration for months over his refusal to use U.S. military forces against civilian protesters and openness to renaming bases named after Confederate leaders
While Trump said Miller was approved "unanimously" by the Senate for his current position as director of the National Counterterrorism Center, he received only one vote from Mitch McConnell, the only voting member present at the time
President Donald Trump on Monday named Christopher Charles Miller as acting Secretary of Defense, replacing Mark Esper.
Trump announced Esper's termination on Twitter after months of tension between the two over Esper's restrained approach and public refusal to order troops to quell social justice protests.
Miller, 55, a former Army Green Beret, has served as the director of the National Counterterrorism Center.
According to his profile on the Defense Department's official website, "Miller was responsible for overseeing the employment of special operations forces in counterterrorism, Military Information Support Operations (MISO), Information Operations, unconventional warfare, irregular warfare, direct action, special reconnaissance, foreign internal defense, counter proliferation, sensitive special operations, and personnel recovery/hostage issues as specified by the Secretary of Defense."
Trump tweeted that Miller was "unanimously confirmed by the Senate," but he was in fact confirmed by just a vocal vote, as Sen. Mitch McConnell, R-Ky., was the only voting member in the chamber at the time.
It's unclear whether Trump will seek Miller's full confirmation since the administration comes to an end on Jan. 20.
Miller served in the military from 1983 to 2014. He was born in Wisconsin and raised in Iowa. Miller graduated from George Washington University with a degree in history.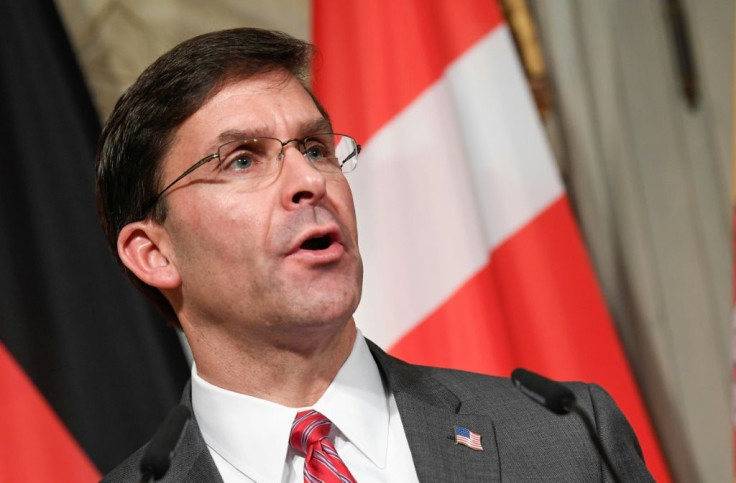 Miller is the fifth Secretary of Defense under Trump and the third to serve in an acting role.
Esper replaced Jim Mattis, who resigned in December 2018 following Trump's decision to abandon Kurdish allies in Syria. Esper was approved in a 90-8 Senate vote.
© Copyright IBTimes 2023. All rights reserved.