Who Is Jon Huntsman? Donald Trump Picks Former Utah Governor And 2012 Presidential Candidate As US Ambassador To Russia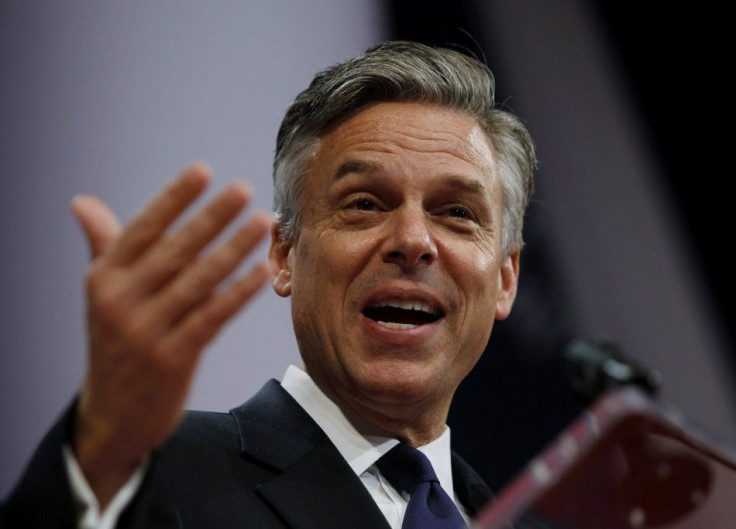 Jon Huntsman, former Utah governor and 2012 Republican presidential candidate was selected by President Donald Trump, Wednesday as the U.S. ambassador to Russia. Under former President George H.W. Bush, Huntsman served as ambassador to Singapore from 1992 to 1993 and later during President Barack Obama's administration, he was ambassador to China from 2009 to 2011.
Huntsman replaced John Tefft, who held the post as the U.S. ambassador in Moscow. Huntsman served as the Utah governor from 2005 to 2009. He resigned from his post as China's ambassador in 2011 and returned to the United States to run as the Republican nominee for president in 2012. Huntsman retracted himself from the race after he finished third in the New Hampshire primary, seventh in the South Carolina primary and seventh in the Iowa caucuses. Then he went on to support the subsequent nominee Mitt Romney, according to New York Daily News.
Read: www.ibtimes.com/jon-huntsman-former-presidential-candidate-joins-fords-board-408402
After his selection, Huntsman became one of the high-profile U.S. ambassadors and his responsibility would be to deal with the diplomatic relations between the U.S. and Russia, which has seen a gradual decline in the recent past.
One senior administration official told CNN that Huntsman was chosen because he is a "brilliant guy," "tough" and understands what the president wants.
Huntsman supported Trump during the presidential race in 2016 but he had also expressed discontent after the leak of an audio tape in October 2016 where Trump was heard boasting about groping women. After this incident Huntsman suggested that Mike Pence, then vice-presidential nominee should lead the ticket.
"In a campaign cycle that has been nothing but a race to the bottom -- at such a critical moment for our nation -- and with so many who have tried to be respectful of a record primary vote, the time has come for Governor Pence to lead the ticket," Huntsman told The Salt Lake Tribune at the time.
Trump's announcement for the selection of Huntsman as the ambassador came amid the ongoing investigations about the U.S.-Russia connections during the president's electoral campaign and also after Russia was alleged to have interfered with the 2016 elections.
© Copyright IBTimes 2023. All rights reserved.
FOLLOW MORE IBT NEWS ON THE BELOW CHANNELS