Who Is Maye Musk? Elon Musk's Mom Makes Appearance On 'Saturday Night Live'
Tesla CEO Elon Musk generated plenty of buzz ahead of his appearance on "Saturday Night Live." The much-anticipated episode also included a cameo from his mother Maye Musk.
Maye Musk, 73, appeared with Elon Musk on stage for his monologue, just minutes before Mother's Day. As part of the scripted monologue, Elon asked Maye if she remembered when he was 12 years old and sold a video he created called "Blast Star."
"I do. I remember they paid you $500, but you were too young to open a bank account. So I had to open one for you. You turned that video game about space into reality," she said.
She went on to wish him luck on the show and expressed her excitement about her Mother's Day gift. "I'm excited for my Mother's Day gift. I just hope it's not Dogecoin," she joked.
While Elon is known for posting details about his personal life on social media, he has mostly kept his mother out of the spotlight.
But the New York Post described Maye Musk, who was born in Regina, Saskatchewan, as a star in her own right.
Maye is a twin and comes from a big family that moved to South Africa in 1950. She married Elon's father, Errol Musk in 1970. The couple had three children. They divorced in 1979.
Maye began modeling at the age of 15 and would appear in many advertisements. In 1969, she was a finalist in the Miss South Africa beauty pageant.
She became even more successful when she was around 60 years old when her signature white hair began landing her magazine covers and ads for Virgin Atlantic. Maye also appeared in Beyonce's 2011 music "Haunted."
In 2017, she became the oldest ambassador for CoverGirl at age 69. "I think it gives hope to women as they age they can continue to work and be relevant and confident and comfortable with themselves," Maye told Forbes at the time.
Maye has two master's degrees, one in nutritional science and another in dietetics.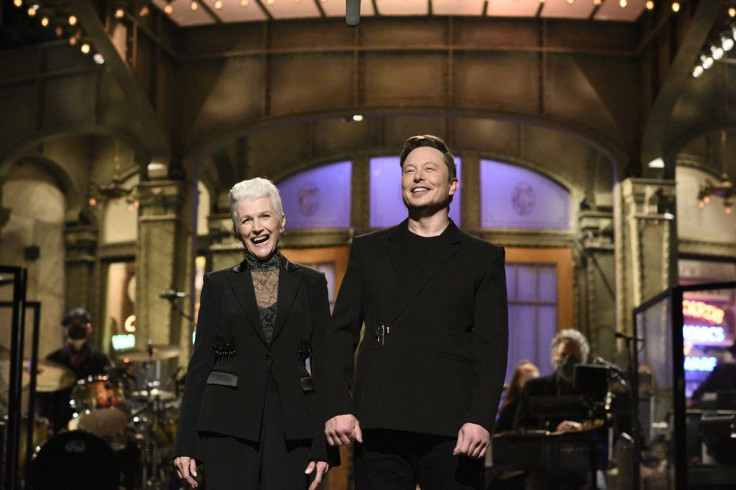 © Copyright IBTimes 2023. All rights reserved.