Who Is Michael Sam? First Openly Gay Football Player's NFL Draft Projection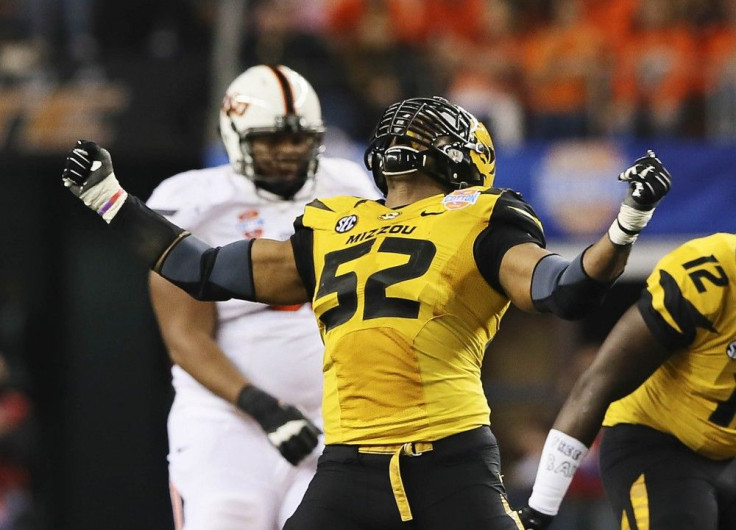 There has never been an openly gay player in the NFL. That is expected to change with the upcoming draft in April.
Missouri defensive end Michael Sam came out of the closet this weekend, announcing to the world that he is gay. Sam recently graduated and is looking to begin his career as a professional football player in 2014.
Sam's decision to come out is unlike any other in American professional sports. At the conclusion of the 2012-2013 season, NBA player Jason Collins announced that he was gay. However, his revelation came at the end of his career, and it appears that his days in the league are numbered. Sam, on the other hand, is just about to begin his NFL career.
Prior to this weekend, Sam was expected to be taken by an NFL team. In his final college season, he was one of the best players in the NCAA. Sam led a Tigers defense that made it to the SEC Championship Game. On the way to Missouri's 12-2 record, Sam recorded 11.5 sacks and 19 tackles for a loss. Along with Alabama's C.J. Mosely, he was named the SEC Co-Defensive Player of the Year.
Since Sam's announcement, though, there has been speculation that his draft stock might suffer. What is the latest projection for Sam in the 2014 NFL Draft?
According to multiple reports, Sam's sexuality could have serious ramifications for his potential professional football career. Eight NFL executives spoke to Sports Illustrated, and expressed the opinion that the 24-year-old's quest to making a team got harder with his announcement.
"I don't think football is ready for [an openly gay player] just yet," said an NFL player personnel assistant. "In the coming decade or two, it's going to be acceptable, but at this point in time it's still a man's-man game. To call somebody a [gay slur] is still so commonplace. It'd chemically imbalance an NFL locker room and meeting room."
Sam was projected as a third or fourth-round draft pick before his revelation. Bovada.lv currently has his over/under position set at 125.5 overall, which is near the end of the fourth round.
Even if Sam didn't come out of the closet to the world, he still might have had trouble in the draft. One source estimates to Sports Illustrated that 90 percent of NFL teams knew the defensive end was gay, and lowered him on their draft boards as a result. The general consensus seems to be that most executives don't want to take a chance on the first openly homosexual athlete.
Some teams don't think Sam will be a productive NFL player, no matter what his sexual orientation might be. He put up big numbers in his final season with Missouri, but Sam's skill set doesn't necessarily translate over to the NFL. His size will likely force him to change positions at the next level, and he struggled as a linebacker in the Senior Bowl.
"We talked about it this week," one general manager told Peter King. "First of all, we don't think he's a very good player. The reality is he's an overrated football player in our estimation. Second: He's going to have expectations about where he should be drafted, and I think he'll be disappointed. He's not going to get drafted where he thinks he should."
Draft rankings by CBS Sports have Sam at 160 overall and the 14th best defensive end. Curt Popejoy pointed out on Sunday that Sam was previously ranked 90th overall and No.9 at his position, before he made headlines.
ESPN draft expert Mel Kiper projects him as a fourth-round pick.
© Copyright IBTimes 2023. All rights reserved.