Who Is Nia Imani Franklin? Miss America 2019 Winner From New York
Miss New York Nia Imani Franklin was crowned Miss America 2019 on Sunday night at Jim Whelan Boardwalk Hall in Atlantic City, New Jersey. Cara Mund of North Dakota ended her run by handing over the title of the pageant to Franklin.
Five lucky contestants made it to the top five: Nia Imani Franklin from New York, Holli Conway from Louisiana, Gabriela Taveras from Massachusetts, Taylor Tyson from Florida, and Bridget Mary Oei from Connecticut.
"It took a lot of perseverance to get here and I just want to thank my beautiful family," Franklin said.
The judges and fans were blown away by Franklin's operatic performance from the opera La Boheme at the show co-hosted by Carrie Ann Inaba and Ross Mathews.
According to Franklin's bio, she studied at the University of North Carolina School of the Arts. The music composition college major has won scholarships worth $17, 250.
"Music has been a major part of my Miss America journey. I composed my first song at age six – 'Love, love, love, love, love, is the only thing that matters to me hey, hey, hey, hey, hey.' My dedication to the arts influenced my educational choices, resulting in my master of music composition degree," her bio of Miss America 2019 reads. "Although I was a minority in my school, I connected with my peers based on our mutual love of the arts. For the Miss America Organization, I will bring my zeal for music and performance, and be a strong support for arts in education."
Franklin is not the first Miss New York to win the title. Mallory Hagan, Nina Davuluri and Kira Kazantsev won the title from 2013 to 2015.
This year, the competition made history by eliminating the swimsuit portion, among other changes.
"Starting this year, candidates will no longer be judged on outward appearance. The choice of wardrobe is now open so everyone can express their own very individual style," the Miss America website reads. "Throughout the competition, candidates will have opportunities to advocate for their social initiatives. And to demonstrate how they are uniquely qualified for the exciting, challenging 365-day job of Miss America."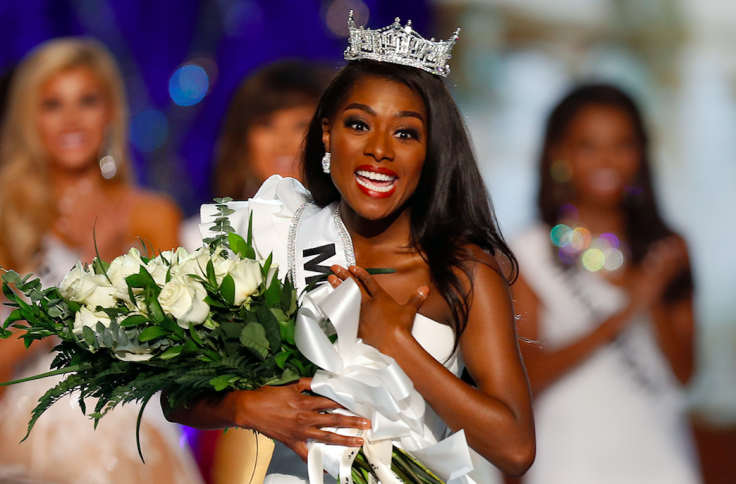 © Copyright IBTimes 2023. All rights reserved.