World Series 2015: TV Schedule, Tickets, Live Streaming Info For Mets vs. Royals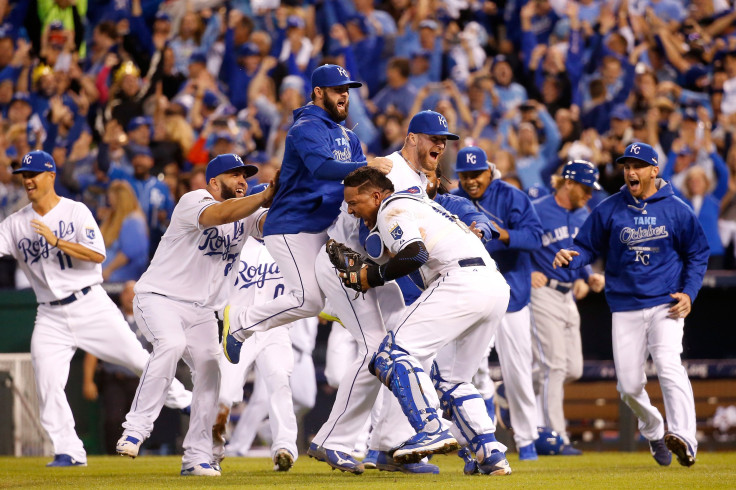 It's a World Series matchup that seemed unlikely at the start of the season, but the New York Mets and Kansas City Royals are set to meet in the 2015 Fall Classic. Both teams are looking to win their first championship in about three decades, and the series has a chance to be one of the most competitive that MLB has seen in recent years.
Kansas City has been the American League's top team all season long, finishing with 95 wins and earning home-field advantage throughout the playoffs. New York finished with five fewer wins in the regular season, but they went 38-22 over their final 60 games, and they swept the Chicago Cubs in the National League Championship Series in dominant fashion.
Both of the Royals' series have been close. Kansas City needed five games to beat the Houston Astros in the ALDS, and the Toronto Blue Jays almost took them to a deciding seventh game in the ALCS. Kansas City closed out their 4-3 Game 6 win as Toronto had the tying and go-ahead runners on base.
The Royals fell just short of winning their first title in 29 years last season, losing to the San Francisco Giants by one run in Game 7. It was the first time since 2011 that the World Series went to a Game 7, and just the second time in 12 seasons.
The Texas Rangers were the last team to make it to back-to-back World Series. They lost to the Giants in five games in 2010, and they lasted seven games in 2011, falling to the St. Louis Cardinals.
In their previous two World Series appearances before last year, the Royals won in seven games and lost in six. This season marks the Mets' fifth trip to the Fall Classic in franchise history. New York won their only championships in 1969 and 1986, needing five and seven games, respectively, to win the title. The Mets fell short in seven games in 1973, and they lost to the New York Yankees in five games 15 years ago.
Tickets and parking passes are still available on the secondary market. Standing room tickets for Game 3 at Citi Field are roughly $500.
Every World Series game will be broadcast on FOX, as Joe Buck, Tom Verducci and Harold Reynolds will announce the series for a second straight season. The first pitch for every contest is set for just shortly after 8 p.m. ET.
Game 1: Tuesday, Oct. 27 at Kansas City, 8:07 p.m. ET, FOX
Game 2: Wednesday, Oct. 28 at Kansas City, 8:07 p.m. ET, FOX
Game 3: Friday, Oct. 30 at New York, 8:07 p.m. ET, FOX
Game 4: Saturday, Oct. 31 at New York, 8:07 p.m. ET, FOX
Game 5: Sunday, Nov. 1 at New York, 8:15 p.m. ET, FOX*
Game 6: Tuesday, Nov. 3 at Kansas City, 8:07 p.m. ET, FOX*
Game 7: Wednesday, Nov. 4 at Kansas City, 8:07 p.m. ET, FOX*
© Copyright IBTimes 2023. All rights reserved.