World's Largest Pear-Shaped Yellow Diamond Sold for Record $12.36 Million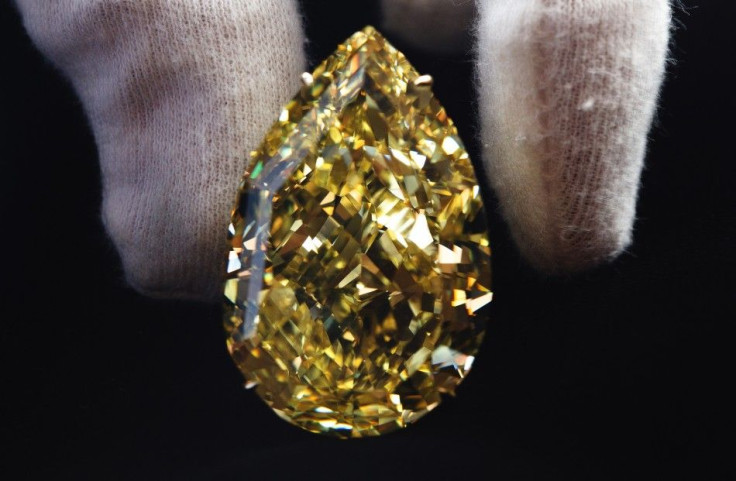 A huge yellow diamond fetched a world record price of $12.36 million at Sotheby's Geneva auction in Switzerland on Tuesday.
"We are thrilled with the price achieved by this spectacular daffodil yellow diamond; it is one of the most impressive I have had the pleasure of selling, said David Bennett, Chairman of Sotheby's Jewellery Department in Europe and the Middle East and Co?Chairman of Sotheby's Switzerland.
According to the auction house, at 110.03 carats, the exceptional stone ranks as the world's largest known pear?shaped diamond and has been graded Fancy Vivid Yellow, the highest color grading for a yellow diamond, by the Gemological Institute of America (GIA).
Commonly known as the "Sun-Drop Diamond," the stone was discovered in South Africa in 2010. New York-based world's leading manufacturers of exceptional diamonds, Cora International, cut and polished the yellow stone.
Before going under the hammer, the stone was exhibited earlier this year at London's Natural History Museum.
The previous world record for a yellow diamond was held by The Vivid Yellow, a pear?shaped fancy vivid yellow diamond, weighing 32.77 carats, which sold for $6,578,500 at Christie's in New York, last month.
The Sun?Drop Diamond is only the fourth diamond of over 100 carats in size ever to be sold at an auction and all of them have been sold at Sotheby's in Geneva, the auction house added.
© Copyright IBTimes 2023. All rights reserved.