Yahoo! Inc. (YHOO) In Play: 'Hip' Blogging Site Tumblr Could Be Hidden Gem That Seals A Deal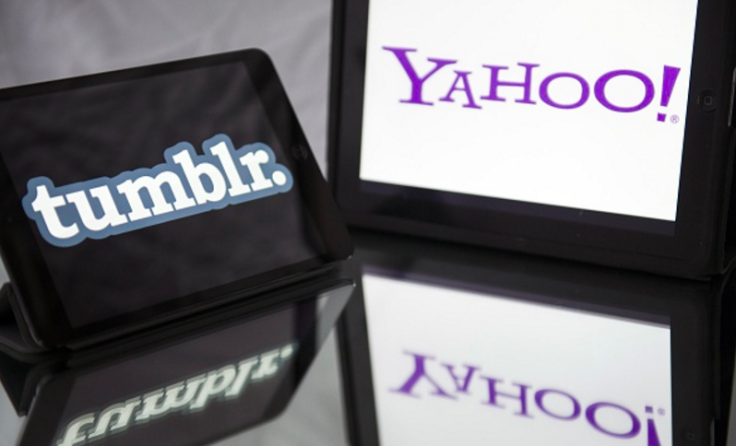 Yahoo is old and stale, some say. The Internet doesn't want banner ads, or any ads for that matter (what has been among the search giant's core business). But there may be something still hip about Yahoo: its social network and blogging site called Tumblr.
Tumblr, which has seen big user growth since Yahoo acquired it in 2013 for $1.1 billion, could be a cornerstone of any deal for the company's Internet business. Yahoo's board is currently meeting to weigh strategic options for the struggling company. Up for consideration: the fate of CEO Marissa Mayer; what to do with 384 million shares of Chinese e-commerce giant Alibaba; and whether to sell or spinoff Yahoo's core Internet businesses, which include search and display advertising services, the Yahoo.com portal and subsites, and Tumblr.
Tumblr wasn't Yahoo's first acquisition, nor its last. But unlike the startups the company has shuttered, such as Jybe, Sparq and Vizify, Tumblr lives on. It boasts 550 million monthly active users. That's up from the 300 million monthly actives Tumblr had in 2013. As to its worth now, analysts cannot quite peg it without certain statistics and financials that Yahoo hasn't broken out.
For comparison purposes, Instagram has 400 million monthly active users, up from the 30 million when Facebook purchased the app in 2012. Tumblr has more than Twitter, which last reported 320 monthly active users, and Pinterest, which has 100 million. Snapchat is estimated to have 200 million per month but prefers touting its more than 100 million daily active users.
Tumblr also has some super-engaged users to boast of. Active users spend, on average, 13 minutes, per session, on the mobile app. Kelly Meyers, a senior creative strategist at Code and Theory who has overseen Tumblr campaigns for companies, said that a brand advocate once told her that Tumblr users age 13 to 18 frequently complain of reaching their daily posting limit, pegged at 200 posts. Advertising materials from 2014 show average page depth and time spent per day far exceeding competitors: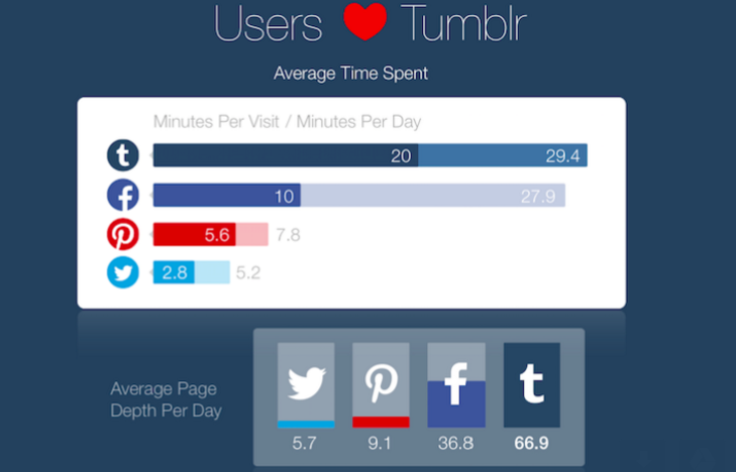 Yet Tumblr, in large part, has often been left out of the conversation for brand campaigns and ad budgets. "Four years ago Tumblr was one of the first [names] that we would bring up to people," said Gary Vaynerchuk, the head of digital creative agency VaynerMedia and an early investor in Tumblr. "I desperately want Tumblr to win, but we're too focused. There's too much going on Facebook, Snapchat, Instagram and Pinterest that Tumblr just falls out of the conversation." Vaynerchuk calls its "attention arbitrage." Meyers notes that some advertisers may not be as focused because they aren't on Tumblr themselves.
If Yahoo were to be chopped up, Tumblr could be on the table. "[Mayer] bought Tumblr in 2013 in a move designed to keep Yahoo's brand relevant with the next generation. Due to other hurdles, her vision has yet to be realized," said Matthew Tuttle, CEO of Tuttle Tactical Management.
Tumblr could be a tough sell, however. "If push comes to shove, Tumblr can be sold off, but I would have to expect at much lower valuation. It is terribly hard to determine a proper valuation when the financials are not clear," Tuttle continued.
"It's difficult to know the state of Tumblr as an independent entity," Brian Wieser, an analyst at Pivotal Research Group, told International Business Times. In a research note, Wieser valued Yahoo's core business at $1.9 billion, not counting cash. As to suitors, he did not speculate on a particular name but noted interest could come from the telecom industry, a data and marketing service or a media company.
But Tumblr and its audience, described by several marketers as young trendsetters, could also be of interest "for brands, media and entertainment companies and advertising networks who target the demographic already, such as the Complex Media Network," Uri Weingarten, vice president of digital strategy at Red Tettemer O'Connell + Partners, told IBT. Complex magazine, which focuses on youth culture, launched Complex Media in 2007 as a network of media sites. It now receives 42 million monthly page views and pitches itself as a the "premiere online destination for influential and stylish young men," according to Advertising Age.
Tumblr has what other networks strive to build: content, creativity and community. "A lot of social platforms are not inherently social anymore," said Tom Edwards, chief digital officer at ad agency Epsilon. "The beauty of Tumblr is that it provides the open web on top of the community."
The question comes to money. Tumblr may no longer be on Vaynerchuk's short list, but the desktop site and mobile app isn't without advertising. "I see at least one ad per session. It has a higher frequency than Instagram and has more ad products including ad distribution of Tumblr ads across Yahoo properties," Meyers, the senior creative strategist, wrote in an email. "Most marketers are not Tumblr users so they do not understand it."
Ari Levine, who heads new business at VaynerMedia, was hired at Tumblr as its first salesperson and brand strategist in 2012. Why Tumblr? "If you looked then at the social ecosystem, there aren't any platforms out there that allow full creativity. Tumblr had full flexibility," Levine said.
The Trendsetter
Perhaps separation (physically with its own offices and by maintaining a core team) and the man who founded that community is what has fueled Tumblr's continued growth. It's difficult to say who exactly within Yahoo is running Tumblr now, but several marketers noted the brilliance of founder David Karp. "To the best of my knowledge, David Karp is in charge of Tumblr," said Ari Levine, who worked at Tumblr from 2012 to 2014 before moving to VaynerMedia. "David very much is the face and the heart of Tumblr."
Karp, 29, may no longer grace glossy magazine covers like Facebook CEO Mark Zuckerberg and Snapchat CEO Evan Spiegel. But Karp hasn't left the network he founded at age 20. He has, however, been joined by others helping him lead the business. For example, in April, Simon Khalaf, formerly the CEO of Flurry, another Yahoo acquisition, was promoted to Yahoo's senior vice president of publishing products.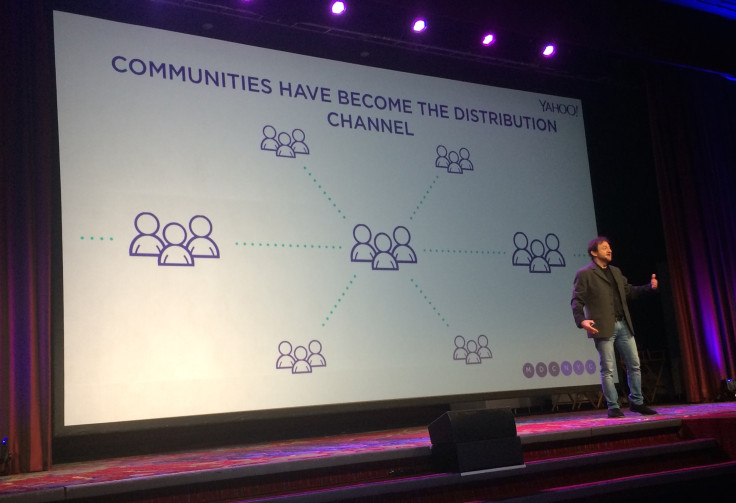 In August, Khalaf presented at Yahoo's second mobile developers conference and explained what Yahoo, and Tumblr, had to offer. "Content is king," he said. "You cannot ignore the millions of folks that are creating phenomenal thought pieces and cool content," he later told IBT.
In 2012, Ari Levine took that narrative of creativity, along with statistics on engagements that he called "unreal," in his conversation to get brands on Tumblr. "Before we could go to the media agencies to sell advertising, we had to go to every brand," Levine said.
Companies did sign on. Edwards named recent campaigns from GameStop, Denny's and HBO's "Game Of Thrones." On Tumblr's marketing website, the ad sales team shares case studies from Starbucks and Taco Bell. Even advertisers' shiny new object Snapchat runs its company's official blog on Tumblr.
But while the ads and the blogs exist, and they're evidently expanding, not every agency and company is jumping in to buy. "Pioneer brands have, and so have some of our clients. It hasn't gotten beyond test-and-learn with their ad products as they emerge, however," Azher Ahmed, EVP and director of digital at DDB Chicago, wrote in an email.
Yahoo's Support?
Perhaps Tumblr needs time. Weingarten of Red Tettemer O'Connell + Partners told IBT that since Yahoo's acquisition Tumblr has "slowly but surely" been building tools for mass advertising adoption. "However, it is still a far cry from the tools now available on Facebook, Instagram and Twitter," Weingarten noted.
With Yahoo's support, Tumblr can integrate with the company's mobile analytics company Flurry and digital video ad company Brightroll. But Yahoo cannot offer such desired targeting like Facebook, a feature that Instagram now offers. In 2012, Karp spoke openly about his opposition to "little blue links" and "hyper-optimized models" from advertisers with "Mad Men aspirations," The Drum reported.
Number of Active Social Media Users by Network | FindTheCompany
And so Tumblr drums on. Spinoff or no spinoff, it's a social network with revenue and users. But attention is fleeting, for users, for marketers, for tech companies. "You have a college kid somewhere or a high school kid that might put something in the app store tomorrow that might take over the world," Levine said.
Yahoo's board meetings continue through Friday. The company has not formally commented on its plans.
© Copyright IBTimes 2022. All rights reserved.
FOLLOW MORE IBT NEWS ON THE BELOW CHANNELS