4 Things About Donald & Melania Trump's Relationship That Shows It Lacks Warmth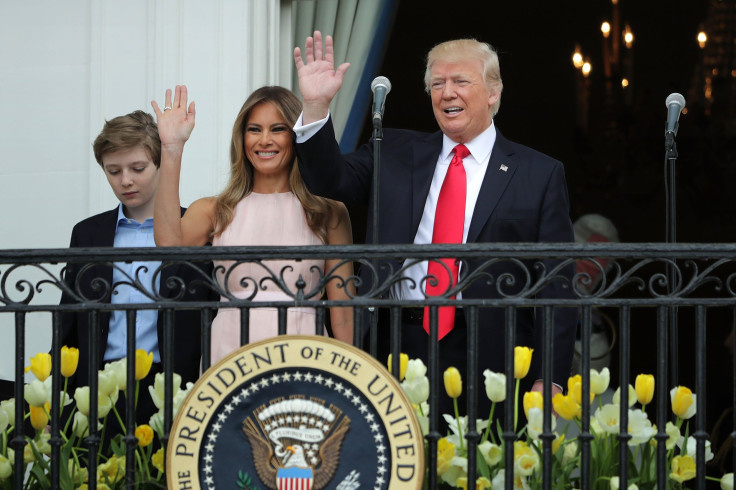 There has always been talks about the relationship President Donald Trump shares with his wife Melania Trump. And most recently Twitter users made observations that has yet again lead to the first couple being compared to their predecessors.
What has now got people to talk about the first couple's body language and public appearances is how they descended the stairs of a plane recently.
This isn't the first time the Trumps have been criticized for the apparent lack of warmth in their relationship. Here's a list of observations about the nature of Melania and Donald Trump's relationship.
1. The couple always maintains a physical distance while they descend from their Air Force One. In a recent photo posted on Twitter, Donald Trump was seen descending the aircraft leaving his wife behind. According to etiquette expert Jacqueline Whitmore, the president's distance "could be perceived as a sign of disrespect."
"In the photographs, what we're clearly seeing is that Donald Trump is walking not just one stair ahead, not two stairs ahead, but a few feet ahead. She's not being accompanied by him," Whitmore explained to the Huffington Post.
"If you look at some of the old photos of Ronald and Nancy Reagan or the Obamas, they are very close together. In other words, they're a unit, they're a couple, and they're engaging in this activity together. Whereas in this particular photo, she is clearly standing all by herself. Now it could also be a sign of self-absorption or he's in a hurry. He's a role model for the country, having said that - he should be modeling, I believe, a different kind of behavior," she added.
2. The president and the first lady are also said to be using separate bathrooms since the very beginning of their marriage. Last year after Donald Trump announced that he would run for president, Melania Trump disclosed she preferred her own private area.
"To the twice-divorced Donald, Melania is terrific," Julia Loffe, who profiled Melania Trump for GQ, wrote last year. "He's never heard her fart or make doodie… Melania has said the key to the success of her marriage is separate bathrooms."
3. Melania and Donald Trump also do not sleep on the same bed as an anonymous source close to the family told Us Weekly magazine. "They never spend the night together — ever," the source said. However, this was not confirmed as while one source said they slept in separate rooms, the another source claimed they just had separate beds in the same room.
4. The president has also been accused of avoiding holding his wife's hand and leaving Melania behind when exiting their car to greet the Obamas at his inauguration. Body language expert Patti Wood believes Trump's unwillingness to hold his wife's hand could be because he wants to be seen as a "presidential alpha."
"Typically a hand-hold shows a couple as a unit," body language expert Patti Wood said. "But to me, I think he's been saying, 'I want to be seen as the president on my own', which is very much alpha. 'I want to be just the powerful me.' And it's clear that that's his choice," Wood added.
The first couple has consistently been compared with other presidents in the past; specially with their predecessor — the Obamas. The comparison is only expected as while Barack and Michelle Obama were seen holding their own grounds with equal intelligence and prowess, Donald Trump ends up looking like he has been sidelining his wife.
As lifestyle and etiquette expert Elaine Swann said: "He still is a husband first before a president. Because he's in the presence of a woman, and this woman is his spouse, he still has to make sure that he's nurturing his relationship. And part of nurturing your relationship is the small gestures and niceties that are necessary in terms of chivalry."
© Copyright IBTimes 2022. All rights reserved.
FOLLOW MORE IBT NEWS ON THE BELOW CHANNELS