Adam Mayes, The Man Who Kidnapped And Murdered Missing Bain Family, Found Shot In The Head, Alexandria And Kyliyah Witnessed Suicide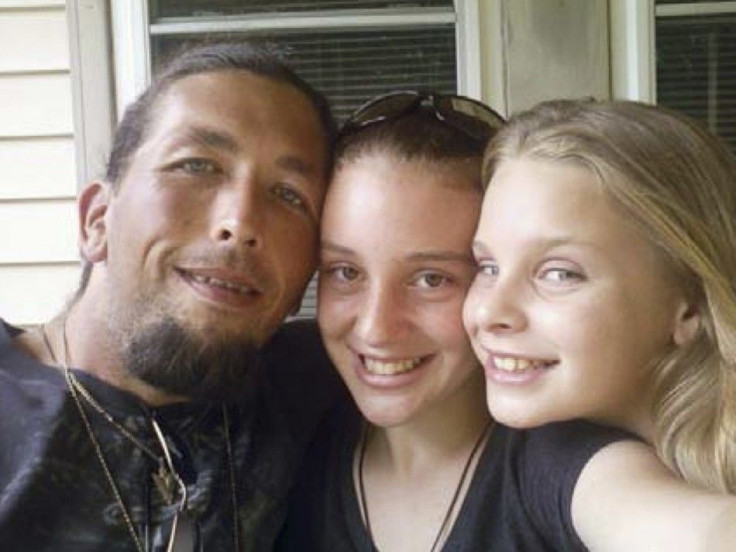 A tip from a concerned citizen led the authorities to where the fugitive, Adam Mayes, shot and killed himself as his kidnapped victims, who have been held captive since April 27, watched.
When investigators discovered Mayes, they found the girls were on their stomach face down. They were close enough to see what was going on when he killed himself, FBI spokesman Jason Pack said, reported CNN.
Alexandria Bain, 12, and Kyliyah Bain, 8, were removed from the scene in New Albany, Miss., and transported to the hospital. They were just about a mile from Mayes' mother's home in Guntown, Miss. The bodies of Jo Ann Bain, 31, and her daughter Adrienne, 14, were found at the hope days before. They were killed on April 27 in their Tennessee home, about 80 miles.
They're doing fine, Sara Burnett, a spokeswoman for Le Bonheur Children's Hospital in Memphis, reported the L.A. Times.
Pack also commented on the girls' situation.
They were scared and relieved, Pack said. They were hungry and thirsty. They gave them water and we drove them out right away.
Tip Concerned Citizen Triggers Police Response
Authorities said they were tipped off that someone spotted Mayes or the girls. However, the tipster said there is an old log cabin behind a nearby church that could serve as an excellent hiding spot.
Police were desperate for a lead and decided to act on the tip. The areas were previously searched by agents, but on a hunch, they decided to search again.
Authorities from several agencies assembled an emergency service team. Officers from the Mississippi Highway Patrol and officers from the state Department of Wildlife, Fisheries and Parks proceeded to move in. The officers found the girls and rescued them, reported The Tennesssean.
Pack said there is no evidence that the girls or Mayes used the cabin.
We are very relieved at this event tonight, Aaron T. Ford, special agent in charge of the FBI's Memphis, Tenn., office., told reporters at an early Friday news conference, reported the L.A. Times. We have two little girls that we can return to Tennessee to their family.
Obsessed With Bain Children
The youngest Bain children were apparently objects of Mayes' obsession. He believed he fathered them, according to his in-laws.
Josie Tate, Mayes' mother-in-law, said his obsession was causing problems between Mayes and her daughter, Teresea.
She was tired of him doting on those two little girls that he claimed were his, Tate said, reported the Associated Press.
However, even though Mayes is dead, the authorities will continue to investigate the incident.
There are several questions that have not been answered in the case. Police are investigating whether Mayes had help from an outside source to help him evade authorities, reported the L.A. Times.
Teresa Mayes And Mary Mayes Charged
Mayes' wife, Teresa, was charged with first-degree murder in connection with the deaths of Jo Anne and Adrienne at their home as part of the plot for Mayes to abduct the youngest girls.
Teresa Mayes stated that Adam Mayes intended to take Alexandria Bain and Kyliyah Bain from their home in Hardeman County, the affidavits state, reported ABC. Both murders were directly part of the kidnapping of Alexandria Bain and Kyliyah Bain.
Teresa admitted to being there when her husband killed Jo Ann and Adrienne Bain in the garage next door to their home.
Adam and Teresa then transported the bodies to Union County, Miss. where he dug a shallow grave behind the home of Mary Mayes, Adam's mother, in Guntown. Reports indicate that Mary knew about the crimes.
Police identified the bodies discovered the bodies on May 4. Mayes' mother, who was arrested with Teresa, is being charged with four counts of conspiracy, reported WHBQ.
Teresa Mayes' bond is set at $500,000; Mary Mayes, $300,000, reported WMCTV.
Teresa Mayes' lawyer, Shana Johnson, said her client is working with police. She did not say whether or not Teresa knew the location of her husband or the kidnapped Bain children.
Hundreds of law enforcement officers from 17 agencies were involved in tracking down Mayes.
Bobbi Booth, Teresa's sister, said her sister told her about the murders of Jo Ann and her 14-year-old daughter. Their bodies found in the backyard of Mayes' home.
She knew he dug the grave, said Booth, reported WMCTV. That was my understanding of the conversation with her because I was yelling at her. I'm like 'You what?' You know. What she said, 'I saw him digging a hole.'
Booth however, thinks her sister was too scared to tell the police about the incident.
Teresa started to call, text and Facebook constantly on Thursday, she said, according the AP.
Booth told her sister it was best to call the police. Teresa said she had, but Booth did not believe her and called the authorities herself.
I told them exactly what she had told me: Who the bodies were, where they could be dug from, Booth said.
In an interview with CNN, she pleaded with Mayes to let the children go.
Just let the children go. This has gone on way too far, and we need to figure out what's going on, and it's not fair to the children, she said.
Authorities said Mayes is a close family friend who was staying with the Bain's on April 27, the same day he killed Jo Ann and her daughter and kidnapped the other two.
Mayes is a family friend who was staying there that night to help the family pack and drive a U-Haul to Arizona the next day with Gary because the family was planning on moving there within the month, Kristin Helm said, a spokeswoman for the Tennessee Bureau of Investigation, reported the AP. Gary was asleep at the home that night and woke to find them gone in the morning and the car gone. Mayes was gone too.
Mayes is connected to the Bain family through his sister, Pamela. Gary Bain, the father of the missing girls, was previously married to her.
Before he went on the run, authorities questioned him and he admitted he was the last one to see the family, reported the Associated Press.
Early days of the investigation led us to suspect Adam Mayes, FBI spokesman Special Agent Joel Siskovic said, reported Reuters We don't know exactly where he's going. We do consider him armed and dangerous.
As police attempt to track down Mayes and the Bain family, they warned that he might have changed his appearance to evade capture.
We do have information that he has altered the appearances of everybody including himself, primarily from cutting their hair, Siskovic said, reported ABC. The girls may have far shorter hair than the pictures out there.
FOR FREE to continue reading
✔️ Unlock the full content of International Business Times UK for free
offer available for a limited time only
✔️ Easily manage your Newsletters subscriptions and save your favourite articles
✔️ No payment method required
Already have an account?
Log in
© Copyright IBTimes 2023. All rights reserved.