After Losing China To Xiaomi, Samsung Needs A 'Killer' $100 Smartphone To Retain Lead In India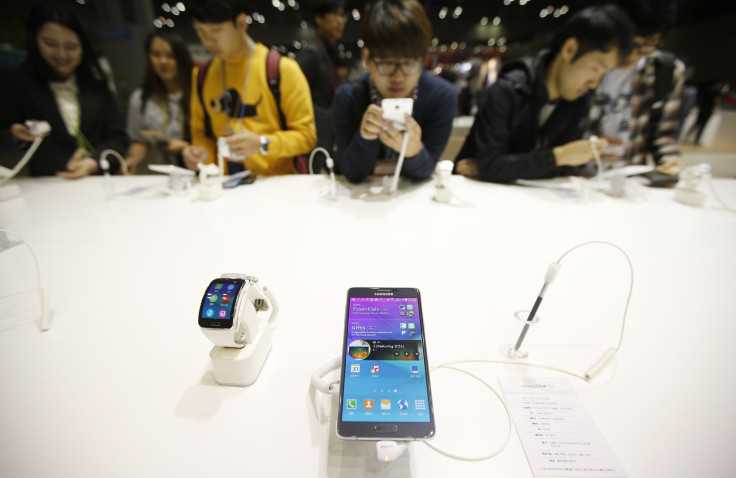 Samsung Electronics Co. Ltd., still the world's top smartphone seller by shipments, is in a pitched battle for market share on both ends of the price spectrum and in two of the biggest mobile phone markets in the world.
The consequences showed up on Wednesday, when the company reported its worst quarterly earnings results since 2011. Separately data from IDC, a market researcher, showed that while Samsung was still the leader in terms of number of smartphones sold worldwide, it was the only top-five vendor to sell fewer phones in the quarter compared with the year-earlier period.
At the top end, it's flagship units haven't created the same buzz that Apple Inc.'s iPhone 6 models and the related services, such as Apple Pay, have, and at the lower end, the Korean giant is being hit by upstarts in China and in India.
Having already lost the top spot in China to Xiaomi Inc., Samsung has a fight on its hands in India, where Xiaomi, local players such as Micromax Technologies and a resurgent Motorola Inc. are offering feature-rich smartphones at lower prices than Samsung phones with equivalent specifications.
So what might Samsung do to reverse its market share loss in India that industry analysts expects will continue in the current quarter: "They have to be very aggressive in the sub-10k (rupee) category ... they have to launch some killer models in this price band," said Tarun Pathak, a senior analyst at Counterpoint Technology Market Research.
Samsung's 2014 smartphone market share in India fell from 35 percent in three months ended March 31 to 29 percent in the three months ended June 30.
The Moto E and the Moto G are a case in point. The latter even beats some of the specifications of the Samsung Galaxy S3, its largest selling flagship -- such as the display size and camera -- while matching most other specs, at a price that is 40 percent cheaper.
In India's online shopping site Flipkart, the S3 sold at 21,900 rupees ($356) at the time of writing this story, on Thursday, whereas the Moto G's second generation, the latest, costs 12,999 ($212) rupees. However, the real game changers are handsets such as the Moto E and Xiaomi's Redmi 1S and their competitors from Micromax, Karbonn, Gionee, Oppo and others.
The Moto E retails on Flipkart at 6,999 rupees (less than $115) and yet offers a sophisticated smartphone experience, with a combination of closer-to-pure-Android user interface and Motorola's software applications such as the Moto Assist, Alert, and Migrate.
Wide price gap
India's smartphone market is on a tear: as a proportion of overall mobile phone sales in the country, smartphones almost doubled from about 15 percent in the second quarter of 2013 to 29 percent in the three months ended June 30 during which some 63 million handsets, including feature phones, were sold in India, IDC's data showed.
As competitor after competitor offers devices in the $100-$200 price bracket, with specifications that match Samsung devices that are much higher priced, the gap between Samsung and its competitors is so wide in India that "although Samsung has advantages in terms of brand value and perception (among others), those advantages become weaker," said Canalys analyst Jessica Kwee in Singapore, in an emailed interview.
Other industry analysts agree: "The differentiation advantage that Samsung used to have in terms of its brand and user interface is really being attacked," said Gartner Inc. principal research analyst Anshul Gupta, in a phone interview on Wednesday.
In a sense, Xiaomi and Motorola are doing to Samsung what Samsung did to Nokia Oyj: Samsung came from behind, but built smartphones that were differentiated versus Nokia or HTC Corp., which was actually ahead of Samsung in embracing Android.
The user interface and the technologies introduced in Samsung's Galaxy phones really delivered a more sophisticated experience that made the phones phenomenally popular all over the world, pushing Samsung to the No. 1 spot, Gupta said.
"Now they are facing a lot of pressure because they are struggling to differentiate their phones from the Chinese players and that is really killing them, not only in India but also in China," he said.
At Counterpoint, Pathak said the consultancy's research showed Samsung's share in China had dwindled this year from 17 percent in May to 10 percent in August.
"They really need to work on their differentiation, how they can set themselves apart from the Chinese and the local players," Gartner's Gupta said. "If they are not able to do that, then they will be like any other player ... Then it will all come down to the price points."
Lessons from Apple
There are lessons that Apple's stubborn refusal to venture outside the high-end segment of the smartphone market, even in markets such as India, offers Samsung: "Apple's devices are definitely costlier than what most people can afford here (in India), but that isn't the important thing," Gupta said.
"Their differentiation definitely comes from the user experience and the services you get on Apple's iPhones ... you don't get those kind of things on a Samsung device," he said.
"Sometimes, a product doesn't need to deliver numbers as much as it needs to deliver that iconic brand value," said Jayanth Kolla, a partner at Convergence Catalyst, a telecom consultancy, in a phone interview for this story. "Apple really maintains that very well," even in India that many saw as a market founder Steve Jobs didn't think much of.
By the time Apple eventually opened up their operations in India, about two years ago, they had a lot of pent up demand. That meant, even though iPhones weren't yet selling in large numbers, "everyone wanted or yearned to own an Apple device," Kolla said.
Devices that Apple was discontinuing in the U.S. were still made available in India at prices that were "extremely low, for Apple": iPhone fans in India didn't mind owning an iPhone 4 even though an iPhone 5 was already selling in the U.S., "just because they wanted to own an iPhone," he said.
Over the 12 months ended Sep. 30, Apple's fiscal year, Convergence's estimates showed Apple had sold a tad over a million iPhones in India, Kolla said.
"Samsung needs to create that iconic brand at the high end," with the message that they are THE product innovators, that they are launching aspirational devices and while those aspirational devices might not be affordable to everyone, there are other devices from the same company that the mass market could buy, he said.
One other perception that Samsung should change in India is that they are a hardware and devices company, Kolla said, whereas the company has a formidable software portfolio of its own. Xiaomi, on the other hand has consistently exploited its software-maker image, even monetizing some apps and services in China, he said.
Xiaomi's online-only strategy
The other factor clearly in Xiaomi's favor, at least until they hit tier-2 Indian towns, is the buzz they've created with their online-only approach. The timing could hardly be better: there's a large and growing demographic of urban millennials in India who were born to the Internet.
They are the early adopters of online and mobile shopping in India, despite the country's poor broadband penetration.
Xiaomi has clearly grabbed their imagination and it looks like only its own production limitations are holding it back from explosive growth in India. So far sales have all been restricted to tens of thousands of hadsets, and all in an exclusive partnership with India's Flipkart.
Xiaomi's largest so-called "flash sale" in India was for 100,000 units of its Redmi 1S lower-end phone.
Samsung, on the other hand, is treading a complicated tight-rope between online sales and keeping brick-and-mortar distributors happy.
"It's a double edged sword ... if someone as big as Samsung goes overboard on ecommerce, they are likely to irk their physical distributors," and this is a problem for every company, Kolla said.
On the other had, even though online sales represent only about 15 percent of the overall mobile phone market in India, not having a strong online play will mean missing out on that "early-adopter consumer mind share."
This has a ripple effect as and when smartphone penetration goes beyond the metros and into tier-2 and tier-3 cities and towns and into rural areas eventually: A prospective smartphone buyer could turn to a fried or a relative in a city for recommendations, and Samsung may not make that shortlist.
Then there is Android One, Google Inc.'s project to ensure that users in India other emerging markets get a more uniform experience, both with hardware specifications and with the Android user interface.
Samsung is yet to join Android One with a device of its own, which potentially gives an advantage to its Indian competitors, some of whom have specifically tied up with Google to launch Android One smartphones in the $100 price range.
Samsung has the financial might, and the deep technology expertise to pull off a surprise of its own, but to hold its leadership position in India, it needs to do so fast: Canalys's Kwee said: "At its current trajectory, Samsung does need something significant to reverse its market share trends."
Will that something be a $100 handset that takes on the Moto E and the Redmi 1S online, with better hardware specifications and a user experience that blows competition away? Only Samsung can tell.
© Copyright IBTimes 2022. All rights reserved.
FOLLOW MORE IBT NEWS ON THE BELOW CHANNELS