Aftermath In The Central African Republic: One Mad Dog, Millions Of Ruined Lives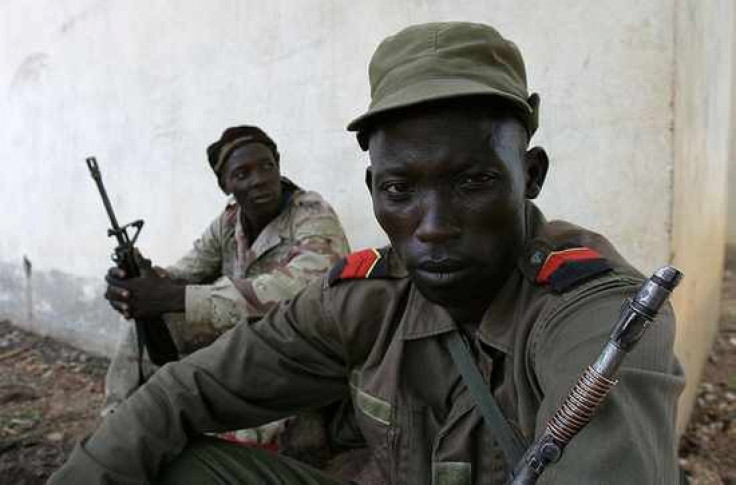 ADDIS ABABA, Ethiopia -- The most sensational report to come out of the Central African Republic in recent days is the story of Ouandja Magloire, also known as Mad Dog, who participated in the brutal murder of a Muslim man in the capital city of Bangui. Magloire led an angry mob in dragging the victim from a bus before beating and burning him to death. Then he resorted to cannibalism, taking several bites from the man's leg.
"I stabbed him in the head," said a blank-faced Magloire in a BBC interview. "I poured petrol on him. I burned him. Then I ate his leg, the whole thing right down to the white bone. That's why people call me Mad Dog." He said he did it because he was angry; Muslims had recently killed his pregnant wife, along with her sister and niece.
Mad Dog's story is unique -- there have been no other recent news reports of cannibalistic attacks -- but he is not alone in his anger. Over the past year, tit-for-tat violence, rape and looting have led to the deaths of thousands of people and the displacement of hundreds of thousands more. Tensions between Christians and Muslims have erupted into bloody conflicts all across the country. The ongoing turmoil was set off in December 2012 by the advance of Seleka, a mostly Muslim rebel group that rolled into Bangui in March and overthrew President François Bozize.
The rebel-installed president, Michel Djotodia, failed to establish law and order in Bangui, let alone across the country; this was especially apparent when a fresh wave of violence rocked the capital city in early December 2013. He stepped down on Friday, and a new transitional government initiated meetings this week. Within weeks, the body aims to select a new president to maintain order until national elections, scheduled to be held by February 2015.
The path to peace will be a long one, and the news cycle is already spinning eastward as diplomats focus their attentions on the conflict in South Sudan, Africa's latest crisis. But headline-grabbing stories like Mad Dog's speak to the discord and division that continue to plague the Central African Republic, where political negotiations and foreign funding are still needed to stem one of the world's most severe humanitarian disasters.
Clamping Down
Shortly after Djotodia bowed to international pressure and stepped down, celebrations erupted in some Christian neighborhoods in Bangui, leaving Muslim residents worried about retaliatory attacks. There were reports of looting and gunfire in the weekend following the abdication, and the Red Cross reported that at least 127 people have died since Friday.
Transitional government leader Alexandre Ferdinand Nguendet issued a strong statement on Sunday, calling for calm and warning both sides that "the holiday is over ... the chaos is over, the pillaging is over, the revenge is over." He has also begun the deployment of hundreds of security workers in an attempt to put Central African security back in domestic hands. "It is a shame for the nation to see the security of the people of Central Africa entrusted to regional and international organizations," he said.
This week, a relative calm seems to have descended over the capital. "[In the] daytime people are out and about," said Amy Martin, head of Bangui's U.N. Office for the Coordination of Humanitarian Affairs on Monday. "Banks opened in the morning. Some shops were opened. At night it is a different scenario. People regroup in the evening to sleep at the numerous IDP [internally displaced person] sites."
As Nguendet works to enforce order from Bangui, international troops are also playing their part. About 1,600 French troops are in the Central African Republic, and about 4,000 African Union forces under the International Support Mission to the Central African Republic, or MISCA, in French, have deployed since December. African Union Peace and Security Director El Ghassim Wane said the number could go up to 6,000 depending on the needs on the ground, adding that the United States is providing up to $100 million in logistical support, having so far airlifted Burundian and Rwandan contingents of MISCA into the Central African Republic, while the European Union has contributed 50 million euro ($68 million).
Wane noted that a donors conference, to be held in Addis Ababa in early February, could mobilize still more funds for the war-torn country. "We hope we'll be able to contain the situation," he said. "It's not easy. The killing that took place makes the political work far more difficult. We are trying to reorganize the security forces to enhance their effectiveness so that they can be able to contain the situation."
Looking Ahead
For the Central African Republic's 4.6 million people, security is one thing; long-term stability is quite another.
Religious divisions have taken on a major role in the country's current crisis, but the conflict began as a political one first and foremost. Seleka -- which means coalition in the local Sango language -- coalesced with the aim of overthrowing Bozize. They claimed the president had failed to honor peace agreements signed in 2007 and 2008 to end the Central African Bush War, a three-year conflict in which rebels led by Djotodia clashed with government forces but were ultimately absorbed into the national army.
Attacks perpetrated by Seleka's mostly Muslim militants spurred the rise of majority-Christian defense groups called anti-balaka. Balaka means machete in Sango. Fighters on both sides have been accused of committing severe abuses against civilians, and global watchdog groups including Human Rights Watch have documented brutal episodes in which whole families have been murdered, villages burned, women raped and survivors forced to witness the violent deaths of their loved ones.
Before the current crisis erupted, Muslims were often seen as foreigners. Now, more Christians see them as antagonists -- and vice versa. This makes security work challenging, says Wane. "The [MISCA] deployment took place after the incidents in early December, which heightened tensions and took a religious, inter-communal character," he said. "So we're operating in a very difficult environment."
Even if the violence can be subdued, the next interim president will face the daunting challenge of maintaining progress so that elections are logistically feasible come 2015. That won't be easy in a country that has suffered incessant coups and conflicts since gaining independence in 1960, and where the latest World Bank data indicates that 62 percent live below the poverty line, life expectancy is at 49 years, and only 51 percent have access to clean water. As political resolutions inch forward in Bangui, humanitarian aid is sorely needed all across the country.
A survey report released by UNOCHA this month revealed the depth of the problem. Among its findings: about 70 percent of those surveyed outside of displaced persons' settlements cited lack of health care as a primary concern; 90 percent of respondents say their households are having one meal a day as opposed to two or three before the conflict; 62 percent of the schools in Bangui are being used as shelters for displaced persons while many others remain empty; and 70 percent of respondents do not feel informed about the crisis or the progress of the response.
Domestic and international responses to these humanitarian issues will have a huge effect on the outcome of Central Africa's conflict, but stories like Mad Dog's are stealing the spotlight -- and his act of cannibalism is just one example of the violence that still tears communities apart every day in Bangui and across the country. "The extent of the killing is not yet fully told," said Martin of UNOCHA. "We will see more incidents. We hope the killing stops so that peace and reconciliation can begin."
FOR FREE to continue reading
✔️ Unlock the full content of International Business Times UK for free
offer available for a limited time only
✔️ Easily manage your Newsletters subscriptions and save your favourite articles
✔️ No payment method required
Already have an account?
Log in
© Copyright IBTimes 2023. All rights reserved.