Apple New iPad Launch Friday, March 16: Pricing, Availability, Trade-ins and Review Roundup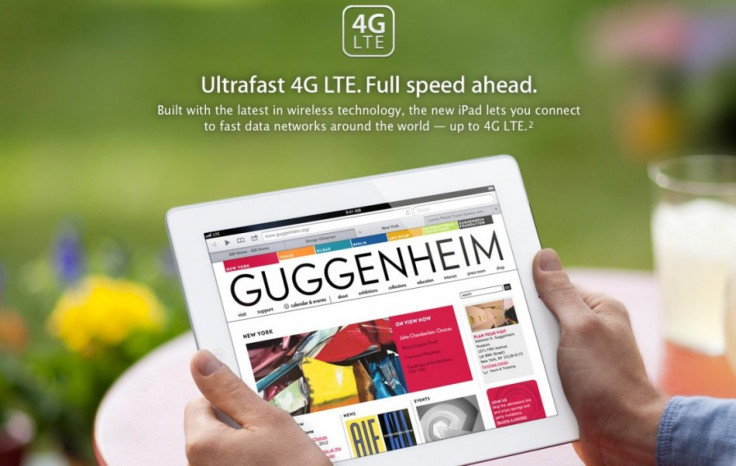 Apple has confirmed that the new iPad, the third generation of its category, will launch in the U.S. and nine other countries on Friday, March 16, at 8 a.m. local time.
The Cupertino-based tech giant said in a statement that the countries ready for the initial launch of the new iPad on Friday include the U.S., Australia, Canada, France, Germany, Hong Kong, Japan, Singapore, Switzerland and the UK, along with Puerto Rico and the U.S. Virgin Islands.
Apple also confirmed the launch stores for the U.S. with Best Buy, Radio Shack, Sam's Club, Target and Walmart. Each of them is expected to get the device this Friday.
Pricing
The new Apple iPad Wi-Fi models will be available in both black and white for a retail price of $499 for the 16GB model, $599 for the 32GB model and $699 for the 64GB model.
On the other hand, the Wi-Fi + 4G models for 4G LTE networks in the U.S. and Canada and 3G networks around the world including those based on HSPA+ and DC-HSDPA, will be available for a retail price of $629 for the 16GB model, $729 for the 32GB model and $829 for the 64GB model.
Availability
The new device will be sold in the U.S. through the Apple Online Store, Apple's retail stores and select Apple authorized resellers.
AT&T and Verizon Wireless will also sell the new iPad at their stores this Friday. However, they will only sell the 4G LTE models of the device.
On Friday, it is very likely that there will be long lines outside the stores, with some people reportedly already queuing up. Though AT&T and Verizon stores may have shorter lines, they are also expected to have less stock. It is the Apple Stores that generally have enough stock to get through the weekend.
You can still buy the new iPad online through Apple's Web site and other online stores, but you might have to wait for a while to hold the device in your hand as the company is currently showing two to three weeks for shipping.
As for the international launch, Apple announced that starting March 23, the new iPad will be available in additional 23 countries including Austria, Belgium, Bulgaria, Czech Republic, Denmark, Finland, Greece, Hungary, Iceland, Ireland, Italy, Liechtenstein, Luxembourg, Macau, Mexico, The Netherlands, New Zealand, Norway, Poland, Portugal, Romania, Slovakia, Slovenia, Spain and Sweden.
iPad 2 Trade-ins
If you are planning to sell your old iPad to help pay for the new one, Apple is ready to offer up to $320 for iPad 2 trade-ins, depending on its model and condition.
As per Apple's updated Reuse and Recycling program, you can get a good amount of money in the form of an Apple Store gift card for the year-old iPad, if it's in perfect condition. Here's what Apple will offer you:
$205 for 16GB WiFi iPad 2
$250 for 16GB WiFi + 3G iPad 2
$245 for 32GB WiFi iPad 2
$280 for 32GB WiFi + 3G iPad 2
$275 for 64GB WiFi iPad 2
$320 for 64GB WiFi + 3G iPad 2
If you want more money, Amazon would be more preferable. The online retailer is offering up to $500 for used iPad 2 models. Amazon's payment also comes in the form of a gift card.
New iPad Review Roundup
More than a week after Apple unveiled the third generation iPad, reviews of the device by some mainstream publications have started pouring in. Here's a roundup of the top reviews from the tech pundits on the eve of the device availability.
For owners of the iPad 2, this isn't necessarily a slam dunk. While the updated features are boon to the new iPad, it doesn't offer an experience that is significantly different from the previous version. If your screen never bothered you, and you never wanted a faster cellular connection or a better camera, there's not a great argument to upgrade (especially considering many of you just shelled out for a new tablet less than a year ago).
However, if you're in the market for your first tablet, or upgrading from the original iPad or an Android device, do not hesitate. The new iPad is the most functional, usable, and beautiful tablet that any company has ever produced. (Joshua Topolsky)
AllThingsD:
Boosting those particular features - the screen and the cellular speed - usually has a negative impact on battery life in a digital device. But Apple has managed to crank them up them while maintaining the long battery life between charges that has helped give the iPad such an edge over other tablets...
Since it launched in 2010, the iPad has been the best tablet on the planet. With the new, third-generation model, it still holds that crown. (Walk Mossberg)
I've been using the iPad for a week now and I'm so impressed. From the first time I turned it on and saw the Retina display, I was in awe of how good it was. Trust me, even if you watched the introduction video, you still have no idea how good this display is. You really do have to see it to believe it. (Jim Dalrymple)
If you have the original iPad, I say this is a no-brainer. If you have an iPad 2, it's a tougher call since it still seems nearly as fast as the new iPad. But if you choose not to upgrade (or to spend $399 for the 16 GB iPad 2 now), again, treat the new iPad as if it were Medusa when you're in an Apple Store. Do. Not. Look. At. It.
If you're at all interested in LTE in an Apple product, obviously, get a new iPad. If you read a lot on your iPad, get the new iPad. If you take a lot of photos and videos (yeah you, the joker in the front row of the concert with your iPad in the air), get the new iPad. (MG Siegler)
Users of the iPad 2 shouldn't fret: Their iPad investment is certainly good for another year. But they might not want to look too closely at the new iPad's screen. Once you get a load of that Retina display, it's hard to go back to anything else. (Jason Snell)
The new iPad doesn't introduce anything that we haven't seen before, either in the iPhone or in rival tablets. There's no Steve Jobs one more thing moment here; Apple just took its white-hot iPad and added the latest screen, battery and cellular technologies.
If you're in the market for a tablet, here's the bright side: For the same price as before, you can now get an updated iPad that's still better-looking, better integrated and more consistently designed than any of its rivals.
And if you already have the iPad 2, here's an even brighter side: At least this time around, you don't have to feel quite as obsolete as usual. (David Pogue)
Let's get right to the point: If you don't already have an iPad, chances are you'll be very happy with the third-generation model that goes on sale Friday. If you already have an iPad 2, there's little need to upgrade. (Rich Jaroslovsky)
The new iPad features a new Retina display (2048 x 1536 resolution), Apple's new A5X chip with quad-core graphics and a 5 megapixel iSight camera with advanced optics. The new iPad Wi-Fi + 4G supports faster 4G LTE networks in the U.S. and Canada, and 3G networks around the world including those based on HSPA+ and DC-HSDPA.
Must Read:
© Copyright IBTimes 2023. All rights reserved.
FOLLOW MORE IBT NEWS ON THE BELOW CHANNELS