Athletic Footwear Stocks, Juiced by Lightweight Running Shoe Trend, Are Sprinting Into New Records
Nike Sets All-Time High, Competitor Under Armour Beats Analysts' Lofty Expectations; Retailers Riding in the Wake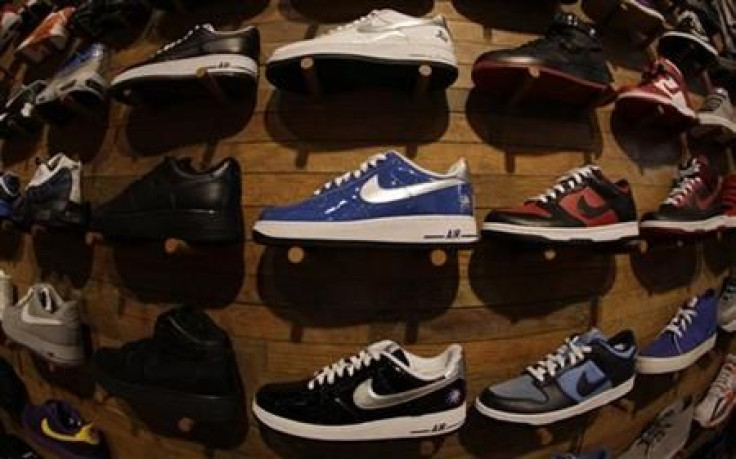 They are off and running!
After spending a summer sidelined by fears of an exhausted consumer and nearly stopped dead on their tracks by the market correction of early August, the stocks of athletic shoe and apparel makers (and the specialty retailers that put those products in consumer's hands) have been sprinting into marathon season, outperforming the wider footwear and apparel sectors and setting one or two all-time records along the way.
Setting the pace for the various stocks whose price has been pole-vaulting into dizzying new heights is what one athletic sector analyst calls "a running cycle that we're basically two years into."
Camilo Lyon, a Canaccord Genuity analyst who follows Nike, Foot Locker, Under Armour, Columbia Sportswear and Dick's Sporting Goods, among other athlete-focused companies, says the cycle has been largely driven by "a trend in minimalist-slash-barefoot running," noting "Nike's product and Nike's 'Free' shoe have been the driving force" in popularizing the trend.
In support of this statement, he notes the way Nike has been able to make their line of ultra-lightweight running shoe appealing to both the hard-core marathon-runner crowd and the Sunday jogger. Other products that are popular with the more dedicated runners, such as the distinctive-looking Vibram FiveFingers shoe, have not been able to go mainstream.
Indeed, Nike's share price is solidly at the front of the pack when compared with other footwear makers. On Monday's session at the New York Stock Exchange, shares briefly touched a peak of $95.93, a figure that represents both a 52-week and an all-time high for the company's shares. The stock settled at $95.07, 72 cents or 0.76 percent higher than the previous day's close. Since the beginning of the month, the stock is up 14.47 percent, outperforming both the Dow Jones U.S. Retail and Dow Jones U.S. Footwear sector indices, up 13.29 and 13.61 percent, respectively
Nike's competition is not slowing down either. While hit particularly hard by the hurdles in the European equity markets earlier in the summer, German athletic behemoth adidas AG is up 14.85 percent this month on heavy trading in the Frankfurt Stock Exchange. Fellow German firm PUMA AG Rudolf Dassler Sport is up 10.09 percent for the month, also in the Frankfurt Stock Exchange.
And like a peloton riding the aerodynamic stream behind the race leader, all manner of specialty sports retailers are up significantly this month on expected strong sales of branded footwear and apparel. National athletic apparel specialists Dick's Sporting Goods (up 25.65 percent), Foot Locker (up 16.24 percent), Hibbet Sports (up 20.4 percent) and lululemon athletica (up 19.78 percent) all seem to be running at full-speed. West Coast sports staple Big Five Sporting Goods takes the gold, though. Shares are up a stunning 47.57 percent this month.
The sector might see an even bigger boost forward today, after an earnings report from CNBC-darling Under Armour that exceeded analyst expectations on both earnings and revenue. The company, which reported earnings-per-share of 88 cents this morning, a nickel over analysts' predictions, is already up 18.21 percent for the month. While its price-to-earnings ratio at current share levels exceeds 50, a considerable premium over other apparel makers, the inflated pricing appears to be a reflection of expectations for the future.
Lyon, Canaccord Genuity analyst, says many see Under Armour as "today's generation of Nike."
And that, like the passing of the baton in an Olympic relay race, could mean the company is about to sprint away.
© Copyright IBTimes 2023. All rights reserved.