Avery Lynn Canahuati of Avery's Bucket List Dies At 5 Months: See What She Accomplished In Her Short Life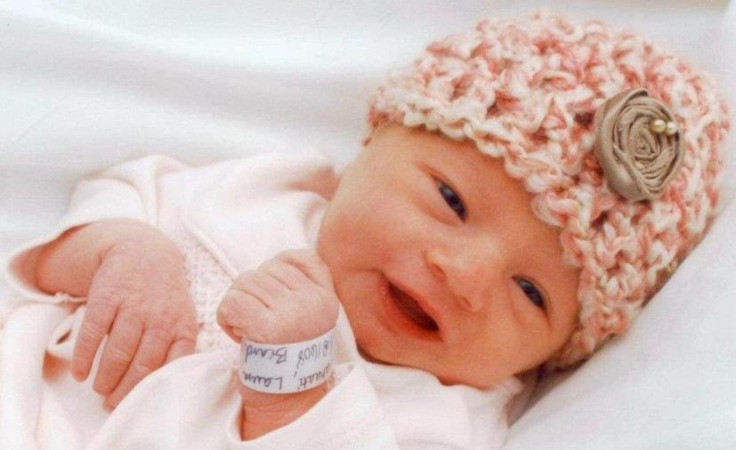 Little Avery Lynn Canahuati, the 5-month-old girl with spinal muscular atrophy who captured everyone's hearts on the Internet for her bucket list, died yesterday, her family announced on her blog.
Avery passed away yesterday sometime around 3pm due to pulmonary complications related to SMA. In short, one of her lungs collapsed and she went into cardiac arrest. I immediately performed CPR on her and was able to bring her back to life, but only for a brief period of time before she passed away shortly after arriving at the hospital, her father, Michael Canahuati, wrote. Avery's passing this quickly came as a complete shock to all of us, as she had just been given a thumbs up at her last doctors appointment only three days ago. While we were aware of the severity of her diagnosis, we never lost hope for Avery and even in her passing, we still have hope for our daughter and all of her friends. I'm going to share a note Avery gave me back when all of this started, but made me promise not to open until I knew the time was right...
The blog for Avery, averycan.blogspot.com, was set up by her parents to promote awareness of spinal muscular atrophy, an incurable disease caused by a genetic defect. Only 10 percent of babies with the disease grow up to be adults.
The blog was written from Avery's perspective of how her parents believed she was coping with the spinal muscular atrophy.
In the blog's first three months, the site already had 500,000 page views and was featured in the media, including Fox, CBS and MSN.
Avery's Bucket List was the main feature of the blog, and Avery's parents would routinely cross off experiences Avery got a chance to go through before she died.
Imagine you've been diagnosed with an incurable genetic disease and you are told you will not only lose your ability to walk and move your arms, but you will die between now and the next 18 months, Avery says on her main page. What would you do? My name is Avery Lynn Canahuati, I'm almost 5 months old, and this has become my reality. But before I die, there's a few things I'd like to accomplish...this is my bucket list and my story. SHARE IT & HELP ME TELL THE WORLD ABOUT SMA!
In one blog post, Avery got to go to her first baseball game when the Sugar Land Skeeters gave her the honor of throwing out the first pitch.
Among the items scratched off Avery's bucket list that day were have thousands of people cheer for me at once and shake hands with super hot baseball players.
Another post featured a photo from the Obama family and a get well soon card from the clan.
Avery also got her first tattoo (a temporary Hello Kitty design), had a bad hair day and ate a cupcake.
In her heartbreaking final post, Avery wrote a letter to her parents and supporters as if she were writing from heaven.
When I started writing my blog, I thought I'd only be speaking to my closest friends and family members, Avery wrote. Little did I know soooooooo many people would care about me and while I'm flattered to have so many people who love me, I hope they will also take time to love and care about all of my friends out there with SMA.
To learn more about SMA, visit Avery's blog, which also features items crossed off her bucket list.
© Copyright IBTimes 2023. All rights reserved.