Bahamas Suffers 'Direct Hit' from Hurricane Irene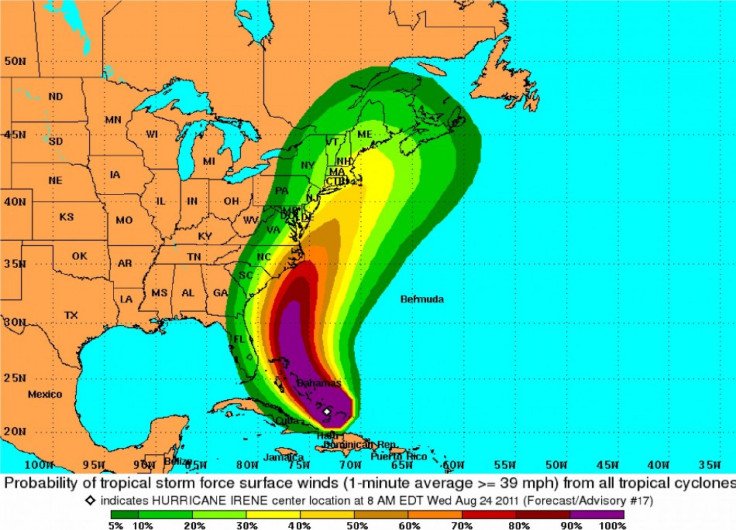 After inflicting what officials call a serious beating on the southeastern Bahamas, Hurricane Irene is now charting its path into the central parts of the islands and inching closer to the East Coast of the United States.
Irene has the potential to upgrade to a Category 4 hurricane by Thursday before its onslaught on the coast.
Clint Watson, senior reporter at ZNS News, the government media arm in the Bahamas, told the IB Times late Wednesday night that the islands of Acklins and Mayaguana took a serious beating from Hurricane Irene.
There are reports of serious damage -? structural damage and reports of homes being destroyed, Watson said. They got a direct hit.
The Bahamas' National Emergency Management Agency reported damages to a church roof on Mayaguana. The island has been without power since Tuesday.
NEMA also reported that approximately 40 houses have been damaged, including in the communities of Betsy Bay, Pirate Wells and Abraham's Bay.
On Acklins, about 90 percent of the settlement in Lovely Bay is reportedly gone, NEMA's report stated. The roofs of several homes have blown away. Power lines and trees are down on the road and the shelters' population has increased.
That area is still experiencing winds in excess of 90 to 110 mph winds, NEMA said.
There are no reports of loss of lives or injuries at this time, Watson said.
More than 100 shelters have been opened throughout the archipelago and are housing several hundreds of people through the islands. The smaller islands in the Bahamas aren't densely populated.
Prime Minister Hubert Ingraham on Tuesday spoke to the nation live on radio and TV where he said that Irene was the third hurricane to threaten the entire archipelago of the Bahamas since 1866. He urged them to take precautions.
Government offices and banks closed early on Wednesday, giving people in Nassau and other parts of the Bahamas ample time to finish preparing for the storm and hunker down by late afternoon.
Watson told the IBTimes that the Royal Bahamas Police and Defense forces have mobilized all their officers to work during the hurricane. All hospital staff are also working, but using a shift system.
They are manning a rotational shift that will be in place until the storm passes, Watson said.
Hours leading up to the approach of Irene, some residents were reporting that it was hard to find bottled water, and that there were long lines at the shops. The shelves in the supermarkets were being quickly emptied.
Persons in Nassau spent the entire day today and yesterday boarding up windows, removing debris from homes and shopping for canned goods and other hurricane supplies, which is the norm, said Tamara McKenzie, a 34-year-old teacher living in Nassau. However Nassauvians are known to wait until the last minute to prepare [as they have not been hit directly or under a serious threat for a very long time so everyone today was in a frenzy.
Nassau will escape the harshest beating from Hurricane Irene because the storm has shifted somewhat, Watson said. Its power supply is expected remain on.
Some [islands] are under the gun of the storm, Watson said. Those islands under the gun now won't have power, but those who have seen [the storm] already will see [power] restored. The local power company has said the aim is to keep power on as much as possible.
The Bahamas Electricity Corp. has crews working through the storm.
Watson said most of crewmembers will work after the storm for the restoration and recovery of the island.
See NEMA's report below
Hurricane Irene Briefing Notes for Media #1
Mayagauna
- NEMA received reports that the church roof has been damaged.
- The island has been without power since yesterday.
- The administrator also reported that approximately 40 houses have received level 2 damages, inclusive of the Community of Betsy Bay, Pirate Wells and Abraham's Bay.
- Concerns were also expressed to the Asst. Commissioner of Police John Ferguson in reference to 3 persons detained at Police Station
Crooked Island
- The school in Colonel Hill has lost its roof and have also lost two classroom blocks
- St. John's Baptist Church has also lost its roof.
- Some of the buildings on the island have also lost roofs.
- Still experiencing winds around 120mph.
Acklin
- In Lovely Bay some 90% of the settlement is reportedly gone
- House roofs and several homes blown away.
- Power lines and trees down in the road,
- The shelters population has increased.
- Still experiencing winds in excess of 90-110mph winds.
Long Island
- Administrator Mr. Jordan Ritchie reported that the main concern is flooding in Clarence Town.
- A number of homes and St. Paul's Anglican Church received roof damages
- Is experiencing winds at 70mph.
Exuma
- Administrator Ferguson reported that the weather has been deteriorating winds are up to about 50knts,
- The pond at Victoria Pond is rising
Eleuthera
- Central Eleuthera experiencing gale force winds
- BEC having difficulties with emergency generator
Shelters
Eleuthera
- Rock Sound, Church Of God, Green Castle School, Whymms Bight Primary, Deep Creek Middle School, and Bannerman Town Library are all open.
- Weather is deteriorating, Persons in low-lying areas were asked to move to the various shelters or seek higher ground
New Providence
- For the efficient use of shelters, persons planning to go to Epiphany Anglican Church, Prince Charles Drive, Church of God of Prophecy, Augusta and Patton Street, St. John's Baptist Cathedral, Meeting Street and Worker's House are being redirected to St. Barnabas Anglican Church, Hillview Seventh Day Adventist Church, Tonique William Darling Highway, the Salvation Army Centre on Meadow Street.
- Disabled persons are being directed to the New Providence Community Church, Blake Road.
- All other shelters (22 in total) are open
South Abaco
- The shelter in Sandy Point is open
- Shelters are now open on the islands of Cat Island, Exuma and Cays.
© Copyright IBTimes 2023. All rights reserved.
FOLLOW MORE IBT NEWS ON THE BELOW CHANNELS