Bangladesh Becoming Another Site For Big Power Competition Involving US, China, India: Expert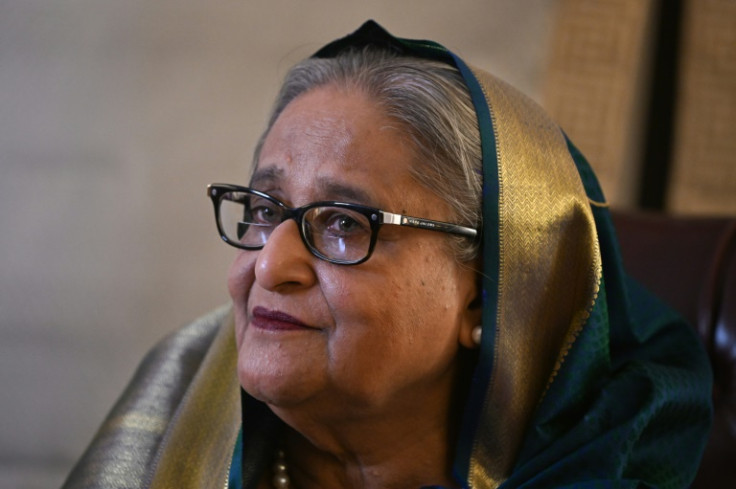 KEY POINTS
The upcoming elections in Bangladesh in January 2024 could affect regional dynamics
Beijing has managed to make steady inroads in Bangladesh in recent years
India reportedly told the U.S. that too much pressure would further drive Bangladesh to China
The U.S., China and India are firmly keeping an eye on Bangladesh, as it prepares itself for the upcoming elections in January 2024.
With the region becoming a hotbed for the India-China competition, New Delhi hopes to keep Bangladesh in the anti-China camp, especially in light of the former countries' border rivalry. However, Beijing has managed to make steady inroads in Bangladesh in recent years.
"Bangladesh sits well within the global contest between China and the U.S. as it was playing a balancing act. As both China and the U.S. intensified their afford to influence, Bangladesh became a textbook case of proxy contest between the great powers," Mubashar Hasan, an analyst of geopolitics in South Asia, told International Business Times.
Bangladesh's location near the Bay of Bengal makes it strategically important in China's quest to assert influence in the region. Moreover, Bangladesh is emerging as an important trade player in the neighborhood.
"Bangladesh's stability is important for regional growth and prosperity. Bangladesh is the highest-growing nation in South Asia and is expected to become a $1 trillion economy by early next decade. Besides, it is going to become a developing economy from 1 January 2026 onward," Prabir De, author and professor at the Center for Maritime Economy and Connectivity at Research and Information System for Developing Countries, told IBT.
For India, what further complicates the issue is that its Quad partner, the U.S., vehemently opposes Bangladesh's current prime minister, Sheikh Hasina, who emerged as one of India's closest allies in the neighborhood, since her emergence to power in 2009.
Maybe the U.S. does not "want me to continue," Hasina said in a BBC interview earlier this year.
The West accuses Hasina's Awami League (AL) party of not holding free and fair elections during her reign, and the Biden administration announced visa bans this year on Bangladeshi nationals believed to be involved in activities that undermine the election process.
The U.S. pressed ahead on human rights and democracy issues in Bangladesh as "geopolitical contest and Democracy and human rights" are at the center of Biden's foreign policy, Hasan said.
"A democratic government has some scopes for accountability which is not present in current Bangladesh. That opens up plethora of other problems including: undermining rule of law, corruption and severe violations of human rights," he added.
India, too, has made it clear that it wants to see Bangladesh have a free and fair election process. But it has reportedly told U.S. officials that too much pressure would only drive Bangladesh toward China, which is standing with arms wide open.
President Xi Jinping met Hasina on the sidelines of the BRICS Summit in Johannesburg on Aug. 23, and emphasized that China supported Bangladesh in "opposing external interference," an official statement said.
On the other hand, the U.S. actions have shown hypocrisy in maintaining ties, said Smruti S Pattanaik, Research Fellow at Manohar Parrikar Institute for Defence Studies & Analyses (MP-IDSA).
"While the U.S. wants to expand security cooperation with Bangladesh (it already has counter terror cooperation) and wants it to be part of its Indo-Pacific initiative, it has taken a stand on Bangladesh's democracy. Biden had not invited Hasina to the democracy conference where Pakistan and many other Middle Eastern countries were invited reflecting US hypocrisy," Pattanaik told IBT.
"China has given a statement against Bangladesh joining the Indo-Pacific when the Chinese defense minister visited Dhaka as a part of his three-nation tour," she added. "After the U.S. issued visa restrictions on those seen as obstructing free and fair election; China said that it stands by Bangladesh. This tug of war is part of larger geopolitical contestation and China-US rivalry."
Another concern for New Delhi is the anti-India sentiments and close ties to Pakistan maintained by Jamaat-e-Islami, former ally of the newly rejuvenated Bangladeshi opposition, Bangladesh Nationalist Party.
Unlike the U.S. and China, India has seemingly "put all their support in favor of the ruling party which perhaps is a bit weaker strategy," Hasan said.
"Both the U.S. and China have extended public diplomacy engagement in Bangladesh whereas many in Bangladesh unfortunately see India as a core backer of AL. This projection is more of a success for AL's diplomacy than of India," he added.
With Bangladesh serving as another example of the dynamics of American and Chinese interventionism, De said "integration between developing countries" is the best solution.
"This is a multi-polar world and looks like a shadow war going on: China and Russia in one side and America on the other side," De said. "Developing countries and LDCs need to maneuver correctly. That's why we see the growing popularity of the BRICS. Needless to say, integration between developing countries and developed is the best solution."
© Copyright IBTimes 2023. All rights reserved.