Barr Yelled At Trump Over Hunter Biden: 'Damn It, Mr. President!'
KEY POINTS
The confrontation happened as former Attorney General William Barr refused to discuss Hunter Biden's case with Trump
Barr and Trump did not have any direct communication following the call until three weeks after the election
Barr said Trump lost the election due to his 'pettiness'
Former Attorney General William Barr revealed that he and former President Donald Trump got into a heated argument before the 2020 presidential election in November.
In his upcoming memoir "One Damn Thing After Another," Barr recalled yelling at Trump after the former president called him to confirm reports about emails found in a laptop that allegedly belonged to First Son Hunter Biden. The former attorney general wrote that Trump did not appreciate Barr's tone when he said he was not able to discuss the case.
"You know, if that was one of my kids," Trump began, according to the book.
"Dammit, Mr. President, I am not going to talk to you about Hunter Biden. Period!" Barr replied, voice raised.
The former attorney general said Trump remained silent for a brief moment before he cut off the phone call. Barr also recalled that his chief of staff, Will Levi, who was in the room with him during the phone call, was aghast.
Barr noted that he and Trump did not have any direct communication following the phone call until three weeks following the presidential election, according to Fox News, which obtained a copy of the book.
The former attorney general was known as one of Trump's most loyal allies. However, their relationship took a hit after the Justice Department said it did not find evidence of widespread voter fraud during the election — a theory that Trump has repeatedly promoted.
Since then, Barr has joined a list of former Trump officials who have dismissed the former president's disproven claims about the 2020 election, which the former attorney general said Trump would have won if he "exercised a modicum of self-restraint."
Barr added that Trump lost the election due to his "pettiness" and urged Republicans to choose a different presidential candidate for the 2024 presidential election.
"[Trump has] shown he has neither the temperament nor persuasive powers to provide the kind of positive leadership that is needed​," he added.
Barr's memoir is set to hit shelves on March 8 and comes as Trump repeatedly teases the possibility of him running for the presidency again in 2024. The former president has yet to make an official announcement of his plans.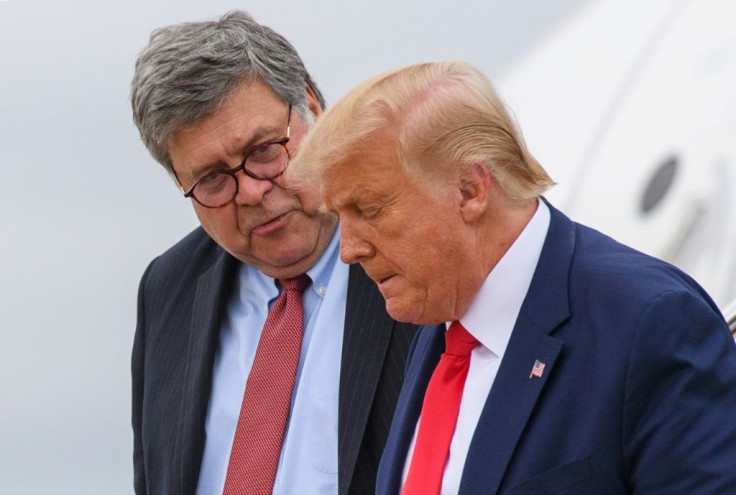 © Copyright IBTimes 2022. All rights reserved.
FOLLOW MORE IBT NEWS ON THE BELOW CHANNELS