Ben Carson Says Campaign Team Remains In Place, Despite Earlier Suggestions Of Impending Staffing Shake-Up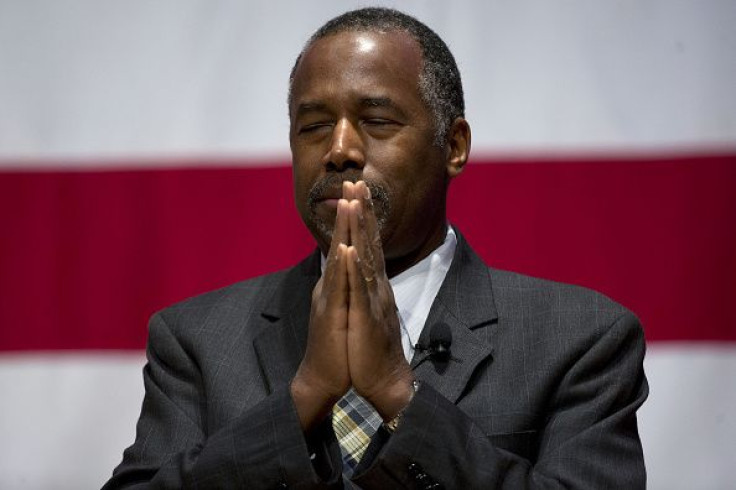 UPDATE: 7:45 p.m. EST -- Ben Carson said Wednesday evening his senior campaign team remains in place, despite discussing a "personnel change" with media just hours earlier and hinting at the possibility of a staffing shake-up, the New York Times reported.
"I have 100 percent confidence in my campaign team," he said in a statement. "We have come a long way and accomplished great things together, and together we look forward to winning in Iowa and beyond. We are refining some operational practices and streamlining some staff assignments to more aptly match the tasks ahead."
Original story:
Republican presidential candidate Ben Carson suggested Wednesday a staff shake-up within his campaign may be looming, the Associated Press reported. In an interview that his campaign manager was unaware of, Carson discussed potential "personnel changes" that may take place.
"Every single thing is on the table. I'm looking carefully," he said.
Carson's campaign has been lagging for weeks, following a short-lived jump in polls in October. When national security and foreign policy issues rose to the forefront of the GOP race after terror attacks in Paris and San Bernardino, California, Carson, who had not emphasized such issues in his platform and has struggled while discussing the topics , dropped in the polls.
Ben Carson Presidential Candidate Profile | InsideGov
Another issue has been Carson's soft-spoken approach, which supporters have complained of and critics have seized upon as an apparent weakness in going up against the party's more bombastic personalities, such as front-runner Donald Trump and Texas Sen. Ted Cruz.
"The issue that has been put out is that because you are soft-spoken and nice you can't possibly be tough; you can't have the strength to deal with the incredible security problems we now face," Carson said, adding that such a presumption "is not true, but now I'm talking about it.
In another interview Wednesday, with the Washington Post, Carson also bemoaned his staff's management of his campaign budget. His campaign had raised the most out of any other Republican in the running — $31 million by late September — but far exceeded his rivals in spending.
"Every job is on the table. And we're going to analyze it very carefully," he said. "I want to see more efficiency in terms of the way money is utilized."
Carson's campaign manager, Barry Bennett, declined to immediately comment, telling the Associated Press he was getting ready to have a conversation with Carson.
© Copyright IBTimes 2023. All rights reserved.