The Biggest Blue States In The 2012 US Presidential Election? Japan And China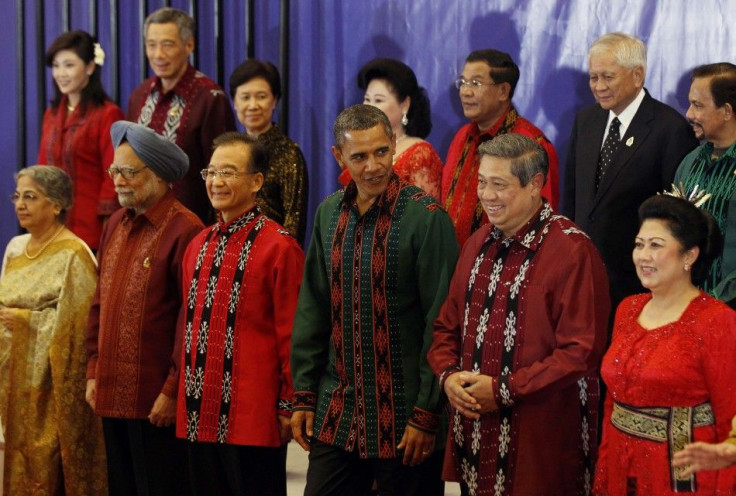 As the U.S. presidential election on Tuesday draws near, Americans aren't the only ones paying close attention. A new poll conducted for Agence France-Presse by the Hong Kong branch of Ipsos, a private public-opinion pollster and think tank based in Paris, shows that Japanese and Chinese citizens have some strong opinions on the matter.
A full 86 percent of Japanese citizens support President Barack Obama, the Democratic incumbent, according to AFP. Just 12.3 percent back Mitt Romney, the Republican challenger.
In China, 63 percent favored an Obama win. That's a slimmer lead than in Japan, but China is far more pro-Obama than the U.S., where, according to an average of various poll results amassed by RealClearPolitics, the incumbent leads by just 0.1 percent at this writing.
The full AFP-Ipsos poll results will be publicly released on Nov. 5. For now, it is readily clear that two of Asia's most powerful economies are hugely in favor of a second term for Obama.
The Rising Sun Shines On Obama
It is no surprise that Japan might support an Obama re-election. The two administrations are staunchly allied: At a summit this year, Japanese Prime Minster Yoshihiko Noda met with the U.S. president to strengthen the relationship, which Noda said "has reached new heights," according to CNN.
Noda lauded the two countries' collaboration to prevent North Korea from continuing nuclear-weapons testing, and expressed gratitude for U.S. assistance in the aftermath of Japan's devastating earthquake, tsunami, and nuclear-plant meltdown in March of last year.
Meanwhile, Romney didn't help his standing among the Japanese people when he insulted the country during a fundraiser on Aug. 9.
"We are not Japan," Romney said, according to BuzzFeed. "We are not going to be a nation that suffers in decline and distress for a decade or a century."
The People's Republic Rebuffs Romney
But China's support for the incumbent may come as some surprise. After all, it was Obama who engineered the U.S. foreign-policy pivot toward Asia. Even though the term "pivot" has been abandoned by the administration due to its militaristic connotations, there is a sense that the U.S. aims to curtail China's hegemony in the region.
Still, Obama may represent the lesser of two evils for many Chinese citizens. Romney's position regarding the world's second-largest economic superpower has been hard to pin down, but recent statements offer some clues.
During the last U.S. presidential candidates' debate on Oct. 22, which focused on foreign policy, Romney took a tough stance on China.
"I've watched year in and year out as companies have shut down and people have lost their jobs because China has not played by the same rules. In part, by holding down artificially the value of their currency, it holds down the prices of their goods," Romney said.
"It means our goods aren't as competitive, and we lose jobs," he said. "That's got to end. They're making some progress. They need to make more."
Romney promised that on his first day in office, he would label China a currency manipulator. The efficacy of such a move has been contested, since the relevant law states that such a label only requires the treasury secretary to enter into "negotiations with [China] on an expedited basis," something the U.S. is already doing.
But the move would be important symbolically, especially because no U.S. administration has given that label to any foreign country in the past 18 years.
Combine that rhetoric with Romney's general plan to increase military spending -- which could make a U.S. pivot even more threatening -- and it becomes clear that a loss for Obama may actually hurt China's interests in the long run.
A Big-Picture View
Could the opinions of Japanese and Chinese citizens have an impact on the U.S. election Tuesday? Not likely -- foreign policy takes a backseat to the economy in this pivotal election, and the overwhelming majority of American voters have already decided on their candidate.
But in an increasingly global world, foreign opinions matter. And according to a recent Pew Research Center poll, China and Japan may appreciate this more than anyone else.
This year, researchers surveyed 21 countries to see how many people in each were "paying close attention" to the 2012 U.S. election. With an incredible 63 percent responding in the affirmative, Japan was second only to the U.S., which had 66 percent.
For China, the comparable figure was only 36 percent. But China boasts the biggest escalation of that number since 2008 -- its 19 percentage-point increase in American-election-savvy citizens is unmatched by any other nation, including the U.S.
Japanese and Chinese support for Obama could be considered an indictment or a tribute to the president's foreign-policy decisions, depending on your point of view. But this deeper pattern -- an overall increase in interest by China and Japan -- is the most important trend of all.
As we enter a new era of Asia-U.S. cooperation, the growing interest from overseas should be mirrored by the U.S., which has an ever-growing stake in its vital economic partners across the Pacific Ocean.
FOR FREE to continue reading
✔️ Unlock the full content of International Business Times UK for free
offer available for a limited time only
✔️ Easily manage your Newsletters subscriptions and save your favourite articles
✔️ No payment method required
Already have an account?
Log in
© Copyright IBTimes 2023. All rights reserved.