Bike Share NYC: The Global Trend Cycles into the Big Apple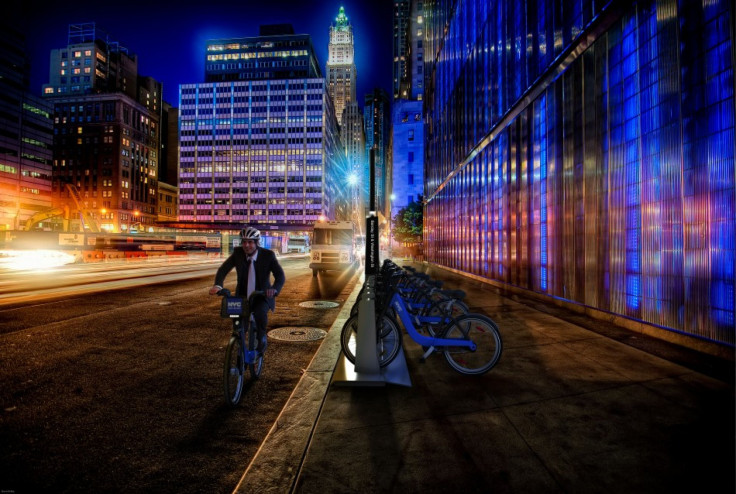 Bike sharing will soon become an integral part of public transportation in urban areas across the globe and New York City (NYC) is just the latest in a long line of cities gearing up to take a spin.
New York may have North America's busiest and largest transit system with a daily ridership of roughly seven million trips, but the Big Apple is preparing to introduce yet another option for public transportation that will change the way people move about the city.
In his state of the city address earlier this month, New York City Mayor Michael Bloomberg touted the city's upcoming program saying I realize the debate over bike lanes has sometimes been hot and heavy, but the reality is more and more New Yorkers are biking, and the more bike lanes we put in, the fewer deaths and serious injuries we have on our streets.
Most New Yorkers agree. A Quinnipiac poll in October found 72 percent of New Yorkers support the plan. The Bloomberg administration notes that most people are asking What took so long? rather than Why are you doing this?
North America's largest city will open North America's largest bike share system this coming summer with roughly 10,000 bicycles distributed at 600 stations across Manhattan and Brooklyn and satellite stations in the three other boroughs. The Department of Transportation (DOT) envisions one station every 1,000 feet with more to come in the ensuing years.
How it Works
Forty percent of all trips in New York are under a mile and 67 percent are under three miles, which makes the city an ideal location for this program, DOT spokesperson Montgomery Dean said. Bike share will make these trips easy and cheap for New Yorkers across the city. It's also a part of the Bloomberg administration's effort to expand the number of convenient transportation options available to residents.
Bike share systems provide sturdy bikes at self-service stations around town that are ideal for quick trips. Users check a bike out using a membership or credit card, ride to a docking station near their destination, and return the bike. Mobile apps show the status of available bikes and docking points at each station.
The share is meant for leisure trips, short jaunts, or connecting individuals to other public transport already in place. The bikes would also connect public transit to developing areas like waterfronts that don't have great subway coverage, all while allowing New Yorkers access to bikes without worrying about bike parking, bike storage, or theft.
As with everything else, New York is a pretty unique case, and the program will be much larger than anything in the country right now, Dean said. We are basically looking to combine the sponsor-driven business model used in London with the low-cost solar-powered stations proven in Montreal and U.S. East Coast cities to deliver the program at no cost to NYC taxpayers.
Unlimited annual membership for the program in New York would cost less than a monthly MetroCard at $90-95. Unlimited weekly membership would cost $20-25 and unlimited 24-hour access would be $8-10.
Where the stations will be remains to be seen, but the Department of Transportation has a Web site in place for New Yorkers to request locations.
A Global Trend
The bike share system is modeled after similar programs across the globe including London, Paris, Mexico City, Taipei, and Berlin.
Though bicycle sharing has been around since at least the 1960s, Paris's Vélib, one of the world's largest programs, really spearheaded the trend when it became an overnight success in 2007. The French capital has roughly 28,000 bikes at 1,800 stations.
It was estimated that in 2011, there were around 300 such schemes operating worldwide. In 2012, dozens more will pop up in cities across the U.S. and around the world.
The trend is really taking root in Latin America where last year new programs started in Santiago, Chile and Buenos Aires and Santa Fe, Argentina. The program in Mexico City was particularly successful with 4,000 registrants in the first three months of operation - despite the city's inhospitable environment for bikes.
But the trend is not just in the West. In India, for example, the Ministry of Urban Development is preparing to launch a 10-city public bike scheme as part of its Mission for Sustainable Habitat.
With more than 50,000 bikes and 2,050 bike stations, the Chinese city of Hangzhou is home to the largest program.
The share in New York City is run by Alta Bicycle Share, which set up similar programs in Boston and Washington, D.C. (where the demand for bikes outweighs current supplies). It comes at no cost to taxpayers and will be funded by private sponsorship and user fees. In this public-private model, the city will oversee the quality of service and ensure a thorough community planning process.
We could not be more excited to bring our successful bike share system to New York City, Alison Cohen, President of Alta Bicycle Share said. It will make New York City a healthier, cleaner, greener and safer place. Alta Bicycle Share is elated to help make this happen.
We work closely with the equipment manufacturer for London, Montreal, Toronto, and Minneapolis, Cohen added. We are taking best practices form all these places to bring to NYC.
Cohen expects 100,000 members in the first year and 10,000,000 rides.
A Green Alternative
Not only is bike travel zero emissions, but its use lowers the ridership of other polluting transportation options. Additionally, the sharing stations operate on solar power, can be assembled in half an hour, and do not require digging up the ground.
Furthermore, bikes put less wear and tear on the roads and bridges so they stay in good condition longer.
This system of impromptu bike renting helps urban areas reduce automotive traffic and pollution while providing locals and tourists with a convenient, cheap and healthy means of transport.
In DC, in the first year, people rode 1.2 million miles, Cohen said, of which roughly one-third may have replaced single-occupancy vehicle trips - a nice savings of greenhouse gas emissions.
This bike trend feeds off the confluence of high gas prices, budget crunches, climbing obesity rates, persistent air pollution, and a desire to build livable communities. It has the potential to address all of these challenges.
Margit Christenson, an avid cyclist from Brooklyn, demoed the upcoming program in the fall. She thinks the bike share idea will make biking in New York safer for everyone.
With more bikes on the road, drivers will become more accustomed to seeing bikers on the city's streets, Christenson said. In the last few years, there have been a lot of really good changes to make safer bike lanes. As the number of lanes increases, maybe more money will go toward looking at the safety of bikers.
In the end, she adds, hopefully people will realize that it's not as daunting or dangerous as they think and that it's a practical way to get around the city.
For more information, visit the Two Wheel Transit: NYC Bike Share exhibit at the New York Center for Architecture through Feb. 4 or go to nycitybikeshare.com.
© Copyright IBTimes 2023. All rights reserved.