Bills, Chiefs, Ravens Have Best Odds To Land DeAndre Hopkins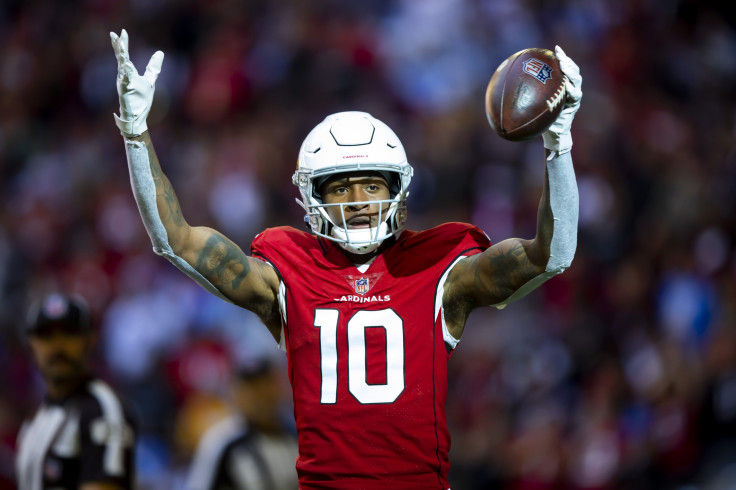 KEY POINTS
DeAndre Hopkins' release has top-tier NFL teams scrambling to sign him
Cost-cutting reasons is believed to be the motivator for the Arizona Cardinals' decision
Oddsmakers see the Buffalo Bills, Kansas City Chiefs or Baltimore Ravens picking him up
Prolific wide receiver DeAndre Hopkins is currently team-less after being released by the Arizona Cardinals in a stunning move on Friday, May 26 and oddsmakers have made their picks as to where he will suit up next.
Listing odds from DraftKings Sportsbook, sources claim the following out of the 31 NFL franchises have the greatest odds at landing him.
Buffalo Bills: plus-300
Kansas City Chiefs: plus-400
Baltimore Ravens: plus-650
New York Jets: plus-700
New England Patriots: plus-900
Los Angeles Chargers: plus-1000
Jacksonville Jaguars: plus-1200
Detroit Lions: plus-1200
Cleveland Browns: plus-2000
Philadelphia Eagles: plus-2000
Dallas Cowboys: plus-2500
San Francisco 49ers: plus-2500
Widely revered as one of the top-ten receivers in the NFL today, Hopkins being released by the Cardinals comes as no surprise to Arizona fans as his two-year, $54.5 million extension was simply too much to stomach because of how the team performed last season–logging a dismal 4-13 record.
Moreover, starting quarterback Kyler Murray has been working his way back from an ACL tear that he suffered in Week 14 against the New England Patriots.
There appeared to be something special in the works in Arizona when Murray and Hopkins stepped onto the field early in the 2020 season as the former Houston Texans star amassed 115 catches for 1,407 yards and six touchdowns.
However, a hamstring injury the following season and a six-game suspension to kickoff last season doomed the partnership, with Hopkins only logging 106 catches–good for 1,289 yards and 11 touchdowns in 19 appearances.
The Cardinals did attempt to get a trade going for the former Clemson star so as not to leave them completely bereft of any assets, but a deal could not be done with any other team which forced the franchise to release him instead because of his team-high $30.75 million cap hit.
That crucial decision allowed them to save $8.15 million in cap space for the upcoming season, instead opting to take a dead cap hit of $22.6 million.
For the Buffalo Bills to take top billing on DraftKings' list makes a ton of sense as the Josh Allen-led offense finished third in the NFL last season in points per game (28.4)–only behind the Super Bowl-winning Kansas City Chiefs and Super Bowl runner-up Philadelphia Eagles.
Patrick Mahomes and the Chiefs standing at plus-400 odds to land Hopkins also makes sense as they would surely be gunning for back-to-back Lombardi trophies this season under the guidance of head coach Andy Reid and will likely want insurance at the wide receiver spot.
However, the Baltimore Ravens' inclusion is an interesting prospect for curious bettors as they are currently cash-strapped after handing quarterback Lamar Jackson his big extension plus signing names such as Nelson Agholor and Odell Beckham Jr. this offseason.
With Hopkins revealing five quarterbacks he would want to play with in the future, the next couple of weeks will determine whether he gets his wish granted.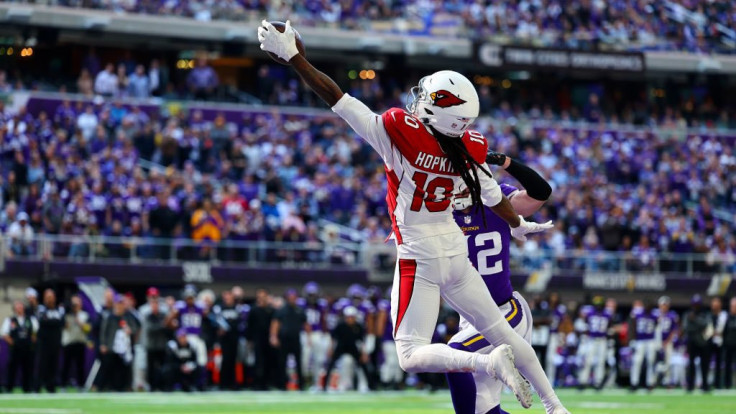 © Copyright IBTimes 2023. All rights reserved.