Bizarre Image Captures UFO Abduction On Airplane, Expert Claims
KEY POINTS
An alleged alien abduction was captured in a Google Earth image
A UFO expert believes an alien vessel was abducting passengers of an airplane
The expert believes the image proves that alien abductions are really happening
A UFO expert claimed that an image on Google Earth captured an alien vessel carrying out an abduction on an airplane. According to the expert, the bizarre incident occurred somewhere near the Fiji Islands.
The strange sighting was made by Scott Waring of ET Data Base. He said he came across the image of the alleged UFO abduction while he was using Google Earth.
As he was exploring Earth using the program, Waring saw a strange image in the coordinates 18° 3'22.84"S 178°41'8.51"E. In the image shared by Waring on his blog, a large airplane can be seen flying in front of an unidentified object that appears to have a very bright feature.
According to Waring, the strange object could be an alien vessel. The bright white glow on its front side could indicate that it opened one of its doors. Waring said the aliens operating the vessel could be in the middle of abducting the passengers on the plane when the satellite image was taken.
"I was looking at Google Earth map when I found this mysterious glowing object in front of a plane," he wrote in a blog post. "The objects color is what really stands out. It the back of the UFO its pinkish like a half-circle and in the front its glowing white. I believe this is because the UFO has lowered part of its shield so that they could bring things in and out of the plane into the UFO."
According to Waring, if the passengers were abducted by the aliens, they would have no memory of the incident. However, they might encounter a bizarre phenomenon known as time loss, which refers to the period when the abduction took place.
For Waring, the strange image clearly shows that alien abductions are real.
"This may be a frozen in time event, a moment in time frozen because the aliens erase the memories of the people on board and then put them back hours later," he stated. "This is an example of an alien abduction taking place over the ocean in a plane. 100% proof that aliens are abducting humans."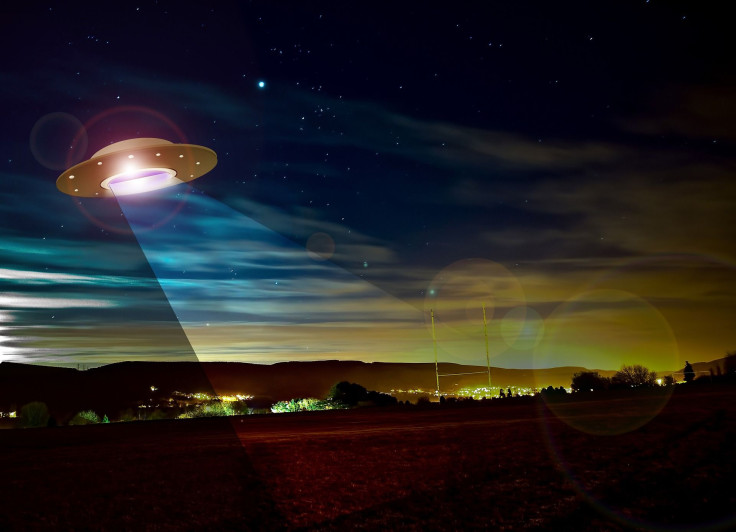 FOLLOW MORE IBT NEWS ON THE BELOW CHANNELS