Black Lives Matter Protesters Burn US Flag In Minneapolis After Jamar Clark Police Shooting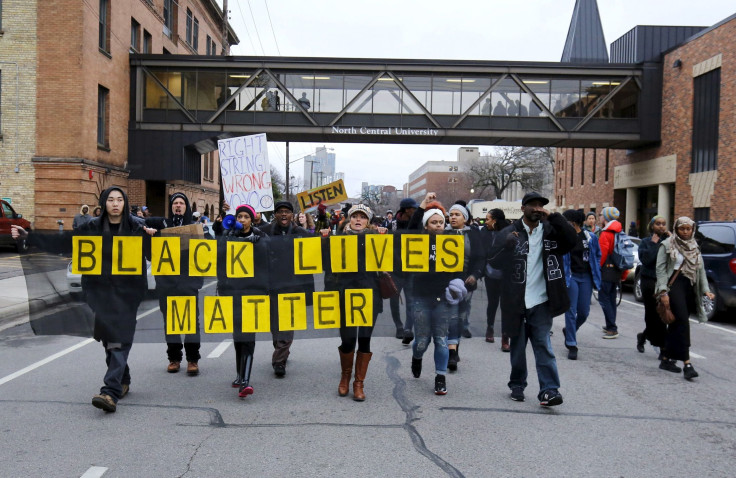 Activists supporting the Black Lives Matter social justice movement burned an American flag as a protest against police brutality in Minneapolis Wednesday night after prosecutors announced no charges would be brought against two police officers in the shooting death of Jamar Clark last November.
Demonstrators marched to downtown Minneapolis from the northern area of the city where Clark, a 24-year-old African-American man, was fatally shot. After Hennepin County Attorney Mike Freeman announced officers Mark Ringgenberg and Dustin Schwarze would not face charges, hundreds of people gathered at the county Government Center Wednesday night to protest the decision. Some held signs reading "Justice for Jamar" and "Black Lives Matter." And some chanted, "indict, convict, send those killer cops to jail."
"It's about showing that the people aren't just going to die," Charles Caine, an activist with Black Lives Matter who is president and executive director of Brothers Empowered, told the city's Star Tribune newspaper. "This isn't going to be the last fight we're going to have to fight."
When a small group of demonstrators burned an American flag on the sidewalk in protest, others at the rally called on them to express their disappointment with the criminal justice system through alternative means, according to KARE-TV in Minneapolis.
Minneapolis Mayor Betsy Hodges and Police Chief Janeé Harteau urged demonstrators to remain peaceful. "Many people are feeling hurt, anger, disappointment, frustration," Hodges said in a statement. "There is a tear that has ripped through our community, one we cannot sew back up. And together as a city and a people, we can walk through this tear to build what we all want — a city that is safe and equitable for everyone."
The Hennepin County attorney said Clark's shooting was justifiable because he was in the process "of obtaining control of [a police officer's] weapon." Clark allegedly told the officers, "I'm ready to die."
But critics have said prosecutors were quick to rely on the police version of events instead of on bystander accounts. Clark's family said police were not truthful about what happened in the seconds before Clark was killed. They insist Clark was handcuffed, "slammed to the ground" and shot in the head "execution-style."
"The young man was just laying there; he was not resisting arrest," local resident Teto Wilson said in a statement reported by the NAACP. "Two officers were surrounding the victim on the ground, an officer maneuvered his body around to shield Jamar's body, and I heard the shot go off."
© Copyright IBTimes 2022. All rights reserved.
FOLLOW MORE IBT NEWS ON THE BELOW CHANNELS