The Bloody Battle Over Bullfighting In Southern France: Violence, Protests, Boycotts As Cultures Collide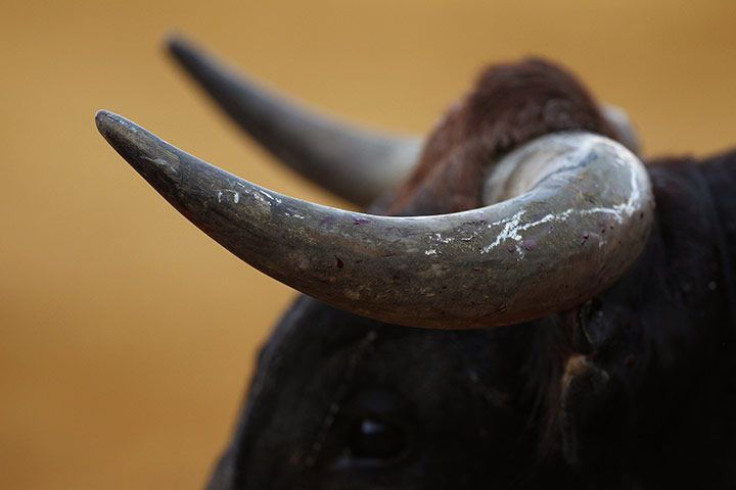 PARIS — As a lifelong advocate for basic animal welfare, Carole Raphaelle Davis doesn't mince words when it comes to her opinions of people who attend bullfighting events in southern France.
"They are vile," she said in an interview from her part-time home in Nice. "They are a crude bunch, French hillbillies. Americans don't know about French hillbillies. When we go into these towns, it's like the movie 'Deliverance' -- Euro-style."
The towns Davis refers to are mostly concentrated in Provence, the region of southwestern France where dozens of blood-filled bullfights are held at Easter festivals and other celebratory events each year. Bullfighting, known as corrida in France, is illegal in most of the country, where it's considered a crime against animals that can land offenders in prison for up to two years. But a special judicial exemption has allowed it to continue in municipalities such as Arles and Nîmes, as well as in numerous smaller villages. There, hundreds of miles from the chic cafes and trendy nightclubs of Parisian high society, the violent blood sport in which bulls are taunted and stabbed to death in front of thousands of cheering spectators is deeply woven into the cultural fabric.
It's a dirty little secret, if you will, of small-town French life. But in an age when social media leaves no dirty little secret unshared, bullfighting in rural France is increasingly locking horns with the outside world and clashing head-on with 21st-century views on animal rights.
Davis, who serves as director of European campaigns for the group Friends of Animals, said the tide of public opinion on the issue has shifted rapidly over the past year, after videos of a 2011 protest at a bullfighting arena in Rodilhan went viral. In the videos, bullfighting fans -- called "aficionados" -- can be seen brutally attacking animal-rights activists while they staged a sit-in at the arena in hopes of obstructing a bullfight.
"It was just merciless violence against animal-rights activists, and that hadn't happened before," said Davis. She added that the videos significantly drummed up support for the anti-bullfighting cause. "It was a game-changer. More and more people saw the violence and came to the aide of these incredible French activists who were risking their lives for bulls."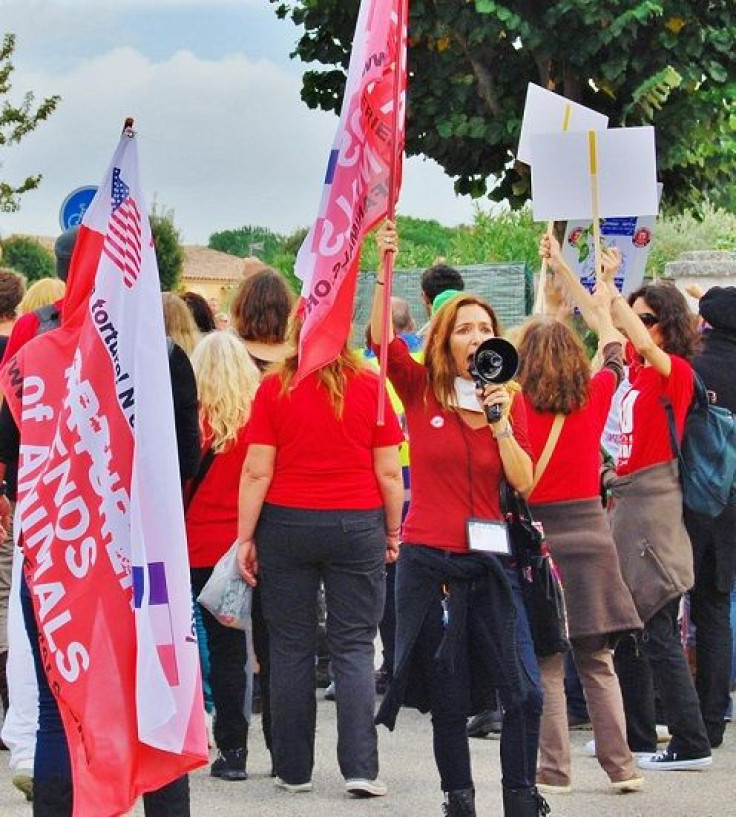 Clashes between activists and aficionados have continued since. In an August protest at a bullfight arena in Rion-des-Landes, eight people were hurt, and one man suffered a serious head injury. A video of the incident uploaded to Daily Motion shows local police dragging protesters kicking and screaming from the arena. As a general rule, staged protests can be messy in France, which has no equivalent to the First Amendment's right to peaceful assembly. Davis said that in the United States animal-rights protesters rely on that right. "If something's unjust, you can just go out into the streets," she said. "But in France, you have to declare where you're going to be. It's a negotiating process."
The conflict, meanwhile, has spilled over into the digital world. Activists say they are being bullied on French social media sites by bullfighting aficionados who threaten more violence if they continue their protests. Roger Lahana, a volunteer from the anti-bullfighting group CRAC Europe, provided several of these messages. "When you play with fire, you get burned," one said. "Next time, it won't just be an ear cut off, but there will be some serious injuries, even worse."
On the flip side, the aficionados say it's they who are the victims, tormented by animal-rights "extremists." They refer to CRAC as a "terrorist organization" bent on the obliteration of their long-held customs.
Critical Tradition
Corrida first originated in Spain, but it has been practiced in southern France for more than 150 years. It's a bloody and brutal pastime by any description, with matadors taunting and agitating the animals as bullfighting assistants gouge the bulls with lances and bull hooks. Over the course of the fight, the bull is weakened to the point until it can no longer defend itself, after which the matador stabs it to death with a sword. Davis says it's nothing more than "torturing an animal to death merely for the pleasure of a sadistic minority," and she calls bullfighting aficionados "sociopaths by any standard."
But corrida defenders can be as ardent as its detractors, and they are adamant in their belief that the blood sport is a glorious art form, a ritual that has inspired the likes of Hemingway and Picasso. Coleman Cooney, the feisty and well-spoken founder of the controversial California Academy of Tauromaquia in San Diego, is unapologetic about his chosen profession. Are bulls taunted and slaughtered? Sure. But they're bred for conflict, he insists, and their bodies have even adapted to thrive on it.
"There's not nearly as much pain as people imagine," Cooney told IBTimes in November. "Bulls in a bullfight are under such a barrage of adrenaline that they feel very little pain."
Davis doesn't buy Cooney's theory. "The guy is an idiot," she said. "When you get stabbed, of course you're going to release adrenalin, but that doesn't trump the pain, nor does it stop you from bleeding to death."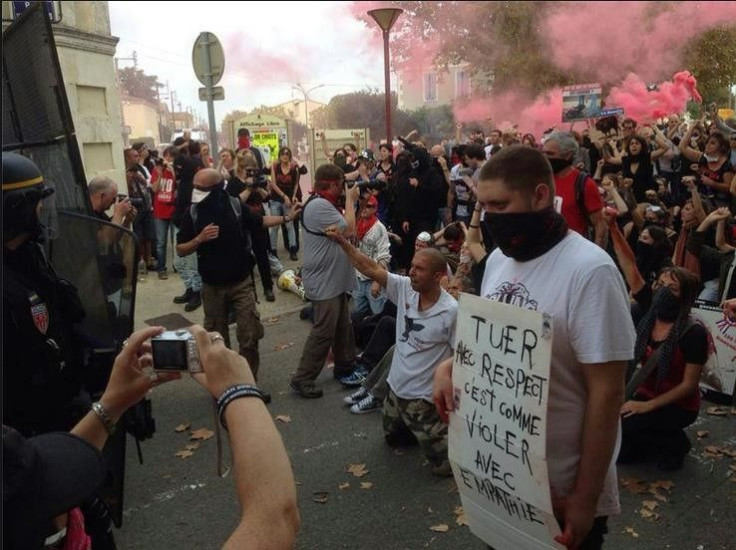 Anti-bullfighting sentiment has been spreading across Europe for the past few decades, but it has gained particular momentum in recent years. The practice was banned in the stronghold of Catalonia in 2010, a move that spurred a backlash to the backlash. Fearing a similar ban in France, officials there became the first in the world to declare bullfighting an "intangible cultural heritage" -- a status that protects it under the 2003 Unesco Heritage Convention, of which France is a signatory. The coveted designation means that areas with strong cultural ties to the blood sport -- Arles and Nîmes, for instance -- may continue to practice bullfighting, bloody swords and all.
Animal-rights groups say it's a barbaric tradition whose time has come and gone, and they're not alone. Support for bullfighting is on the wane in France, particularly among young people, who Davis said have no interest in "seeing animals tortured to death for entertainment." One 27-year-old, who lives in Paris but grew up in southern France, told IBTimes that he knows of no friends who attend bullfights.
Make 'Em See Red
In October, Davis said, Friends of Animals launched a boycott to hit the pro-bullfighting towns where it hurts the most: tourism dollars. She said most Americans who visit France are not aware that bullfighting still exists in the country. "We let them know, and they're absolutely appalled," she said.
Davis said the boycott has just begun but is expected to be in full swing for spring 2014, when the next bullfighting season starts. "We're not calling for a whole boycott of France, but we are making American tourists aware that there are parts of France that you absolutely shouldn't go to until they stop this," she said.
Of course, for such a boycott to work, the loss of tourism dollars would have to outweigh the revenue generated by the fights themselves. Support for bullfighting may be declining among the general population, but aficionados are still plentiful -- and passionate. In Arles, one of the cities whose heritage is protected by Unesco, bullfights are the centerpiece of an elaborate Easter festival called Feria, which attracts 350,000 to 400,000 people over four days, according to Francine Riou, deputy director of the city's tourism office.
"Bull games and fights, as well as Provencal tradition, are anchored in our society," Riou said. "Sure, we receive some claims against bullfights, but Arles welcomes around 2 million visitors each year with a 20 percent increase in visitors each year."
Davis questions those figures, however. She says they're part of a spin campaign meant to convince outsiders that bullfighting is some kind of wonderful spectacle. "They're bragging," she insists. "In reality, they're falling apart. The arenas are emptying. The new generation is not interested."
While small towns in southern France cling to the argument that bullfighting is a tradition worth preserving, tourism officials at the national level would just as soon not get involved in the controversy. Katherine Johnstone, a spokeswoman for the tourism development agency Atout France, called the issue a "political matter" and therefore falling under the purview of the French consulate. References to bullfighting are scarce on major tourist websites like RendezvousenFrance.com.
That bullfighting is a tradition can't be denied. The question is whether tradition alone is a strong enough argument to continue it. Minstrel shows and tarring and feathering were once traditions too, as no shortage of commenters on anti-bullfighting forums point out. Despite a fervent pro-corrida community, Davis is confident that her and her cohorts' tenacity will win out in the end. Part of their strategy, she said, is to protest bullfights in overwhelmingly large numbers -- en masse, as the French say -- in an effort to make enforceability unfeasible for the small towns.
"They're going to need police, SWAT police, helicopters," Davis said. "This is turning out to be very, very expensive for them. We're not just showing up with a few dozen people. We're showing up in the thousands."
Got a news tip? Email me. Follow me on Twitter @christopherzara.
© Copyright IBTimes 2022. All rights reserved.
FOLLOW MORE IBT NEWS ON THE BELOW CHANNELS