Cancerous 51-Pound Tumor Removed From New Jersey Woman Who Delayed Removal For Insurance [PHOTO]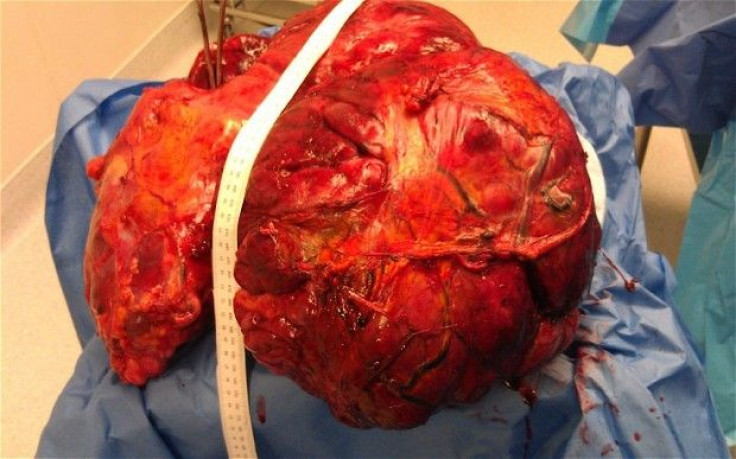 On Tuesday, doctors described the removal process of a 51-pound cancerous tumor in the stomach of a New Jersey woman who delayed getting treated because she didn't have health insurance.
She was a skinny lady with a huge belly. I mean it looked like she was literally pregnant with triplets, Dr. David Dupree of Riverview Medical Center in Red Bank, N.J. told Reuters. She was just all belly.
Dupree led the surgery on the 65-year-old woman identified as Evelyn, who had first noticed discomfort in her stomach where the tumor about six or eight weeks prior to the removal. Waiting for Medicare to kick in on her 65th birthday, she postponed her visit to the doctor despite noticing her normally 120-pound body begin to puff up. By the time she went for the surgery on June 4, days after her 65th birthday, she weighed over 170 pounds.
The reason she didn't go earlier was because she had no insurance, Dupree told Reuters.
Dupree ordered surgery on the 51-pound malignant sarcoma tumor one week after she visited on June 4 so that she could become hydrated and regulate her blood pressure. However, the night before the surgery, Evelyn couldn't breathe, prompting Dupree to act.
I knew that she wasn't going to make it through the night, Dupree said. Either she goes now or she dies tonight.
Dupree said the 51-pound tumor originated in the fatty tissue surrounding her large intestine and took more than five hours to complete the surgery. He said the tumor began to engulf surrounding organs and had to be sliced away millimeter by millimeter.
The woman was still in recovery on Tuesday at a New Jersey rehabilitation center and must see an oncologist for follow up, possibly even chemotherapy or radiation therapy if the cancer is still present, Dupree said.
© Copyright IBTimes 2023. All rights reserved.
FOLLOW MORE IBT NEWS ON THE BELOW CHANNELS