Car Runs Over Florida Cracker Barrel Employee In Parking Lot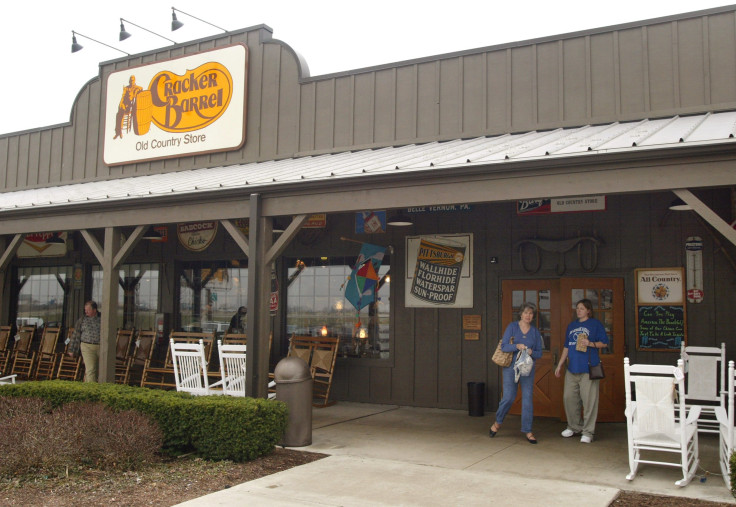 Cracker Barrel employee Anthony Cruz drove to the parking lot of his job in Kissimmee, Florida as he would any other day. However, after he exited his vehicle, a car reportedly ran him over and drove off in what may have been a road rage incident.
Cruz, 29, pulled into a Cracker Barrel parking lot of around 5:30 p.m. July 19 when a Nissan Versa stopped alongside his car. After Cruz got out of his car, surveillance footage showed the Nissan Versa accelerate, hit Cruz and then speed off.
Need the Public's Help w/an Agg Assault Suspect: Occurred 07-19 @ 5:30pm, parking lot of Cracker Barrel-5400 W. 192 https://t.co/d6vcBWNGYJ pic.twitter.com/g47xtDWfCj

— Osceola Sheriff (@OsceolaSheriff) August 11, 2017
When the car pulled up next to Cruz's car, he said he thought they were both backing into their respective parking spaces, but the driver attacked him instead. Cruz said he realized he might have cut the same Nissan Versa off several moments before he entered the parking lot.
"He just floored it right at me and ran me over," Cruz told local news. "I proceed to exit the vehicle. I took about two steps maybe from the door handle, and he proceeded to floor his vehicle right at me."
"Next thing you know, I park and I see him right behind me again, so I'm thinking he's going to back into a parking spot," Cruz told CNN-affiliate WKMG Monday.
In the video, Cruz is seen on the ground for several minutes before someone stopped and called for help. The car reportedly dragged Cruz a short distance before taking off.
"From there, I went under the tires, and he proceeded to run me over — dragged me about 10 to 15 feet," Cruz said.
First responders transported Cruz to the Osceola Regional Hospital in Kissimmee, according to the Osceola County Sheriff's Office. He suffered broken ribs, a collapsed lung and a broken pelvis. His injuries required him to use a wheelchair temporarily.
The driver seemingly retaliated after Cruz accidentally cut him off before they reached the parking lot, Cruz said. He said he couldn't understand why someone would react so violently over an accident.
"I wouldn't mind if you flick me off," he said. "Throw something at my car, do something — don't run me over. How can somebody do this to another person over something so petty?"
Cruz, who is a father of two children, wanted to see his assailant brought to justice. He said he knew they would get what they deserved eventually.
"God's got his way," he said. "He'll find a way to get you. Just know, karma's coming."
He added, "I just want justice. This guy almost killed me and took my life. "At the end of the day, it's scary to know that there's people out there that can actually do this kind of stuff and get away with it sometimes."
Cruz created a GoFundMe page to help supplement his hospital bills. Police searched for the driver of the Nissan Versa but had yet to apprehend the suspect Monday evening.
© Copyright IBTimes 2022. All rights reserved.
FOLLOW MORE IBT NEWS ON THE BELOW CHANNELS