Casey Anthony And Mother Wear Caylee's Ashes As A Necklace: Report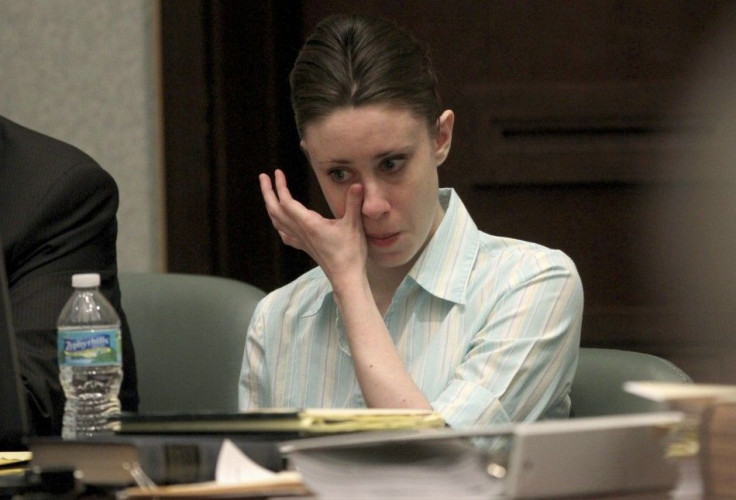 Almost a year since Casey Anthony was acquitted of murdering her daughter Caylee, and just after her lawyer Jose Baez came out with a book questioning her sanity, a friend says Anthony and her mother are wearing lockets that contain Caylee's ashes, the Daily Mail reported.
Cindy Anthony recently sent the macabre necklace to her daughter so the trio could be together forever.
Multiple insiders who claim closeness to the women told People magazine of the strange memento. One said, Casey told me it was the way the Anthony women would be together forever.
Casey Anthony, now 26, has been lying low in her Florida home for the past year and it's been said that she's put on 20 pounds, rendering her virtually unrecognizable, according to People. She reportedly spends most of her time in front of the computer.
Since tot mom walked out of jail as a free woman on July 17, 2011, she has been moving around Florida for the past year and recently settled down in West Palm Beach, the Hollywood Gossip reported.
But Anthony is probably planning on losing the extra weight eventually, because a friend who spoke to People magazine said tot mom now wants to become a reality TV star.
The source said to the magazine, She loves being notorious. One day she said, 'I need to work on my brand,' which is so strange for me and so foreign from what she should be doing.
I said, 'Casey, what brand? You're not selling anything. You're a lost girl who got in a lot of trouble.' She smiled and said, 'I am one of the most famous people in America. I'm on Saturday Night Live.'
Since Anthony thinks of herself as a celebrity instead of the most hated mother in America, it's not surprising that her lawyer Jose Baez has said that tot mom has serious mental health issues.
The Hollywood Gossip reported that in his new book, Presumed Guilty, Casey Anthony: The Inside Story, Baez says his client lived in a fantasy world and he wrote the book because there was so much that people didn't know, and still don't know. This book is more than 420 pages of nothing but the inside story.
My goal wasn't to change anyone's minds. My goal was to tell the story and if people change their minds, it will be because [they learned] more facts.
I think people's reaction will be surprise at how much they don't know.
Baez says that when Anthony took officers to Universal Studios, [Detectives should have realized] right away, 'Wait a minute, we're clearly not dealing with someone who is playing with a full deck.'
Anthony maintained that she did not murder her daughter when she did an interview with Piers Morgan in June and said her biggest regret was not being honest. I didn't trust law enforcement because of my relationship with my father, who is ex-law enforcement, and so they didn't trust me.
I was 22. I was scared and confused with life in general, not having a direction.
But the prosecutor still does not believe her.
I'm not going to get all weepy at the thought of Casey not being able to go out and party, Jeff Ashton told People magazine. She brought it all upon herself, and she has to live with it -- which is incidentally a luxury that Caylee will never get.
It's widely believed that despite her acquittal, Anthony indeed killed her daughter, and the fact that she's wearing the strange jewelry around her neck is unsettling to most.
Do you think it's bizarre that Cindy and Casey Anthony are wearing necklaces that contain Caylee's ashes around their necks?
© Copyright IBTimes 2023. All rights reserved.
FOLLOW MORE IBT NEWS ON THE BELOW CHANNELS