Chris Christie Aides Stalling Probe Of Pension Fees Paid To Wall Street: NJ Pension Chief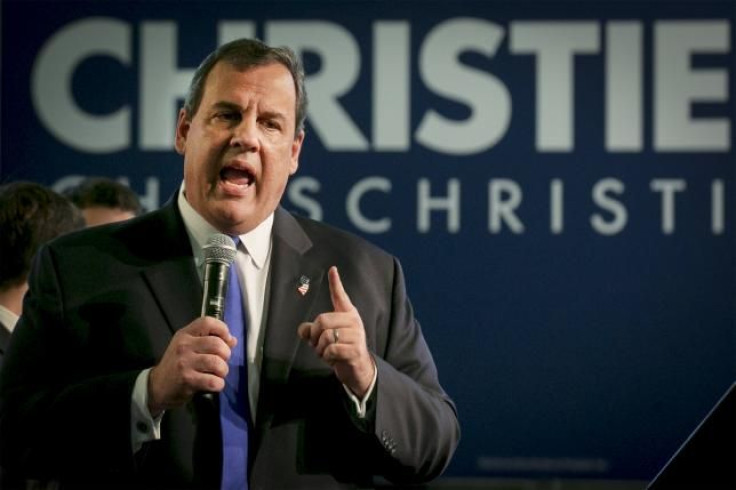 When New Jersey Gov. Chris Christie was preparing to launch his presidential campaign this spring, he faced a big potential headache: New Jersey pension officials had voted to investigate secret taxpayer fees that the Republican governor's administration paid to Wall Street firms. But Christie's administration may have found a stopgap solution: stall.
Four months after state pension trustees' vote, the retirement system's chairman told International Business Times that Christie's aides have so far prevented the probe from getting off the ground.
"They are throwing up obstacles, as many as they can find," said Tom Bruno, who leads the N.J. Public Employees' Retirement System's board of trustees. Bruno says Christie's Treasury Department has prevented the probe from going forward until Christie's appointees on the State Investment Council give their blessing.
The investigation was supposed to evaluate the higher fees that have accompanied the administration's shift of billions of dollars of pension money into hedge funds, private equity and other so-called "alternative" investments. Despite federal and New Jersey "pay to play" rules, some of those fees have been paid to firms whose executives donated to GOP groups affiliated with Christie. But with New Jersey having no independently elected auditor, treasurer or attorney general, pensioners must ultimately rely on the Christie administration to approve an investigation of its own decisions affecting thousands of retirees.
Chris Christie Presidential Candidate Profile | InsideGov
On Wednesday, Bruno appeared before the investment council urging them to approve the audit. That call was seconded by senior Democratic state lawmakers, who in recent weeks have conducted hearings into the Christie administration's increasing fees paid to financial firms at a time when the pension system has been delivering below-median returns. Christie's administration has paid out those increasing fees -- and downplayed their significance -- at the very moment the governor has demanded retirees accept new cuts to pension benefits.
"I see no reason for the State Investment Council not to go ahead with the requested audit," Senate Majority Leader Loretta Weinberg, a Democrat, said in a press release on Wednesday. "With the state's pension system so severely underfunded, we need confirmation of whether the state's shift into alternative investments has truly provided a hedge against steeper losses in down markets or if the state could have achieved similar results at less cost through other investment strategies."
Representatives for Christie and the Treasury Department did not respond to questions about the status of the audit.
Massive Increase In Fees
Pension trustees demanded the audit in April following a series of reports from International Business Times spotlighting a massive increase in pension fees paid to private financial firms -- some of whose executives have made campaign contributions to Republican groups affiliated with Christie. In March, IBTimes reported that the Christie administration had failed to disclose potentially hundreds of millions of dollars in fees the state had been paying since Christie took office in January 2010.
Last year, after the initial disclosures, Christie's then-State Investment Council Chairman Robert Grady resigned amid questions about political favoritism in awarding pension contracts. This year, Christie's state treasurer, Andrew Sidamon-Eristoff, resigned in June, a month after a testy legislative hearing in which state lawmakers raised questions about the undisclosed fees paid by the pension system under Christie.
The pension trustees' push for a full audit of the pension system follows moves by the Christie administration that appeared to obscure or conceal details of the system's finances and oversight decisions.
After financial experts raised questions about the accuracy of the pension performance data in 2014, Christie's administration rejected repeated open records requests for documents that would show how it calculated the figures. When in the same year it was revealed that Massachusetts Republican gubernatorial candidate Charlie Baker donated $10,000 to the New Jersey Republican Party months before his financial firm received a New Jersey pension deal, Christie's aides blocked the release of the findings of the government's pay-to-play investigation until after Baker's closely fought election.
Pensions in the United States | InsideGov
Meanwhile, in the pension system's most recent annual report, Christie's aides changed the way they tabulated pension management fees to make it seem as if the fees had decreased -- when, in fact, they had jumped to $600 million.
'You're Entitled To Your Own Ideology'
Thomas Healey, head of Christie's pension reform commission, told IBTimes in March that the fees generated by the state's push into higher-risk alternative investments are "insignificant." After the head of New Jersey's largest labor federation this week called for the state to divest all its pension holdings in alternative investments, State Investment Council Chairman Thomas Byrne defended the investment strategy, saying: "If there are people who don't like Wall Street or who think the system is rigged, you're entitled to your point of view. You're entitled to your own ideology, but I don't want to confuse that with prudent investing."
The state's investment strategy has not, however, generated higher returns for taxpayers and retirees. Last year, a study by Wilshire Associates found that the New Jersey pension fund's investment return has trailed the median for pension funds throughout the country.
Facing intensifying scrutiny of high fees and weak returns, New Jersey pension officials have defended their push into alternatives by claiming those assets are designed to reduce volatility and hedge against downturns. That rationale, though, is a marked shift: When Christie officials originally began plowing more retirees' money into Wall Street firms, Christie's administration and their financial consultants promoted the move as a way to boost returns over and above those that could be gleaned from low-fee stocks and bonds.
A 2010 memo by the State Investment Council's consulting firm said "alternative investments have significantly outperformed public markets on a risk-adjusted basis, and we believe they will continue to do so over the long term." Grady argued the strategy would "maximize returns while appropriately managing risk." And Institutional Investor magazine reported that the state's hedge-fund consultant "predicts that the pension could earn an additional 3 percent return above traditional asset classes from a diversified portfolio of alternatives."
On Wednesday, however, the State Investment Council said the pension's returns have been lower than expected so far this year.
© Copyright IBTimes 2023. All rights reserved.