Countries May Clear Deadlock on Greenhouse Gases Cut: UN Climate Chief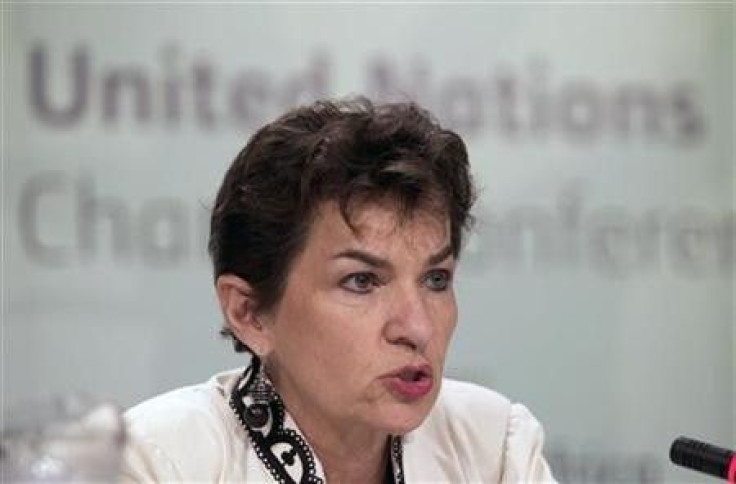 The U.N.'s climate chief says she believes countries can snap the deadlock that has lasted for years and sign up to fresh and binding commitments to cut greenhouse gases, after a week of climate talks between nearly 200 countries.
Countries are now looking at how they might bring about a second commitment period and no longer if there is going to be a second commitment period, climate chief Christiana Figueres said in an interview.
The major players on the global stage have laid out their positions since the talks opened on Monday, with China and the United States, the two biggest emitters, each waiting for the other to commit before agreeing to a binding deal.
Canada, Russia and Japan have said they will not renew the 1997 Kyoto Protocol pledges that expire next year, while the European Union wants to broker a new, global pact.
However, China, which like the United States and India is not bound by Kyoto's obligations, has helped revive the troubled Durban talks by saying it could join a legally binding deal to cut its emissions of the heat-trapping gases.
But the head of Brazil's delegation, Andre Correa do Lago, cautioned the focus on a legally binding deal may distract from what could be achieved, if it means concrete action is delayed. Legally binding may at the end be more an obstacle than an advantage, he told a media briefing.
Three U.N. reports released in the last month showed time is running out to curb emissions of the heat-trapping gases that have led to rising sea-levels threatening to erase some island states, crop failures, amplifying droughts and intensifying storms.
Not all envoys share Figueres's optimism, and some worry the Durban talks could produce a deal that puts off new, binding commitments until a later date, or avoids the contentious issue altogether.
The EU has said it will sign up to a second round of targets under the Kyoto Protocol, but only if all big emitters agree legally binding cuts that will start by at least 2020.
So far, China, India and the United States have refused to commit themselves to legal targets, raising the prospect that no country will have binding targets to cut emissions after 2012.
India and the U.S. are the two key unknowns about whether we can get to a deal, said Alden Meyer, director for strategy and policy at the Union of Concerned Scientists.If it was just everybody else, the prospects might be better, but it's not and those are the two major countries that have to be aboard for anything to fly, he added.
MONEY MATTERS
Delegates produced Saturday their first major document of the session in Durban, which raised questions about financing an annual fund planned to reach $100 billion by 2020 to help the developing countries most affected by global warming.
Taxes on financial transactions were left out of the draft negotiating document after being floated in previous discussions as a more stable way to fill coffers, rather than relying on mercurial governments whose aid policy could change.
The draft left aviation and shipping taxes on the table as possible funding sources.
There is actually a real danger that the money is falling out of the text, said Tove Ryding, a climate campaigner for Greenpeace.
The draft negotiating text, which applies to all parties in the U.N. talks, lists options on various points that will be used for discussions when more senior envoys and ministers arrive next week. The talks are slated to end on December 9.
U.N. envoys called the text a snapshot of where the talks are after a week.
We have the most ambitious Durban outcomes and the poorest Durban outcomes in here, said Ryding.
The meeting also saw its first mass protests as thousands demanding action be taken took to Durban's city centre and marched by the conference hall with signs reading There Is No Planet B.
South Africa deployed hundreds of armored riot police to manage the peaceful rally.
© Copyright Thomson Reuters 2023. All rights reserved.