Dave Mustaine: Obama 'Staged' Aurora, Sikh Temple Shootings To Pass Gun Ban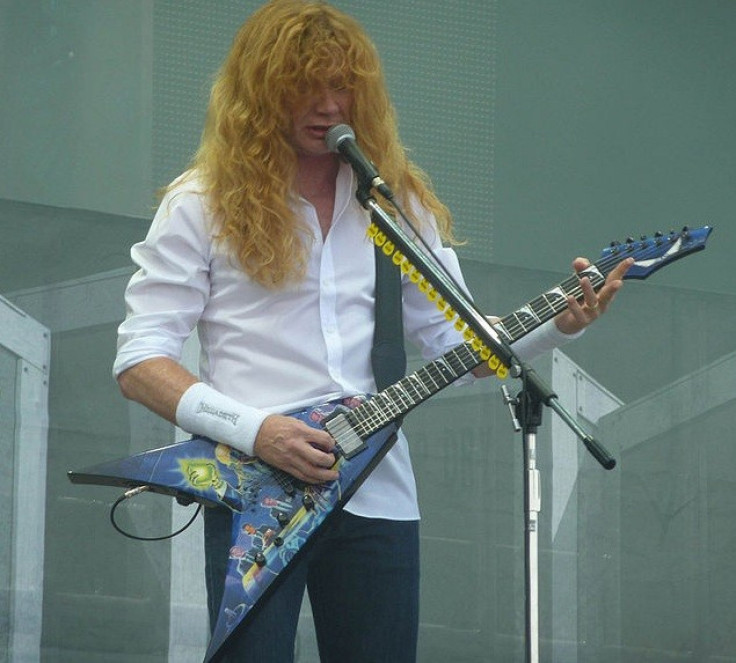 Unabashed Obama hater and Megadeth frontman Dave Mustaine accused the president of "staging" the Aurora, Colo., massacre and the Wisconsin Sikh temple shooting as part of a twisted plot to pass a ban on guns, the singer theorized during a concert in Singapore.
"Back in my country, my president, he's trying to pass a gun ban so he's staging all of these murders ... in Aurora, Colo., ... and now the beautiful people at the Sikh temple," Mustaine said at the concert, according to this video obtained by TMZ. "I don't know where I'm going to live if America keeps going the way it's going because it looks like it's turning into a Nazi America."
Mustaine, who supported Rick Santorum in the Republican presidential primaries, is no stranger to conspiracy theories. The Megadeth lead singer ascribes to the "birther" movement, which believes Obama was not born in the United States.
"I have a lot of questions about him, but certainly not where he was born," Mustaine told interviewer George Stroumboulopoulos, while promoting his album, "Thirteen." "I know he was born somewhere else than America ..."
Mustaine reiterated his birther beliefs to Alex Jones.
"With all of the proof about his birth certificate being fake. And you see the signs in Kenya that say 'the birthplace of Barack Obama.' Hello?! C'mon, guys. How stupid are we right now?" he said, according to TMZ.
The Denver suburb of Aurora was rocked by a mass shooting July 20 that killed 12 people and injured 58 during a midnight screening of "The Dark Knight Rises." James Eagan Holmes, the suspected shooter, was arrested a short time later and was arraigned on murder charges.
Less than a month later, another mass shooting at a Sikh temple in Wisconsin killed six worshippers. The gunman in the Wisconsin shooting, white supremacist, Wade Michael Page, later killed himself.
Both shootings had no links to Obama or the government, as Mustaine claimed.
© Copyright IBTimes 2023. All rights reserved.
FOLLOW MORE IBT NEWS ON THE BELOW CHANNELS