De Beers Moves To Botswana, Africa's Conflict-Free Diamond In The Rough
ANALYSIS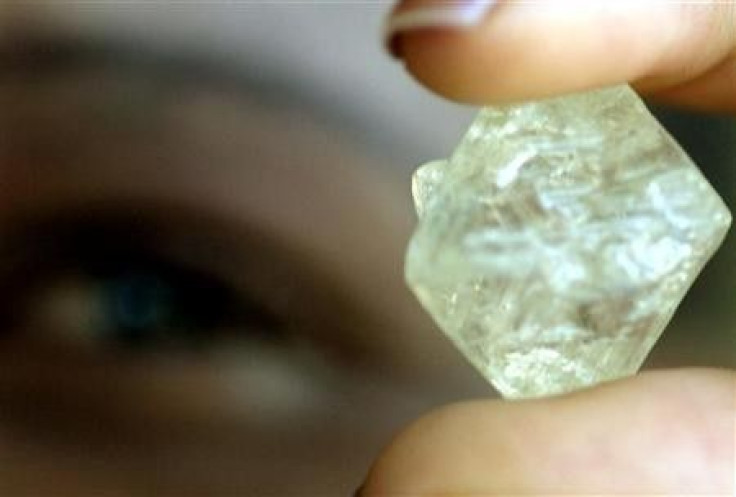 One of England's best-known companies is moving a major base of operations from the rainy city of London to the sunny streets of Gaborone, Botswana's capital.
De Beers, the diamond company headquartered in Johannesburg, South Africa, has long conducted its rough-stone sorting and trading enterprise in London. That's where trained inspectors use those tiny eyepieces known as loupes -- and lately, more advanced technological methods -- to separate stones according to their value.
The London operation will be fully outsourced to Gaborone by 2013, and the process kicked off this week.
Botswana, home to several mines that produce tens of thousands of carats of diamonds each year, has long partnered with De Beers. The two entities are joint owners of Debswana, Botswana's main mining enterprise. The agreement to transfer London's sorting operation to Gaborone was made in 2006, though it has seen several delays since then.
De Beers CEO Phillippe Mellier estimates that $6 billion worth of diamonds will now flow through Botswana.
"It is extremely important because it's the first time we have had to move outside of London, where we have been doing business for the past 80 years," he said, according to the Xinhua news agency of China.
The move, he added, would "enable De Beers to sell aggregated production from its worldwide operations to sightholders [bulk rough diamond purchasers] from our new base in Gaborone, transforming Botswana into a leading international diamond center."
Botswana today is not the only diamond producer in Africa, but it is the largest in terms of value. And unlike many surrounding countries, its precious gem trade is reportedly clean -- no "blood diamonds" here.
In neighboring Zimbabwe, by contrast, diamond profits are embezzled by state officials and used to prop up the corrupt regime of dictator Robert Mugabe. In West Africa, diamonds harvested from alluvial streams helped war criminal Charles Taylor to fund brutal guerrilla campaigns in Sierra Leone as well as in his native Liberia.
Diamonds have also fueled conflicts in Angola, Côte d'Ivoire and the Democratic Republic of the Congo.
But Botswana's story was very different, right from the beginning. The precious gems were first unearthed there in 1967, one year after independence from Great Britain. Immediately, the immense profits were put to good use in the public sector.
"Our former leaders were visionaries," said Botswanan Education Minister Jacob Dicky Nkate to CNN. "They insisted that after the discovery of diamonds, every single [citizen] be entitled to a free education from first grade to a doctorate degree free of charge. How many democracies can boast that achievement?"
Botswana's political history is certainly something to be proud of, especially compared to the conflict and instability that has plagued so many other African countries post-independence. Every one of Botswana's parliaments has won its mandate in a general election, and each president has ascended to power by virtue of being the leader of the ruling party.
Every president so far has gone on to serve an additional term beyond his original mandate, signifying consistent political success for the country's highest office. All transfers of power have been peaceful, and all parliamentary elections have occurred every five years on schedule.
The courts are reliably devoted to human rights, the military is apolitical, and the population has a high sense of political efficacy. In this environment, diamond-fueled conflicts and power grabs never stood a chance.
Botswana was one of the original parties behind the Kimberley Process, a set of protocols based on a meeting of officials from diamond-producing states in Kimberley, South Africa. The 2002 agreement was meant to curtail the production and profitability of conflict diamonds around the world.
Today, Botswana has a high (for Africa) GDP per capita of more than $16,000, according to the U.S. Central Intelligence Agency -- that's comparable to larger, more developed countries like Russia, Chile and Turkey.
But not all is well in this semi-arid nation of about 2 million people. Poverty affects up to a third of the population, and HIV/AIDS rates are extremely high -- it is the second most afflicted country on earth in terms of HIV prevalence, even though the government has adopted an effective anti-retroviral drug treatment program.
Furthermore, government officials worry that Botswana's dependence on diamonds -- the revenues make up one-third of national GDP, according to the World Diamond Council -- imperils the economy by discouraging diversification. That threat became clear during the global recession of recent years, when demand for precious gems waned considerably and the economy contracted for a time after decades of growth.
To address this problem, Botswana is currently ramping up efforts to spur foreign investment in other industries, including the extraction of other minerals like nickel, iron ore and copper. De Beers' switch-over may help in that regard, simply by raising Gaborone's international profile and setting a precedent for profitable investment in Botswana.
That would be yet another success for the government, albeit a paradoxical one. The very enterprise from which Botswana seeks diversification may be instrumental in kick-starting other industries, so that diamond mining can decline, at least somewhat, in importance.
That's one multi-faceted rock.
The diamond, in gem form, is a symbol of devotion -- the standard adornment for ring fingers of the Western affianced. The mineral is also prized for its strength, and 70 percent of all diamonds are put to industrial use. But so many people in Africa also know the diamond as a harbinger of brutality, corruption and plunder.
In Botswana, diamonds have been key to the country's successful economy -- proof that a valuable resource is only as good as the entities that handle it. Now, with De Beers moving onto Botswana soil, the country is in a prime position to attract even more investments and raise national standards of living.
© Copyright IBTimes 2023. All rights reserved.