Desmond Bane Gets Flagrant Two Call Versus Miami Heat For Low Blow On Kevin Love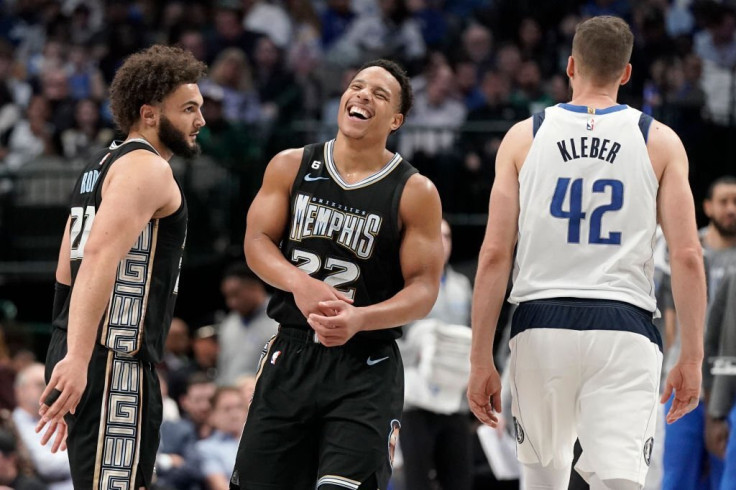 KEY POINTS
Desmond Bane was ejected in the third quarter of their loss to the Miami Heat
Fans argued whether Bane deserved the flagrant two
The Sacramento Kings leapfrogged the Memphis Grizzlies for the No. 2 seed
The Memphis Grizzlies hoped to solidify their grasp on the second seed as the Sacramento Kings are quickly nipping at their heels and picking up the win over the Miami Heat would have been the ideal outcome tonight.
However, it was another rough outing for the league's top-ranked defense as Jimmy Butler, Bam Adebayo and Tyler Herro combined to shoot 25-of-40 from the field (62.5 percent) and drop 73 of their 138 points.
It certainly did not help their case when in the middle of the third quarter with the Heat leading by 14, guard Desmond Bane was trying to get around Kevin Love's great defense on the perimeter and accidentally dropped a WWE-style low blow on the former NBA champion.
The ruling on the floor was initially an offensive foul which led to Bane's fifth turnover of the night, but after referees reviewed it, head official Marc Davis made the call to upgrade it to flagrant two and send Bane early to the showers.
As is always the case in such moments, fans were quick to take sides as to whether Bane deserved to get a flagrant two or the referees' decision was too harsh of a call.
One Twitter user argued in defense of Bane, saying that "it feels like it should be a flagrant [one] at worst" while another also went in favor of Bane and questioning the ejection and making the snide comment that it "would have been nice if it was reffed like this when Draymond [Green] kept hitting [Steven] Adams."
The latter was referring to the incident during Game 3 of the 2016 Western Conference Finals against the Golden State Warriors where Draymond Green attempted to put up a shot as Adams stood in his way and kicked him directly in the groin.
As the referees reviewed the situation, the crowd at Chesapeake Arena was chanting "kick him out" since it was already the second time Adams was leveled in this manner by Green–the first being in Game 2.
The ruling on the floor then was a flagrant one and Green was not ejected, which the aforementioned fan was questioning regarding Bane's situation.
What makes Bane's foul potentially worthy of a flagrant two is that he did move his arm upwards which may have given off the referees the perception that it was an intentional play.
However, one could also argue that it was a "wrong place, wrong time" type of deal as Love was quickly closing out on Bane and the Grizzlies guard did not have enough time to prevent such a bang-bang moment.
Regardless, Bane was still ejected from the game as the Grizzlies have slid to the third seed after the Kings downed the Chicago Bulls, 117-114, on their home floor.
© Copyright IBTimes 2023. All rights reserved.