Did Obama Just Confirm Aliens And UFOs Are Real? 'Feel Free To Think That'
KEY POINTS
Obama refused to disclose information about extraterrestrials
He regrets not awarding Dolly Parton with a Medal of Freedom
Obama released his memoir on Nov. 17
Former U.S. President Barack Obama may have confirmed the existence of aliens and UFOs during a wide-ranging interview on Monday.
The 44th President of the United States appeared on "The Late Show with Stephen Colbert" to promote his new memoir, "A Promised Land." He revealed seeking classified information on aliens and UFOs during his tenure.
"Certainly asked about it," Obama told Colbert, who brought up extraterrestrials during the interview.
However, the former commander-in-chief refused to disclose any information on what he learned, the New York Post reported.
"Can't tell you. Sorry," Obama said with a grin.
Colbert took Obama's non-answer as a confirmation that aliens and UFOs do exist.
"All right, I'll take that as a 'yes.' Because if there were none, you'd say there was none," he joked.
"Feel free to think that," Obama replied.
During the interview, Obama also talked about his presidency and some of his biggest regrets, including not granting country music legend Dolly Parton the Presidential Medal of Freedom.
"That's a mistake. That was a screwup," the 59-year-old former president said. "I think I assumed that she had already gotten one, and that was incorrect."
During his time in the Oval Office, Obama awarded the Medal of Freedom to music and pop culture figures, including Bruce Springsteen, Stevie Wonder, Barbra Streisand, Robert De Niro and Oprah Winfrey, Fox News reported.
"Dolly Parton deserves one. I'll call Biden," Obama said.
"A Promised Land" was released on Nov. 17, selling 887,000 units in the U.S. on the first day of its publication. It currently has the largest first-day sales total for all books published by Penguin Random House.
The memoir went on to sell over 1.7 million copies in the first week of its publication. It has now outpaced other presidential memoirs, and when it comes to first-day sales, it tops Michelle Obama's 2018 memoir, "Becoming," which sold 725,000 copies on its first day. A second installment of Obama's memoir is underway, according to People.
"A Promised Land" gives readers a view of historical events during Obama's presidency, including the 2011 raid that killed al-Qaeda founder Osama Bin Laden and Donald Trump's roasting at the 2011 White House Correspondents' Dinner.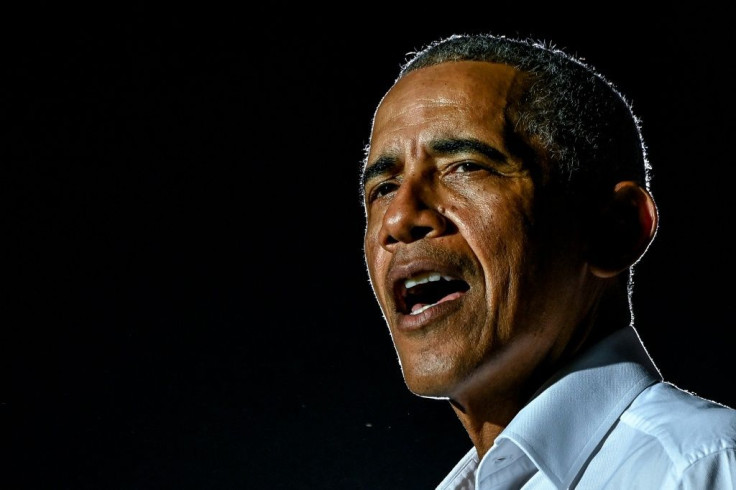 © Copyright IBTimes 2023. All rights reserved.