Donald Trump Falling Behind Kasich In Michigan? Polls Conflicted Over Race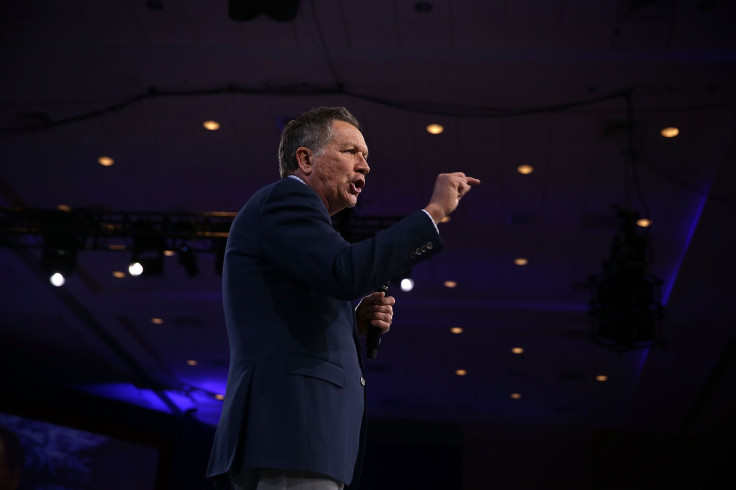 Ohio Gov. John Kasich has promised voters he would triumph over front-runner Donald Trump in his home state's Republican primary. According to one poll, he may have a shot in neighbor state Michigan as well.
The latest poll of Michigan from American Research Group, Inc. (ARG) indicated Kasich has a slight lead in the state, overtaking Donald Trump, who has been leading in the polls for months. Kasich netted 33 percent of the vote in the poll to Trump's 31 percent, scoring wins among voters over 50 and women. The ARG poll surveyed 400 likely Republican voters between March 4 to 5 and claims a margin of error of plus-or-minus 5 percentage points.
In February, the same poll suggested that Kasich only held 17 percent of the vote, while Trump had a commanding lead with 35 percent. In the current poll, Texas Sen. Ted Cruz is a distant third with 15 percent, while Florida Sen. Marco Rubio finished No. 4 with 11 percent.
However, Kasich's new, supposed lead in Michigan is by no means a certainty. An NBC News/Wall Street Journal/Marist poll released Sunday concluded that Trump was still running away with the state. According to that poll, Trump holds 41 percent support from likely primary voters, followed by Cruz with 22 percent, Rubio with 17 percent and Kasich, all the way in fourth, with 13 percent.
The NBC/WSJ/Marist poll was conducted between March 1 and 3 with 482 likely Republican primary voters. It claims a margin of error of plus-minus 4.5 percentage points.
A CBS News/YouGov poll released Sunday tells a very similar story. A survey of 1,415 registered voters in Michigan found that a whopping 39 percent of likely voters stand with Trump, followed by Cruz with 24 percent, Rubio with 16 percent and Kasich lagging in fourth with 15 percent. The poll has a margin of error of plus-minus 5.9 percentage points.
No matter which polls are correct, the delegate math suggests that Donald Trump is still likely to become the nominee of the Republican party. Heading into the Super Saturday primaries, Trump led all candidates with 375 delegates. Sen. Cruz was in second with 291, followed by Sen. Rubio with 123 delegates, and Gov. Kasich with 33 delegates. Trump scored wins in Louisiana and Kentucky Saturday, while Cruz won Kansas and Maine.
*This story was updated to reflect the CBS News/YouGov Poll.
© Copyright IBTimes 2023. All rights reserved.