Donald Trump Upset Dr. Fauci Is Getting Credit For COVID-19 Response
President Donald Trump on Sunday expressed his displeasure that Dr. Anthony Fauci has been praised for his response to the COVID-19 pandemic instead of his adminstration.
Trump took to Twitter to slam the media for not recognizing his contributions and making Fauci's name synonymous with any credit.
"Something how Dr. Fauci is revered by the LameStream Media as such a great professional, having done, they say, such an incredible job, yet he works for me and the Trump Administration, and I am in no way given any credit for my work. Gee, could this just be more Fake News?" Trump tweeted.
While Trump was busy sulking over the lack of recognition, Fauci was appearing on NBC News' "Meet the Press," where he slammed Trump for suggesting the death toll for COVID-19 related deaths were "exaggerated."
"The number of cases and deaths of the China Virus is far exaggerated in the United States because of @CDCgov's ridiculous method of determination compared to other countries, many of whom report, purposely, very inaccurately and low. 'When in doubt, call it Covid.' Fake News!" Trump tweeted on Sunday.
In response to the post, Fauci insisted the number of deaths reported has been accurate.
"The numbers are real. We have well over 300,000 deaths, we are averaging two-to-three thousand deaths per day," he told host Chuck Todd.
Fauci revealed the proof can be found in hospitals where healthcare workers are overwhelmed with an influx of infected patients.
"All you need to do, Chuck, is to go into the trenches, go into the hospitals, go into the intensive care units, and see what is happening. Those are real numbers, real people and real deaths," Fauci said.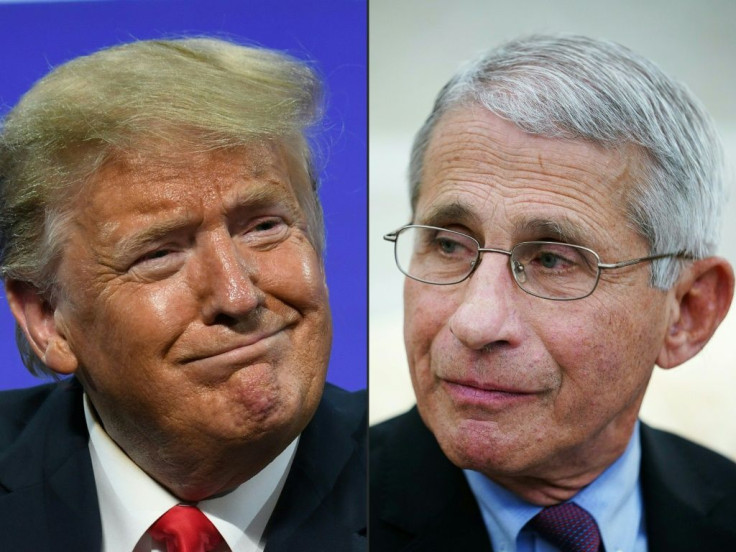 © Copyright IBTimes 2023. All rights reserved.