Edward Snowden Responds To Eric Holder's 'Public Service' Comment About Leaking NSA Secrets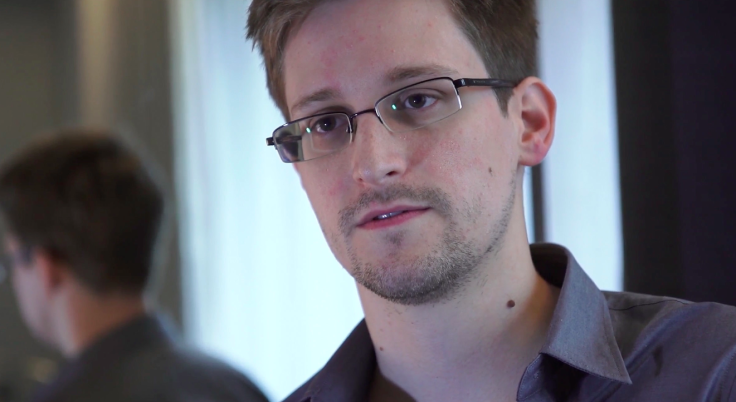 Edward Snowden responded to former U.S. Attorney General Eric Holder after he said the former National Security Agency contractor, who leaked classified information three years ago, performed a "public service." The whistleblower didn't directly address Holder, though it was clear he was referencing his interview.
Snowden wrote: "2013: It's treason! 2014: Maybe not, but it was reckless 2015: Still, technically it was unlawful 2016: It was a public service but 2017:" The message was shared more than 15,000 times by his 2.09 million followers.
Holder, 65, opened up during an interview Monday on the "The Axe Files," a CNN-produced podcast by former top Obama political aide David Axelrod. Holder ran the U.S. Justice Department when Snowden leaked NSA surveillance programs in 2013.
"We can certainly argue about the way in which Snowden did what he did, but I think that he actually performed a public service by raising the debate that we engaged in and by the changes that we made," Holder said. "Now I would say that doing what he did — and the way he did it — was inappropriate and illegal."
After Snowden leaked the information, Congress passed the USA Freedom Act, which somewhat limited the NSA's mass collection of U.S. citizens' phone records.
Holden stopped short of justifying Snowden's actions, saying they jeopardized "American interests."
"I know there are ways in which certain of our agents were put at risk," the former attormey general said. "Relationships with other countries were harmed, our ability to keep the American people safe was compromised. There were all kinds of re-dos that had to be put in place as a result of what he did, and while those things were being done, we were blind in certain really critical areas. So what he did was not without consequence."
Snowden fled the U.S. and now lives in Russia. If he ever returns home, he faces two counts of Espionage Act violations and one count of theft.
Holder thinks Snowden should return to the U.S. and face the justice system. "Go to trial, try to cut a deal. I think there has to be a consequence for what he has done," Holder said. "But I think ... a judge could take into account the usefulness of having had that national debate."
Snowden has stated he would return to his homeland if he could get a fair trial and could use "public interest" as a defense.
Follow me on Twitter @mariamzzarella
© Copyright IBTimes 2023. All rights reserved.