Everglades Snake Problem: Exotic Pythons, Anacondas Banned in Florida [PHOTOS]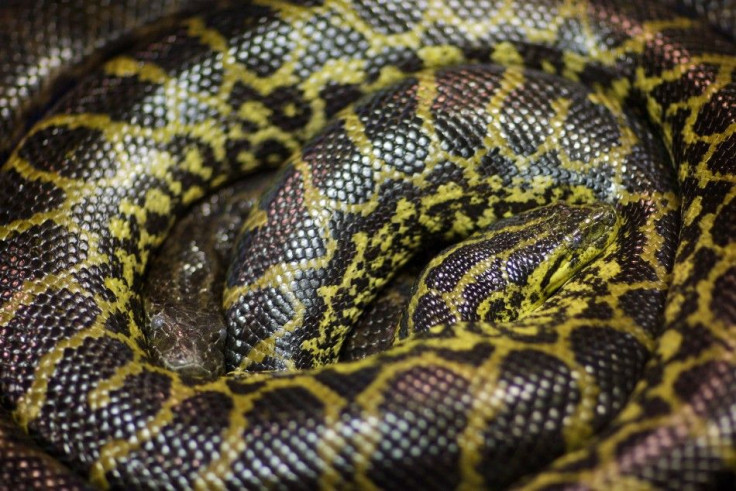 After plaguing the Everglades, four types of the giant, slithering constrictor snakes have been officially banned from the Florida swampland.
Federal officials said Tuesday that the Burmese python, yellow anaconda and the northern and southern African pythons are non-native species that have been invading the Everglades, snatching up animals as large as deer and alligators, squeezing them to death and swallowing them whole. The ban, which will take place in 60 days, makes it forbidden for anyone to carry the four species across state lines.
Thousands are believed to be living in the area and their presence, Interior Secretary Ken Salazaar said, is hurting federal efforts to restore the Everglades to its natural ecosystem.
It does us no good to put in these billion dollars of investment in the Everglades, only to have these giant invasive constrictor snakes come in here and undo the good that we are doing he said in a news conference along Tamiami Trial in the swampland, according to the Miami Herald.
Many believe the python epidemic in the Everglades began with pets that were dumped into the wild after they grew too big, while others believe they may have escaped pet shops during 1992's Hurricane Andrew, The Christian Science Monitor reported. Either way, they have been reproducing ever since.
Boa constrictors, however, are still allowed in the Sunshine State. After reviewing the ban proposal for more than a year, The White House decided to put five snake species on hold for further study, including boa constrictors, according to the Miami Herald.
Others are less optimistic about the federal ban. An article for the Florida Center for Investigative Reporting, Ralph De La Cruz writes that Everglades activists think the python ban is about 30 years too late.
Lovers of the Everglades might have preferred something less congratulatory, perhaps more along the line of Pope John Paul II's plea for forgiveness for the past sins of the Catholic Church, De La Cruz wrote about the press conference.
In the name of making money, the United States has allowed its citizens to dredge and drain the Everglades for real estate, to poison it with fertilizer and corrupt it with invasive species.
PHOTOS BELOW
Burmese Python

Reuters

Northern Africa Python
USGS.gov
Yellow Anaconda (from South America)
This yellow anaconda was captured in the Everglades. Picture courtesy of USGS.gov.
© Copyright IBTimes 2023. All rights reserved.