Facing Continental Threats, African Union Summit Fails To Deliver Answers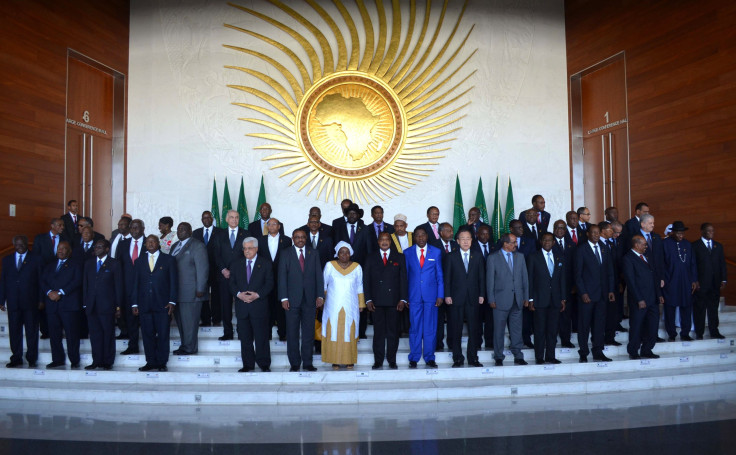 As the sun sets on the 20th bi-annual summit of the African Union, leaders from across the continent may feel a heavy weight on their shoulders as they return to their home countries.
The gathering took place in the Ethiopian capital of Addis Ababa. It kicked off on Jan. 21 but reached its apex on Sunday, when heads of state from 37 of the 54 member countries arrived to participate in the general assembly.
The summit ends Monday, but myriad conflicts -- affecting Mali, the Democratic Republic of the Congo, Sudan and South Sudan among others -- are far from resolution.
One internal order of business progressed without a hitch this weekend: Ethiopian Prime Minister Hailemariam Desalegn was appointed to chair the African Union. Outgoing AU Chair Thomas Boni Yayi, the president of Benin, congratulated his successor with a handshake and a hug.
This week was also the first AU Summit to be presided over by Nkosazana Dlamini-Zuma, a South African former minister of home affairs and the first woman ever to become the chair of the African Union Commission. (Her position is more powerful than that of the AU chairperson.)
"Pan-Africanism and African Renaissance," was the theme set out for this summit, but the actual focus was on security. AU leaders were not shy about self-criticism; several attendees took the opportunity to deplore slow action on many of the continents' most pressing threats.
In Mali, for instance, insurgents took over the northern part of the country a year ago and have created a haven for Islamist militants with links to al-Qaeda. France swooped in with planes and troops on Jan. 11 and have made significant progress routing the militant forces from towns in central Mali. But the insurgents -- whose reach spans across the Sahara Desert and the Sahel, a span of semi-arid land that crosses Mauritania, Mali, Niger and Chad -- continue to pose a threat to the security of various communities in the region.
Boni Yayi was blunt about the AU's failure to intervene promptly.
"How could it be, that when faced with a danger that threatens its very foundations, Africa although it had the means to defend itself, continued to wait?" he said, according to Al Jazeera.
The push for African troops to reinforce Malian security is actually being led by the Economic West African Community of West African States, or ECOWAS, due to its role as a regional body whose members are most directly affected by the insurgency. But the planned operation, called the African-led International Support Mission to Mali, or AFISMA, includes troops from the entire continent.
French troops, which effectively turned the intervention into a Western-led push with their sudden entrance this month, number about 3,500 in Mali, according to Reuters. There are also nearly 2,000 African troops on the ground with at least 4,000 more expected, although AFISMA officials have not yet offered an official estimate of the total forces planned.
The AU will need more funding in order to send more troops into Mali, which is why Addis Ababa is hosting an international donor conference for AFISMA on Tuesday.
"We estimate that the Malian forces' needs will be around 120 million euros [$162 million] and about 220 million euros [$296 million] for AFISMA for a full year," said French Foreign Ministry spokesman Philippe Lalliot last week, according to Reuters.
Meanwhile, another conflict is raging in the Democratic Republic of the Congo. Deadly clashes there have gone on for decades, fueled by mineral riches, ethnic clashes and political instability giving rise to local militant groups. The situation made international headlines in November when a rebel group called M23 seized the eastern town of Goma for a week, and although the rebels have (barely) withdrawn, the DRC is still far from stable.
AU summit attendees had hoped to formalize a peace agreement at Addis Ababa; it would have included the deployment of a peacekeeping force in eastern DRC. But the measure went unsigned, with UN Secretary General Ban Ki-moon citing "procedural differences."
Another missed opportunity at the summit had to do with Sudan and South Sudan, two countries that split apart officially in 2011 but have yet to settle border disputes. Violence has continued since the split; in the South Sudanese town of Pibor, at least four civilians died on Sunday when clashes broke out between rebels and security forces. Disagreements have also shut down the lucrative oil flow between the two countries; as a result, both countries' economies are hemorrhaging.
The leaders of both countries met in Addis Ababa on Sunday, but did not make significant progress on any front.
While it is clear that the AU has been a less-than-effective leader during these troubled times, Commission Chair Dlamini-Zuma emphasized the ongoing need for unity.
"Optimistic as we are, we are mindful of the enormous challenges that remain," she said, according to Voice of America. "We cannot overemphasize the need for peace and security. Without peace and security, no country or region can expect to achieve prosperity for all of its citizens."
© Copyright IBTimes 2023. All rights reserved.