Fantasy Football 2014 Sleepers: 11 Tight Ends To Watch Before Draft Day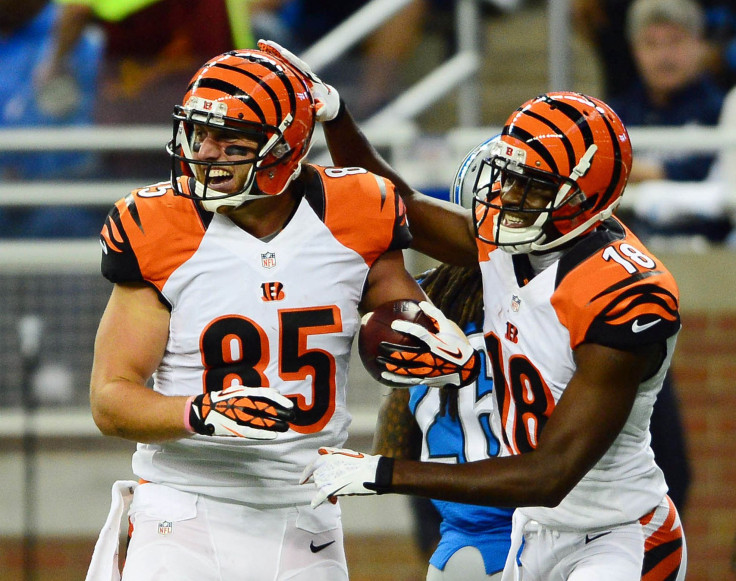 In fantasy football there's Jimmy Graham, and then there's every other tight end. Entering his fifth year with the New Orleans Saints, (and coming off the second 1,200-plus yard season of his career) Graham figures to be one of the first three or four pass catchers off draft boards. Graham of course made headlines in the offseason due to his battle with the Saints over whether he should be paid like a receiver rather than a tight end. Now he has a new contract with no hard feelings on either side, and Graham is expected to have another stellar year. But chances are Graham won't end up on your squad this season.
No other tight end, other than maybe New England's Rob Gronkowski (if he stays healthy), Cleveland's Jordan Cameron, or Denver's Julius Thomas, can hit every fantasy category consistently like Graham. Yet there is some depth at the position that could be found in later rounds this season.
The sleeper status of the 11 TEs below is based on their average draft position from ESPN, Yahoo and Fantasy Pros mock and formal draft results. Most of these guys could be picked up in the late teen rounds. These picks are based off their potential, along with the offensive players around them and, of course, pick at your own discretion.
Travis Kelce, Kansas City Chiefs
Kelce needed microfracture surgery last season, but he's come back strong during the preseason. Anthony Fasano is the starter for now, but Kelce has more big play potential.
Adrien Robinson, New York Giants
The Giants have gone through four starting tight ends the last four seasons, but every one of them has notched at least 500 yards and four touchdowns. Robinson's college stats were far from stellar, but he could be next in line.
Tim Wright, Tampa Bay Buccaneers
Wright comes off an excellent rookie year (54 rec, 571 yards, 5 TDs), and despite a minor issue with new head coach Lovie Smith during camp he's expected to play a significant role in the offense.
Mychal Rivera, Oakland Raiders
David Ausberry's knee surgery puts Rivera back at No. 1 after he totaled 38 receptions for 407 yards and four TDs last year.
Dwayne Allen, Indianapolis Colts
A hip injury crushed his chances of breaking out last year, but Allen leapfrogged Coby Fleener on the depth chart this season. In his rookie year he caught 45 passes for 521 yards and three touchdowns, and many have pegged him as a breakout candidate. The Colts are also expected to use a lot of two-tight end formations, so Fleener could still have some value.
Garrett Graham, Houston Texans
Graham set new career-highs last season with 49 catches for 545 yards and 5 TDs. He's being selected around the 15 th round in Yahoo leagues, which seems like a good spot. But spending a 13 th round pick might be more beneficial to your team.
Luke Willson, Seattle Seahawks
Zach Miller still maintains the top spot for the defending champs, but Anthony McCoy's second Achilles injury in two years moves Willson up to No. 2 again. Only in very deep leagues is Willson worth a draft pick, otherwise he's a waiver pick up for now.
Tyler Eifert, Cincinnati Bengals
This should be Eifert's bust out year. He's already surpassed Jermaine Gresham and could get plenty of touches with most defenses worried about A.J. Green down field. He's going very late in both ESPN and Yahoo leagues, and he's the 29 th TE off the board according to FP.
Richard Rodgers, Green Bay Packers
Andrew Quarless was the top TE for 10 games last year, but Rodgers and Brandon Bostick have gotten a lot more time with the first-team offense during camp, according to the Milwaukee Journal-Sentinel.
Levine Toilolo, Atlanta Falcons
Since his rookie season, it's the first time Matt Ryan will be without Tony Gonzalez, but 6-foot-8, 260-pound Toilolo is poised to be a force for Atlanta this season. The Falcons do have some questions on defense, which means Ryan could again be passing a ton this year.
Jace Amaro, New York Jets
Jeff Cumberland will start the season as the No. 1 TE for New York, but keep an eye on the rookie Amaro. He was an absolute stud last season with Texas Tech, amassing 106 receptions for 1,352 yards and seven TDs. Amaro's really not worth a draft pick right now, unless it's one of your final two picks.
© Copyright IBTimes 2023. All rights reserved.