Florida Gets 8,000 New Coronavirus Cases In One Day After Reporting Glitch
Florida reported about 8,000 positive cases of the coronavirus on Wednesday, but the numbers may be skewed as the state's health officials said that half of the cases were from tests taken as long as seven weeks ago.
Florida Department of Health revealed the reporting glitch via Twitter blaming a Miami lab for adding 4,000 positive test results into reporting system all at once.
The error caused a firestorm on social media as Floridians blasted Gov. Ron DeSantis, claiming that the that numbers could not be trusted.
In contrast, other residents criticized the state by saying that the numbers are being underreported to promote tourism, a thought that is supported by Rebekah Jones, who created Florida's COVID-19 dashboard.
Jones, who says she was fired after refusing to manipulate testing data, posted to social media about the reporting glitch, The Palm Beach Post reported. In the tweet, Jones said she was "SHOCKED! SHOCCKKKKKEEEEDDDDD!!!!!!!"
Sen. Marco Rubio, R-Fla., also weighed on the reporting error by referring to the length of time it took to report test results. He said in a tweet, "7 weeks!"
DeSantis said on Wednesday during a new address that the Florida Department of Health has been instructed to fix the reporting delay issue immediately.
"The point of collecting data should be to illuminate not obscure the actual facts on the ground," he said.
Florida has reported over 557,000 positive cases of the coronavirus – the second most cases of the virus in the country – with over 8,900 COVID-19 deaths, according to Johns Hopkins University.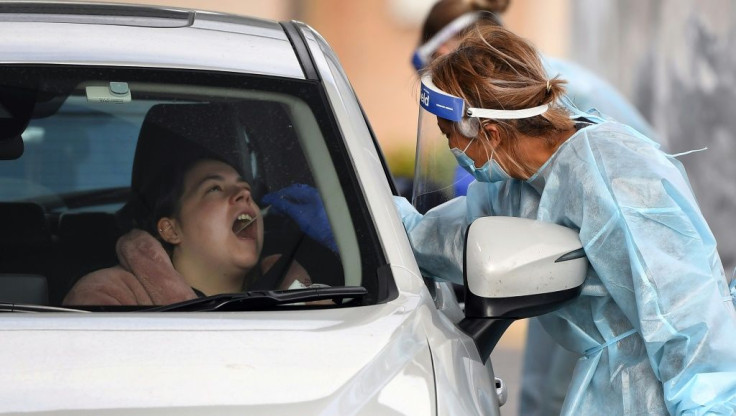 © Copyright IBTimes 2023. All rights reserved.
FOLLOW MORE IBT NEWS ON THE BELOW CHANNELS