Frank Gore Fined $10K For Wearing Socks Too Low In NFC Championship Game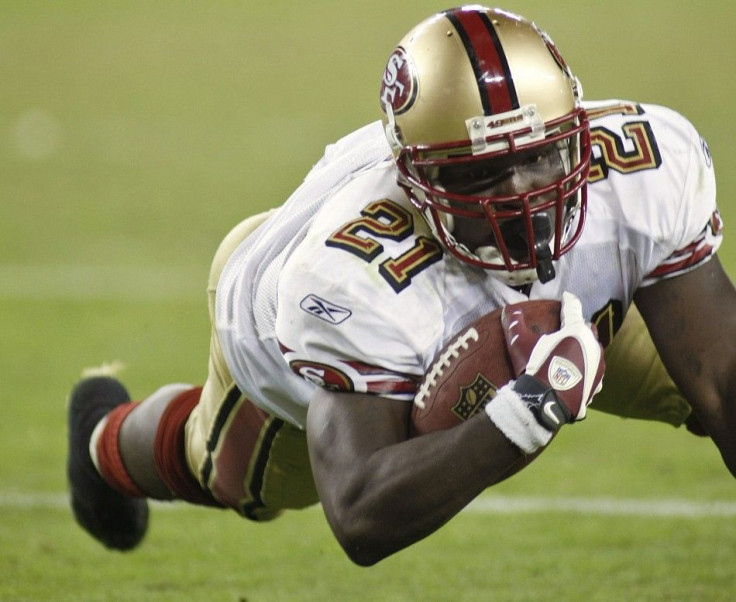 San Francisco 49ers running back Frank Gore will be paying a high price for wearing his socks too low – the NFL has fined Gore $10,000 for the uniform infraction.
Gore was fined for "failure to conform" due to his socks being too low in Sunday's NFC Championship Game between the 49ers and the Atlanta Falcons, the Washington Post reported.
ESPN NFL Insider Adam Schefter was the first to report on Gore being fined.
"Not made up as much as it sounds like it: NFL fined 49ers RB Frank Gore $10,500 for wearing his socks too low during NFC Championship Game," Schefter tweeted Wednesday.
During the game, Gore's calves were exposed, with his red socks ending at his ankles. According to NFL rules, the socks must extend just below the knee.
Twitter users lashed out at the NFL over the fine, with many finding the penalty excessive.
"What a joke," wrote Michael Palmisano.
"Frank gore fined 10 grand for wearing his socks to low in a game.. #Ridiculous," wrote Nick Angileri.
"Just when you think the NFL doesn't get worse, Frank Gore gets fined for socks," opined @Michael_Krieter.
Others weren't so sympathetic.
"What a cheater! Can't believe Frank Gore would wear illegally low socks, fully deserving of NFL's $10k fine. Good riddance! ;)," tweeted Patrick Howell.
Former NFL defensive end Marcellus Wiley called out Gore for the uniform blunder before the fine was announced.
"The NFL used to fine us for wearing our socks like Frank Gore....what changed?" Wiley wrote on his Twitter account Sunday.
Despite the fine, Gore was money for the 49ers in Sunday's championship game. The running back scored two rushing touchdowns in the game's second half to help cement a Super Bowl berth for San Francisco.
The 49ers will take on the Baltimore Ravens on Feb. 3 in New Orleans for Super Bowl XLVII.
© Copyright IBTimes 2023. All rights reserved.