George Clooney And The New Ethics Of Satellite Surveillance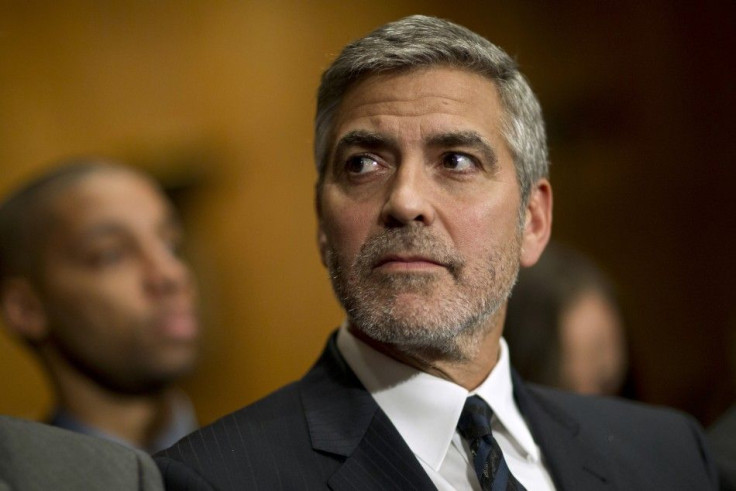 George Clooney believes that he has found evidence of the Sudanese government murdering its own citizens. Using images from space satellites, the Hollywood actor, with help from the Satellite Sentinel Project (SSP), documented crimes against humanity taking place in sub-Saharan Africa.
It is absolutely without question a war crime that we saw firsthand, the actor told the Senate Foreign Relations Committee while presenting his findings on Wednesday.
While Clooney's efforts are patently good, are they ethical? No project like this has ever been done before, and so Clooney and his partners are making the rules as they go, albeit rules within the strictures of international law.
SSP is a collaboration between the non-profit Enough Project, the Harvard Humanitarian Initiative and DigitalGlobe Inc. (NYSE: DG), a publicly-traded space imagery company. The whole enterprise is funded by Clooney and his Not on Our Watch organization.
This is a collaboration that in itself is revolutionary. No one could do it alone, said Nathaniel Raymond, the Director of Operations for the SSP.
Using field reporting from the Enough Project and DigitalGlobe's satellite images, which are directed and interpreted by Harvard, SSP monitors what it sees as an ongoing humanitarian crisis in Sudan that started with the Second Civil War in 1983, bred the genocide in Darfur and essentially continued uninterrupted as it developed into the ethnic conflict surrounding South Sudan's independence.
Sudan Bombed Its Own People
SSP's findings are impressive and important, and its methodology is revolutionary in its own right. The group has satellite images that show -- more conclusively than anyone else has been able to show -- the Sudanese government using jets to bomb unarmed civilians, particularly the indigenous people in the Nuba Mountains.
The Khartoum regime has been caught in the act of bombing their own civilians, John C. Bradshaw, Executive Director of the Enough Project, said in a statement.
Their campaign of fear against the people of the Nuba Mountains is using tactics that could be considered war crimes.
Among other things, like alleged mass graves, SSP showed that the government of President Omar al-Bashir sent Antonov An-26 Curl military planes to bomb villages in South Kordofan, a state on the Sudan side of the border with South Sudan that has been rife with death and displacement for decades.
According to the SSP, these recent attacks were unprovoked acts of aggression and attempts at ethnic cleansing.
Indiscriminate attacks, including bombings, of civilians violates international law, said Bradshaw. Indiscriminate bombings terrorize vulnerable people, even when the bombings kill or wound no one. The Government of Sudan must stop all indiscriminate attacks against civilians.
Private Satellites Watch Foreign Governments
If true, Bashir's campaign is immoral and illegal. But does Clooney's project, which uses a private corporation's satellite to watch a foreign government, suffer from its own ethical problems?
We are not in (Sudan's) airspace. We have not violated their sovereignty. We have not violated international law, SSP's Raymond said, adding that the use of unauthorized drones or spy planes would be different.
Harvard and SSP aren't simply looking at satellite photos already in a database or comparing Google Earth stills. Nor are they even taking pictures in a traditional sense, but rather interpreting data and to find things like the size and type of camouflaged tanks and the direction those tanks are moving in.
We physically task the (DigitalGlobe) satellites. We ask 'the bird' to go over a location. Like in a movie. But it's Harvard, and not the CIA, said Raymond.
Clooney, the actor who famously said that Hollywood talked about AIDS when it was just being whispered, and we talked about civil rights when it wasn't really popular during his 2006 Oscar acceptance speech, also disagrees with critics who question his projects ethics.
It's spying if it's a country. It's spying if it's the United Nations, maybe. But what if I'm a paparazzo with a lens 400 miles up? How is that spying? I'm just a tourist taking pictures and putting it on the Web. I don't understand where that's wrong, Clooney has said in response to such ethical questions.
Satellite Legacy
But governments have been using satellite surveillance for decades. It is considered spying, but the images are kept private and theoretically only used for national security purposes.
Then again, is SSP's private monitoring any ethically different than having an undercover reporter in Sudan? Raymond thinks it's actually much, much more effective.
We hope this is a proof of concept for something that will become ubiquitous in our tool-kit. Just like forensic science was an anomaly in human rights work and is now mainstream, Raymond said.
In this project is the DNA of a larger revolution, said Raymond.
Next, there needs to be a new ethical code, legal basis and codified ethics for those being mapped, he added.
With success comes responsibility.
© Copyright IBTimes 2023. All rights reserved.
FOLLOW MORE IBT NEWS ON THE BELOW CHANNELS