Global SOPA and PIPA Outcries Win Support from Digerati as Rival Law Nears Entry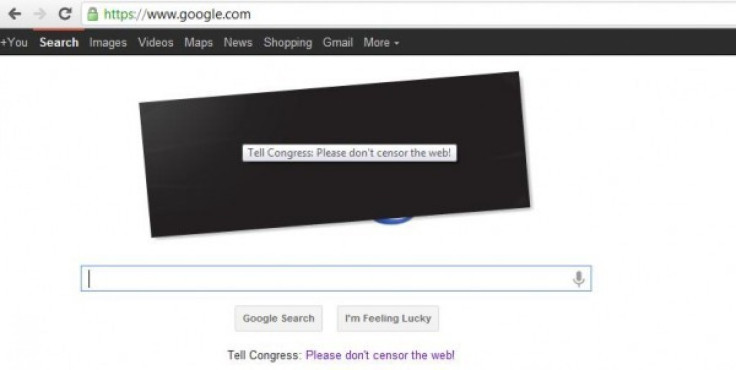 Digerati spearheaded by online sites including Wikipedia, Google and Reddit launched global opposition to two bills in the U.S. Congress they believe would threaten Internet commerce and creativity.
Wikipedia, the online encyclopedia, went dark Wednesday, along with many other sites including Reddit and about 340 others whose proprietors are members of the Progressive Change Campaign Committee.
Meanwhile, advocates of the laws, the Stop Online Privacy Act (SOPA), pending before the House of Representatives, and the Protect IP Act (PIPA), introduced in the Senate, received tub-thumping backing from proponents such as the Motion Picture Association and Rupert Murdoch's Wall Street Journal.
Motion Picture Association President Chris Dodd, who served as a Democratic senator from Connecticut until 2010, termed the protests an irresponsible response and a disservice to people who rely upon [the websites] for information and use of their services.
Dodd, who compiled a liberal record over 30 years in the Senate, blasted the Internet blackout as yet another gimmick designed to punish officials working diligently to protect American jobs from foreign criminals.
Both SOPA and Protect IP acts would empower copyright holders such as publishers and movie studios to seek federal warrants to arrest and close down Internet sites alleged to be pirating material.
The Wall Street Journal, owned by News Corp., which also owns Twentieth Century Fox and Fox Broadcasting, berated the protesters as analogous to Occupy Wall Street, charging, Their real ideological objection is to the concept of copyright itself.
The Internet controversy has also spurred bipartisan efforts to both defend copyright while implementing less drastic sanctions than arrests and closedowns of websites.
House Government Operations and Oversight Chairman Rep. Darrell Issa (R-Calif.) and Sen. Ron Wyden (D-Ore.) were scheduled to introduce their Online Enforcement and Protection of Digital Act (OPEN) later Wednesday.
The OPEN law would allow copyright holders to complain to the U.S. International Trade Commission, a quasi-judicial body in Washington which currently is hearing Apple's infringement complaints against Samsung Electronics and other companies. The ITC has the power to impose fines, bar imports and restrict international commerce.
Issa cancelled a hearing on domain name systems Wednesday, saying he had received assurances from House Majority Leader Eric Cantor (R-Va.) that DNS blocking provisions had been removed from SOPA, which originated in the House Judiciary Committee chaired by Rep. Lamar Smith (R-Tex.).
Issa and Wyden last week told International Business Times they were hopeful their OPEN law would ultimately be passed. On Tuesday, Issa told a Washington webcast convened against SOPA and PIPA that OPEN now had more co-sponsors than SOPA.
Issa, a strong conservative in the House since 2001, conservatives such as House Budget Committee Chairman Paul Ryan (R-Wis.). have now come out against SOPA. Ryan, though, hasn't backed OPEN.
In the Senate, two more conservatives, Sen. Marco Rubio (R-Fla.) and John Cornyn (R-Tex.) announced their opposition to SOPA and PIPA, which was drafted by Senate Judiciary Committee Chairman Sen. Patrick Leahy (D-Vt.), a strong liberal.
The two Republican senators based their opposition on fears the more restrictive laws would stifle Internet commerce and job creation.
Meanwhile, Google, the world's biggest search engine whose chairman, Eric Schmidt, was berated during a November SOPA hearing by Smith, posted a black smudge over its usual logo in its home page.
Rivals, such as Yahoo, Microsoft's Bing and Lycos, appeared to take no action. Nor did corporate sites of leading technology companies such as Intel, IBM, Hewlett-Packard, Dell, Texas Instruments, Microsoft and Apple -- all known for vigorous protection of their intellectual property.
Google shares rose $4.72 to $633.30 in afternoon trading.
© Copyright IBTimes 2023. All rights reserved.
FOLLOW MORE IBT NEWS ON THE BELOW CHANNELS