Google Glass Release Date Arrives For Glasses Explorers, Full Specs Unveiled [VIDEO]
The first major release date for Google Glass is almost here. In an email sent out to Google's Glass Explorers list on Tuesday morning, Google announced that its $1,500 smart glasses have finally come off the production line, and will soon be released to developers in batches.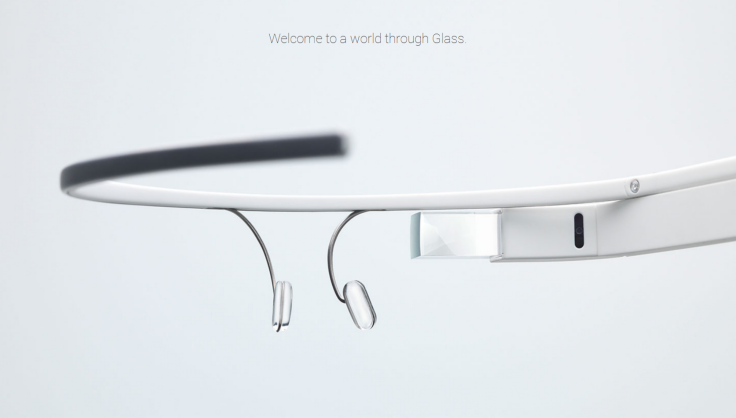 "We've been working hard on the Glass Explorer Edition and we have great news: the hardware and software are now ready for you," Google said in its email.
At Google's I/O developer conference last June, "Project Glass" stole the show with an incredible demo that gave a worldwide audience a chance to experience Glass for the first time, watching first-person perspectives of live skydiving, biking and rappelling down the side of a building, all over Google Hangouts on Google Glass.
Google founder Sergey Brin said at the time that Glass would be released to developers in 2013 and to consumers "less than a year" after the developer release. With Glass now ready to ship to developers, we could see Project Glass release to the masses just in time for the all-important holiday season.
"We know you've been standing by patiently to get Glass," Google said in its Tuesday email. "So, instead of waiting for all of the devices to be ready, we want to start delivering them to you now. We're producing enough for everyone, but only a portion of them are ready today. Therefore, we'll be notifying you in waves, and as soon as we're ready to invite you, we'll let you know. When the time comes, you'll receive an email with all the details."
Google held a campaign earlier this year that gave Internet users a chance to join Google's Glass Explorers program by sending in tweets and videos describing what they would do if they had Google Glass. Google only recently sent out congratulatory emails and tweets to its winners of its "If I Had Glass" campaign in late March.
"Thanks in believing in us from the start. We're very lucky to have you all as our first pioneers, and we can't wait to celebrate with you once you've all received your Glass. Here's to the next step."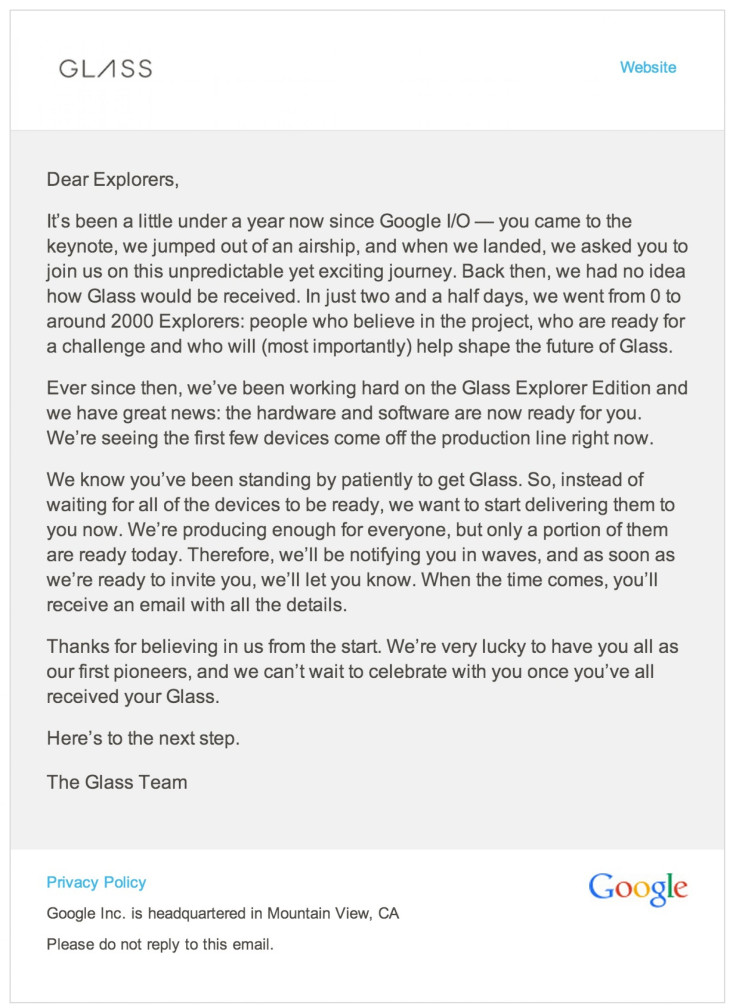 Google announced the full list of specs for Project Glass on Monday – after releasing the Glass API, as well. The smart glasses will come equipped with 16 GB of flash storage (only 12 GB of that is usable), Wi-Fi b/g, Bluetooth, a 5-megapixel still camera, 720p video recording, and battery life that reportedly lasts "one full day of typical use," even though some media-intensive activities like video recording and Google Hangouts would likely cause faster battery drain.
The glasses themselves come with an adjustable and durable frame that can fit on any face, with extra nosepads in two sizes. The audio system, which is used to communicate back and forth with the user, features patented bone conduction technology that sends audio via vibration contact with the user's head. And instead of traditional glass, Google's high-resolution display that sits directly in front of the user's right eye is equivalent to a 25-inch HD screen sitting eight feet away.
Google Glass can be charged with a special micro USB cable and charger, which is included with each unit. The device is also supported by any Bluetooth-capable phone, but users with devices running Android 4.0.3 or later will be able to enjoy Google's MyGlass companion app, which incorporates seamless GPS and SMS messaging into the Glass experience.
Google Glass, the first major project from Google's highly secretive Google X laboratory, seamlessly blends the Internet with the real world of people and places, but it also comes with several nifty applications for social networking, calling and texting, and Google Now, which gives information about the user's environment, including buildings and businesses. In early March, Google developer advocate Timothy Jordan introduced even more applications to the crowd at SXSW, including Path, Evernote, Gmail, and The New York Times.
Here's how it feels to wear Glass, according to Google:
© Copyright IBTimes 2023. All rights reserved.